RACING THIS WEEK
Additional Challenges

Current Nominees and Sustaining Payments
FEATURES
SERVICES
The Bank of America Challenge Championships will return for the third consecutive year to The Downs at Albuquerque in 2021.

© Coady Photography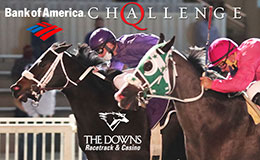 Bank of America Challenge Championships Will Remain at The Downs at Albuquerque in 2021
Q RACING—OCTOBER 26, 2020—
The Bank of America Challenge Championships are a celebratory weekend for horsemen. It features a full slate of the top racing American Quarter Horses battling it out on the racetrack, combined with the opportunity for a holiday of fun for the whole family.
The Downs at Albuquerque hosted its first Bank of America Racing Challenge Championship in 2019, offering attendees all the fun that Albuquerque has to offer, including things like concerts, golf tournaments, fashion shows and much more.
This year, the championship event returned to the racetrack on October 24, although it looked very different due to the COVID-19 pandemic, with attendance and activities limited, but race entries well supported.
However, in 2021, fans will have another opportunity to celebrate, as the Challenge Championships are set to return to The Downs at Albuquerque and give everyone a chance to attend this unique experience. A wide range of activities will return to provide fun for everyone.
"We are thrilled to partner again with The Downs at Albuquerque for this event," said chief racing officer Janet VanBebber. "They have really stepped up to provide a fantastic place not only for our horsemen and horses participating in the Challenge Championships, but also the fans and attendees. This year forced us to change our plans, but we plan to do it right next year. The weather is warm, the track is good and we hope to return to our full high level of hospitality with the 2021 Bank of America Challenge Championships."
The projected date for the 2021 Bank of America Challenge Championships is October 23, and it will again include unique activities and the racing conference.
Further information will be posted once it becomes available at aqha.com/racing.
* * * * * * *
For the latest in American Quarter Horse racing news, visit aqha.com/racing.
AQHA News and information is a service of the American Quarter Horse Association. For more news and information, follow @AQHAnews on Twitter and visit aqha.com/news.