RACING THIS WEEK
FEATURES
SERVICES
Remington Park opened for training today.

© Remington Park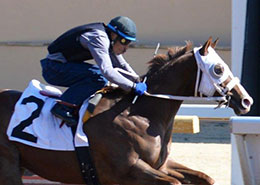 Ultimate Predator Records Initial Workout As Training Begins At Remington Park
OKLAHOMA CITY, OK--FEBRUARY 7, 2018--
Morning training hours began today at Remington Park as the pre-season for the 2018 American Quarter Horse Season is underway. While many of the early-arriving horses on the grounds made their way to the track, only Ultimate Predator posted an official workout.
A 3-year-old trained by Cruz Villafranco, Ultimate Predator moved 220 yards in :12.28, handily over a fast track while under jockey Omar Reyes. Owned by Margarito Montalvo of Commerce City, Colo., Ultimate Predator is a California-bred maiden by Stel Corona from the A Regal Choice mare Flying Regal. The colt started twice at age two, including a fifth-place finish in a Heritage Place Futurity trial at Remington Park on May 12, 2017.
The start of morning training hours was delayed one day due to sub-freezing temperatures and a threat of winter weather.
The 2018 American Quarter Horse, Paint and Appaloosa Season at Remington Park begins with a weekend of activity Friday, March 9 thru Sunday, March 11. The first race on Opening Night, March 9 is at 6pm. The first race on Saturday, March 10 starts at 4pm. Sunday action on March 11 is underway at 1:30pm.
The Remington Park season will continue thru June 2 with a total of 50 race dates scheduled.
* * * * * * * * * * * * * * * * * * * * *
Tracked by over 135,000 fans on Facebook and more than 9,600 Twitter followers, Remington Park has provided over $187 Million to the State of Oklahoma general education fund since the opening of the casino in 2005. Home to the 77th running of the Grade 3, $450,000 Oklahoma Futurity on Saturday, March 24, Remington Park is Oklahoma City's only Racetrack & Casino. Located at the junction of Interstates 35 & 44, Remington Park is in the heart of the Oklahoma City Adventure District. For more information, reservations and group bookings please call 405-424-1000, 866-456-9880 or visit remingtonpark.com.