RACING THIS WEEK
FEATURES
SERVICES
Live Moonshine (#8), Wendells Livewire(#6) and El Fargo(#5) battle to three of the top four qualifying spots in the PSBA American Paint Classic Futurity(G1) Friday night at Remington Park.

© Dustin Orona Photography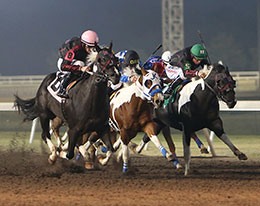 Field Set For American Paint Classic Futurity At Remington Park
OKLAHOMA CITY, OK—APRIL 13, 2018—
Live Moonshine set the top time over six qualifying trials for the Paint Stallion Breeders' Association American Paint Classic Futurity. The 2-year-old gelding handled 350 yards in :17.635 over a fast track.
Owned by Dan and Kaye Jones of Kemp, Texas and trained by Matt Whitekiller, Live Moonshine was ridden to his trial victory by Cody Smith.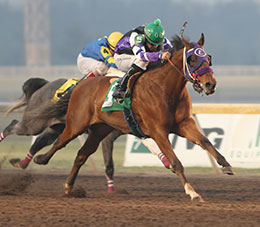 Rp Live Wire Dash, under jockey Gonzalo Gutierrez, qualifying with the second fastest time in the trial #4.
© Dustin Orona Photography
He won his trial by three-quarters of a length over Wendells Livewire with El Fargo running third. The second and third-place runner also qualified for the American Paint Classic.
Live Moonshine won his second race from three attempts this season. He was fourth in his only non-victory, when he competed in the $178,400 Oklahoma Paint & Appaloosa Futurity in March.
A 2-year-old Paint gelding by CRM Livewire from the Awesome Chrome mare PRP Sedona Sunset, Live Moonshine was bred in Texas by his owners.
CRM Livewire, a 2-time APHA World Champion son of the Quarter Horse sire Cartel Success, sired half the American Paint Classic Futurity field also getting 2nd fastest Rp Live Wire Dash; 3rd fastest Wendells Livewire; 4th fastest El Fargo; and 6th fastest Wired For Sound. His first crop are 3-year-olds.
CLICK HERE for the field of 10 to the American Paint Classic Futurity on April 28, with qualifying times, sires, dams, owners, breeders, trainers and jockeys.
* * * * * * * * * * * *
The 2018 Remington Park American Quarter Horse, Paint and Appaloosa Season continues Saturday and Sunday, April 14 & 15. The first race is at 6pm Saturday with Sunday afternoon racing underway at 1:30pm. All times are Central.
* * * * * * * * * * * *
Tracked by over 136,000 fans on Facebook and more than 9,600 Twitter followers, Remington Park has provided over $189 Million to the State of Oklahoma general education fund since the opening of the casino in 2005. Remington Park, Oklahoma City's only Racetrack & Casino, is home to the $900,000 Remington Park Futurity on Saturday, April 21. Located at the junction of Interstates 35 & 44, Remington Park is in the heart of the Oklahoma City Adventure District. For more information, reservations and group bookings please call 405-424-1000, 866-456-9880 or visit remingtonpark.com.