RACING THIS WEEK
FEATURES
SERVICES
Jockey Cesar DeAlba rode trainer Monty Arrossa's Stevieb Flashofcash to get his 1000th career Quarter Horse win on Saturday at Los Alamitos Race Course.

© Scott Martinez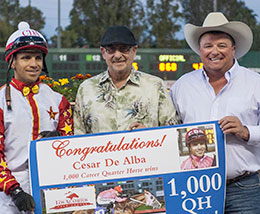 De Alba Wins 1,000th Quarter Horse Race, Wicked Affair Shines In Debut
LOS ALAMITOS, CA—APRIL 14, 2018—
Jockey Cesar De Alba won his 1,000th Quarter Horse race of his career when he piloted Five Livestock Company's 2-year-old gelding Stevieb Flashofcash to victory in the fourth race for colts and gelding on Saturday night.
Trained by Monty Arrossa, Stevieb Flashofcash is a gelding by First Moonflash and out of Lds Good Goin Gracie. He's a half-brother to LDS Dash For Dylan, a winner of 12 races and $417,432.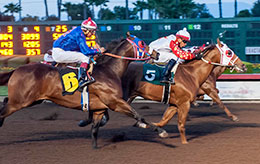 Stevieb Flashofcash, under jockey Cesar DeAlba, breaks his maiden in his first career start at Los Alamitos Race Course.
© Scott Martinez
The winner of the Grade 1 AQHA Derby Challenge, LDS Dash For Dylan was second in the Go Man Go Handicap and third in the Los Alamitos Invitational Championship – both Grade 1 events. Lds Good Goin Gracie is also the dam of the stakes winner Sfr Stuck On You.
As for De Alba, he began his career in 2002 at Los Alamitos by mostly riding Thoroughbreds. De Alba has won 301 Thoroughbred races during his career before making a full-time switch to Quarter Horse racing.
Over the years, De Alba has won 970 Quarter Horse races at Los Alamitos while riding standouts like Moonist, BH Lisas Boy, Time For Jess, Little Talks, Strength In Numbers, and Bon Accord to Grade 1 victories. He has also ridden One Proud Eagle, Strawfinders Jessee, Significant Heart, Kissed By An Eagle, AJS Anna Smoke, and Zoomin For Spuds to important stakes wins.
"It's been a long journey, but at the same time it feels like I started riding just a week ago," De Alba said. "It's a blessing and I'm definitely grateful to all the horsemen that have given me an opportunity. Eddie Garcia (the all-time leading Quarter Horse jockey in wins at Los Alamitos) is my uncle and I always wanted to ride Quarter Horses. I had trouble making weight with the Thoroughbreds so I switched over and I think it's paid off.
"I've had a lot of good moments. I would ride the first few Thoroughbred races on the card and then finish out the night riding Quarter Horses. I've been on a lot of good horses, but every victory, every winner's circle trip is awesome. I try to ride 110% each time because the horsemen want that from you and that's what they deserve. I try every time."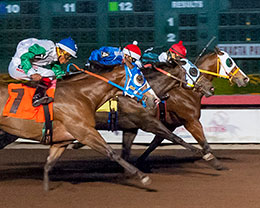 Wicked Affair, under jockey Jesus Ayala, breaks her maiden Saturday in her first career start at Los Alamitos Race Course.
© Scott Martinez
The champion Moonist is one of the best Quarter Horses De Alba has ridden.
"Moonist was just awesome," De Alba said. "He made me look good. I didn't have to do much to him. He was just awesome. I was just very fortunate to ride him at the top of his career."
Stevieb Flashofcash covered the 300 yards in :15.680.
The 2-year-old race for fillies on Saturday night went to Legacy Ranch's highly touted Wicked Affair, who looked sharp in her debut while winning the 300-yard race in :15.56.
Ridden by Jesus Rios Ayala for trainer Terry Knight, Wicked Affair came into this race having posted some of the most impressive morning works of the season. The One Sweet Jess filly had the fastest of 38 drills on March 13 (:12.30) and the fastest of 36 drills on March 27 (:12.10).
"Terry has liked this filly from the very beginning," owner Pete Parrella said. "We have a training track at the ranch and we had her breeze there and Terry would said, 'We have something with this filly.' I would say, 'How can you tell? We've only just started.' Terry knew back then and I do think we have something with this filly. We've just started and now we need some racing luck from here. We're just glad for the team back home at the ranch. They put so much work on preparing these horses and it's a thrill for them when one does well."
Wicked Affair will make her next start in the trials to the Robert Adair Kindergarten Futurity on Sunday, May 6.
* * * * * * * * * * * * * * *
Courtesy of www.losalamitos.com.