RACING THIS WEEK
FEATURES
SERVICES
Ghost Pines, inside, wins the Mother's Day feature at Ajax Downs by a head with Neil Husbands riding.

© New Image Media / Clive Cohen Photo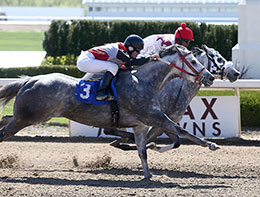 Michelle Woodley Saddles Big Ajax Downs Winner On Mother's Day
AJAX, ONTóMAY 13, 2018ó
It was a day of celebration at Ajax Downs on May 13 as fans packed the track for its annual Mother's Day card of Quarter Horse racing.
Fittingly, trainer Michelle Woodley, a mother of two young daughters, sent out the winner of the day's featured event, Ghost Pines, in the $25,000 QROOI Overnight dash.
The 250 yard sprint, which brought together some of the best fillies and mares from 2017, was a handicapping puzzle but the fans zeroed in on Ghost Pines and made the grey filly the 5 to 2 favorite.
Owned by Cobourg's Gary McNichol, Ghost Pines broke sharply from the rail post in the nine-horse field and fended off Fishin for a Corona to win by a head in the sizzling time of :13.210, just shy of the track record of :13.101.
Ghost Pines, a Fire Finder winner of the Ontario Sires Stakes Derby in 2017, was ridden by Neil Husbands, who was joined in the winner's circle by his partner Cassandra McMillan the couple's two-day-old daughter Amiah Rose Husbands.
On a sunny, Sunday afternoon the stands and track apron were jammed with people for Mother's Day, the second racing day of the 2018 racing season. Following a very successful opening day on May 6, wagering was up 7 percent from day two of the 2017 season.
Racing continues May 20 with the trials for the $50,000 Picov Maturity which is expected to lure two-time Horse of the Year Country Boy 123. Post time on Sunday, May 20 is 12:55 p.m.
For more information please visit ajaxdowns.com.