RACING THIS WEEK
FEATURES
SERVICES
Stablemates Wagonfullofdividends (#4) and Kool Odds (#2) battle the top two times in the BItterroot Derby trials Friday evening at Sandy Downs.

© Kira Crook Photography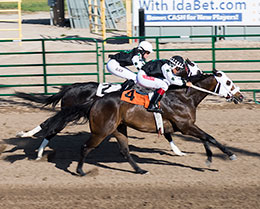 Wagonfullofdividends Remains Undefeated as Fastest Qualifier for Bitterroot Derby
IDAHO FALLS, ID—JUNE 8, 2018—While it may not have been a surprise, Wagonfullofdividends' win in his trial for the Bitterroot Derby at Sandy Downs continued his notable streak of seven consecutive victories and gave trainer Mark Hanson the top two fastest qualifiers to the $21,300 final on June 22.
Last year's Bitterroot Futurity winner, Wagonfullofdividends ($2.60) and jockey Jesus Canales posted the fastest qualifying time to the Bitterroot Derby with 19.754 for 400 yards and earned a 91 speed index.
The Pyc Paint Your Wagon colt won by a neck over stablemate Kool Odds. He is owned by RTM Stables and Shauna Dunn, and was bred in Texas by Randy and Sandy Coleman, out of the Brimmerton mare Ms Athenas Dividend.
The win was the seventh consecutive victory in seven starts for the 3-year-old, who has career earnings of $66,040. The 2017 Bitterroot Futurity winner also won the 2017 Rocky Mountain Spring Classic Futurity at Pocatello and most recently won the Gary Blattner and Harold Pence Memorial Derby at Pocatello last month.
The second fastest qualifier came out of the same trial and is also trained by Mark Hanson. Kool Odds and Nikeela Black picked up a time of 19.779 in the colt's fourth start of 2018.
Kool Odds also qualified for the Bitterroot Futurity last year and finished seventh in the final. In his last out, he finished second in the Jake Kapp Memorial Stakes at Weber Downs.
Kool Odds was bred in Calfornia by Steve Burns, DVM, by Favorite Cartel and out of the Chicks Beduino mare Kool Kue Chick. He is owned by Hanson Racing, LLC and Robin Dunn.
The third fastest qualifier was the winner of the second of two trials, Jt Easy Bug. Jt Easy Bug ($5.80) and jockey Dallas Erickson covered the trial distance in 19.930 and defeated second-place finisher and fourth fastest qualifier O Dee by three-quarters of a length.
Jt Easy Bug is a triple play for Glen Jamison, who trains the gelding but also co-owns and bred with Jill Jamison. Jt Easy Bug, an Idaho-bred, is by Jess Got Easier, out of Miss Perry Bug by Dashing Jess Perry.
For a complete list of Bitterroot Derby qualifiers with their individual times, sires, dams, owners, breeders, trainers and jockeys CLICK HERE.