RACING THIS WEEK
FEATURES
SERVICES
Tell Cartel, under jockey Ruben Lozano, posting the fastest time over fellow qualifier Cattail Cove (inside), in the $1,052,350 Los Alamitos Super Derby(G1) trials Saturday night.

© Scott Martinez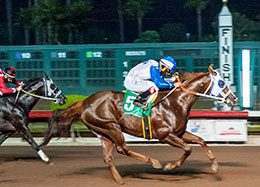 Two-Time Derby Winner Tell Cartel Posts Fastest Time To Richest Ever Los Alamitos Super Derby
LOS ALAMITOS, CA—OCTOBER 17, 2020—
Owned and bred by Martha Wells, Tell Cartel recaptured the winning form that made him the top sophomore Quarter Horse during the early part of the meet at Los Alamitos Race Course thanks to an impressive 1-¼ length score in the fastest qualifying time to the richest running ever of the Grade 1 Los Alamitos Super Derby here on Saturday night.
Forty runners competed in the six trials to the Los Alamitos Super Derby with the horses with the 10 fastest times advancing to the 400-yard final to be held here on Sunday, November 8. The $1,052,350 purse for the Super Derby is the richest in the 66-year history of the race. The winner will also receive a provisional berth to the Grade 1. $600,000 Champion of Champions to be held here on December 12.
Ridden by Ruben Lozano for trainer Matt Fales, Tell Cartel won the second of six trials after taking the lead shortly after the start and then extending his advantage with each stride. The effort was reminiscent of his derby victories earlier this year when he won the Grade 1 Los Alamitos Winter Derby on February 8 and the El Primero Del Año Derby on March 29.
Tell Cartel showed tremendous finishing kicks in both of his derby wins and he was just equally strong at the end of his Super Derby trial. The colt by Favorite Cartel covered the 400 yards in :19.599.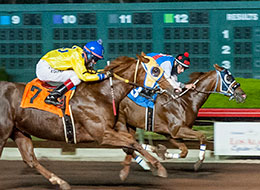 Kiss Thru Fire (inside) setting the second fastest time over fellow qualifier One Sweet Change (#7) in the opening trial Saturday.
© Scott Martinez
In between his derby wins and this trial victory, Tell Cartel had some rough outings during a three-race losing streak. He was fourth in the Grade 2 Golden State Derby final on August 16 and a disappointing sixth as the favorite in his trial to the Grade 2 PCQHRA Breeders Derby on September 12. All that is in the past now after his strong trial victory.
"That was incredible," Fales said. "Right now, he's got a bounce to him that is nice. I did not train him as hard coming into this race. He did not have any big workout. Instead of doing that, I just let him be him. I decided that I did not want to (push him) so hard that I would get in his way. I think maybe we put too much pressure on the horse, and he could feel that. I was not nervous tonight. I was happy with whatever the results were going to be tonight. Maybe he felt that from me, a nice vibe, a different energy from me. We were looser going into the race. At the highest level you better be 100% or you will run third or fourth. I think the timing is right with him where he's 100% now. I've really have not done anything differently training wise. It's a pretty incredible feeling right now."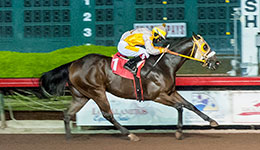 John Carter Cash, under jockey Ruben Lozano dominated the closing trial Saturday night to get the fourth fastest time.
© Scott Martinez
Fales added that he did notice a couple of keys moments during Tell Cartel's winning journey.
"Halfway through the race Ruben asked him right-handed and the horse re-engaged, got motivated and just took off," Fales said. "And then in the very last part of the race – the final 25 yards – I saw him just flying through there. It makes me feel that at 440, if I can run him in a 440 race, he might be just perfect for it. When he gets into a rhythm, he just continues to go. It is a great night for the whole team, and it is going to be amazing three weeks heading into the Super Derby final. I know I will be getting up extra early for the next three weeks. I am so happy right now."
Gentry Farms' homebred filly Kiss Thru Fire, twice a Grade 1 futurity winner at Los Alamitos last year, posted the second fastest qualifying time of :19.628 after winning the opening trial by a head over third fastest qualifier One Sweet Change. Ridden by Raul Valenzuela for trainer Juan Aleman, Kiss Thru Fire came into the trials after running third to the outstanding sophomore filly Ratificiation in the All American Oaks at Ruidoso Downs on September 6.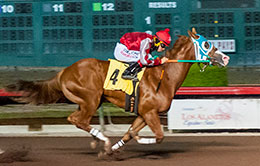 Really First Down, under jockey Jesus Ayala, posted the fifth fastest time in the fourth trial on Saturday.
© Scott Martinez
"(Kiss Thru Fire) ran a great race," Aleman said. "She has always been a nice filly. She ran well here in two big futurities here last year, the Golden State Million and the Los Alamitos Two Million. She had a minor surgery to remove a chip earlier this year. She took some time off to rehab and from there she went to Ruidoso. She did well over there and now has done well here. She did not spend too much time in Ruidoso. She got there around mid-July, ran in the All American Oaks and then headed back here. When she came back, it was like her coming back home again. She got back into our routine rather easily and she has always done well for us."
Bred in Kentucky, the Walk Thru Fire filly is out of the seven-time stakes winner Fredaville. The Los Alamitos Super Derby will be Kiss Thru Fire's seventh stakes appearance and she will be searching for her first stakes win.
"When you have a decent horse, if they're good enough you will have a chance," Aleman said. "She's usually not the best horse out of the gate so when she got away tonight, I knew she had a good shot. She really has a late kick."
Howard Nichols' One Sweet Change was 23-1 in the opening trial, but the filly nearly pulled a huge upset as she had the lead most of the way before Kiss Thru Fire caught her in the final yards. Bred by Birrell Farms, One Sweet Change finished with the third fastest time of :19.644 for jockey Luis Valenzuela and trainer Jaime Gomez.
"Howard is one of the best owners that I train for," Gomez said. "He is always so even keeled. I love to do well for him."
For Luis Valenzuela, this must be his top moment at Los Alamitos since arriving here on September 26. An accomplished rider at Canterbury Park, the jockey has enjoyed a couple of winning rides at the Orange County oval and has now qualified a runner to California's richest derby.
Juan Ramos Dorante's John Carter Cash posted the fourth fastest qualifying time after winning the sixth and final trial in a time of :19.660. With Ruben Lozano aboard, the Carters Cartel gelding led the entire way from post number one, crossing the wire a half-length ahead of seventh fastest qualifier Mental Error.
Valentin Zamudio saddled John Carter Cash, now a winner in three of his last four starts. John Carter Cash was eligible to compete in these trials after Dorante made the late payment of $30,000 to the Super Derby.
"It's a great thrill," Zamudio said. "He ran a big race. Things went like we hoped they would. I felt some pressure because we made the late payment to get him into this race. At the same time, I had a lot of confidence in the horse because he was doing well. Of course, this is horse racing, and anything can happen, but I do not worry about post positions and instead I want to see my horse enjoy a clean trip and have a good race. This horse had already run from post position number one when he won the Bank of America Los Alamitos Championship so I'll be good with whatever happens in the final. I just hope he can avoid trouble and has a good start out of the gate."
John Carter Cash also won the Dillingham Handicap in May and was second in the Vandy's Flash Handicap on June 28.
"This horse is just so sound," Zamudio added. "I've had few horses better than John Carter Cash. He's just an outstanding horse."
The qualifiers include Dunn Ranch LLC's Really First Down, who won the fourth trial and arrived after running second in the Oklahoma Horsemen's Association Mystery Derby on September 27. Really First Down is a gelding sired by Quarter Horse racing's all-time leading sire, First Down Dash, the winner of the Los Alamitos Derby in 1987. Really First Down finished with the fifth fastest time of :19.666.
Bobby Simmons' Mental Error was second to John Carter Cash and is one of four horses to qualify from the final trial of the night. Trained by Paul Jones, the Favorite Cartel gelding ran second in last year's Robert Adair Kindergarten Futurity and was third to Tell Cartel in the Winter Derby earlier this year. Mental Error finished with the sixth fastest time here on :19.748.
Link Newcomb's Cattail Cove, the runner-up in the Los Alamitos Two Million Futurity last year, finished behind Tell Cartel in the second trial on the way to posting the sixth fastest time of :19.773. Bred by 2019 AQHA champion breeder Dr. Steve Burns, the Favorite Cartel gelding came in after running third in the All American Invitational Stakes at Ruidoso Downs. The winner of the All American Invitational is Wootan Racing's Oatman Creek Senator, who was second to Really First Down tonight, but still qualified to the Super Derby final after posting the eighth fastest time. Justin Joiner saddled the homebred gelding by Louisiana Senator.
Reliance Ranches LLC's Mr Ricks and Adolfo & Eduardo Perez's Pay Me In Front finished in a dead-heat for third in the final trial, but that was good enough to grab the final two qualifying berths to the Los Alamitos Super Derby.
Trained by Mike Robbins, Mr Ricks ran in last year's Two Million final, while Pay Me In Front has been in four stakes races this year, including the Golden State Derby. The FDD Dynasty gelding is trained by Jaime Gomez. Mr Jess Perry is the sire of Mr Ricks.
For a complete list of Los Alamitos Super Derby(G1) qualifiers with times, sires, dams, owners, breeders, trainers and jockeys CLICK HERE.
* * * * * * * * * * * * * *
Courtesy of www.losalamitos.com.