RACING THIS WEEK
FEATURES
SERVICES
A Dash Of Sign, under jockey Jonathan Roman, winning the $150,600 Southern California Derby(G2) Sunday night at Los Alamitos Race Course.

© Scott Martinez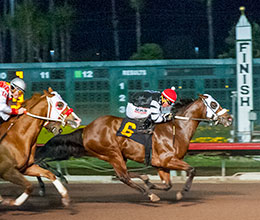 Robbins' Last Hurrah At Los Alamitos Is A Win By A Dash Of Sign In Southern California Derby
LOS ALAMITOS, CA—DECEMBER 19, 2021—
Mike Robbins, a three-time Champion of Champions winning trainer, wrapped up his Los Alamitos career in style, as his trainee A Dash Of Sign, owned by Reliance Ranches LLC, posted a strong half-length victory in the Grade 2, $150,600 Southern California Derby on the meet's closing night on Sunday.
Robbins began training in 1978 and enjoyed national success with big stars like AQHA World Champions Sgt Pepper Feature, Dashs Dream and Special Leader.
The 72-year-old trainer and his wife, Vikki, will head to Oklahoma on Monday with plans for Robbins to be stabled at Remington Park, Ruidoso Downs and Lone Star before retiring from training at the end of 2022.
Winning jockey Jonathan Roman, trainer Mike Robbins and Vikki McLean Robbins accept the Southern California Derby stakes trophy Sunday night at Los Alamitos.
© Scott Martinez
"I just woke up one day I was 72," Robbins said with a laugh. "I'm going to train another year. I'll train through 2022 and then hang it up. I'll find something after that. I'll stay in the horse business some way or another. I'll have to find something to do to keep me busy. Some of the other horses that are in the Two Million and Golden State Million, they may come here next year, but they'll have to be special to bring them. They'll have to do really well as juveniles."
After a long hiatus from training at the Southern California track, Robbins returned with the Grade 1 stakes winning filly Jess Walking Thru in 2014. From there, Robbins enjoyed success at the Orange County track with the 2016 Grade 1 Los Alamitos Super Derby winner Big Lew, the 2019 Grade 2 Golden State Derby winner Conquering Marie, 2020 Grade 3 Los Alamitos Oaks winner Dreams Divine, plus stakes winner SC Vapor Trail, Mr Ricks, Flash N Bling and graded stakes runners Call Me Cole, SC Divas Cartel Man, SC Money Maker, Peighnt Your Fate and more.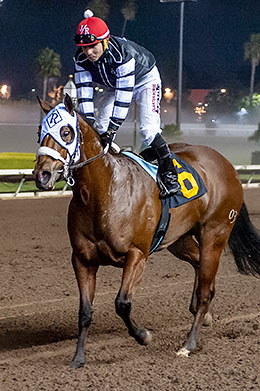 Southern California Derby winner A Dash Of Sign returns to the Los Alamitos winner's circle under jockey Jonathan Roman.
© Scott Martinez
Sent off at 10-1 odds, A Dash Of Sign provided a grand finale for Robbins at Los Alamitos, as the
Tempting Dash
filly bred by The Mixer Ranch broke sharply from post number six, opened a ¾ length lead and continued strongly from there to win by a ½ length over Zynda Racing's Everlong. Ridden by Jonathan Roman, A Dash Of Sign covered the 400 yards in :19.658 on the way to earning a first place check of $63,252. The highly regarded filly improved her career record to four wins from 20 starts while taking her career earnings to $178,488.
"She's so easy to train," Robbins said. "Not a lot you have to do to her. You can do too much with her and kind of confuse her. She's pretty good sized. She's the last horse I had here at Los Alamitos. It's quite a special deal to win with her tonight. She'll head home on Tuesday."
Roman has been a key part of Robbins' operation at Los Alamitos for most of 2021. He's piloted A Dash Of Sign in each of her last five starts, guiding the Oklahoma-bred filly to second place finishes in her trials to the Los Alamitos Super Derby and Southern California Derby.
"She was better than ever tonight," Roman said. "She was great out of the gates. She hesitated a bit after breaking…but she got another gear and surprised me the way she responded. I wasn't expecting that kick, but I was pretty happy she did have a kick. This is probably one of the biggest wins for me. I'm just happy to win one like this at the end of the year after working hard all year. I can't ask for a better way to end the meet."
Ridden by Jimmy Dean Brooks for trainer Eddie Willis, the Apollitical Jess gelding Everlong was the second longest shot on the board at 29-1. Against the odds, Everlong was strong in this derby final, as he was in contention early on and never let up in route to finishing second.
Bred by the Zyndas, Everlong earned $25,602 to take his career bankroll to $74,598. Everlong's dam, Foo Who, won the 2016 Denim N Diamonds Handicap and finished second or third in three other stakes races at Los Alamitos. She also qualified to the 2015 La Primera Del Año Derby.
Jaime Gomez's J Best Boogie was fifth at the start and didn't get rolling at full speed until the second half of the race, as she moved up to third place. Bred by Rick Beck, the Docs Best Card filly earned $18.072. Ed Allred's fastest qualifier Monopolist bumped early on and had a troubled trip from there while managing to run fourth. Henry Reynoso Lopez piloted the Favorite Cartel gelding for trainer James Glenn, Jr.
The top four finishers were followed across the wire by Apollitical Hero, La Estrella Corona, In My Heart, Tuckk, O Donovan Rossa and Karl Strauss.
* * * * * * * * * * * * * *
For more info, please contact larace@losalamitos.com. Follow us on Twitter or Instagram at @losalracing or visit us online at www.losalamitos.com.