RACING THIS WEEK
FEATURES
SERVICES
Bidding for the 2017 LQHBA Stallion Service Auction will close at 2 p.m. (CST) Wednesday.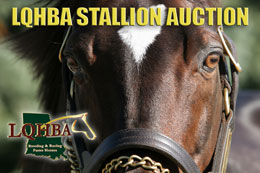 LQHBA Stallion Service Auction Closes Wednesday
ALEXANDRIA, LA—JANUARY 24, 2017—
Louisiana Quarter Horse Breeders' Association' annual Stallion Service Auction will close at 2:00 p.m. (CST) Wednesday (January 25) (CST). Services are available on more than 50 of the industry's top stallions.
''Bids will close at 2 p.m. sharp,'' LQHBA Executive Director Tony Patterson said.
Breeders wanting to review the list of stallion services being offered or to place bid can CLICK HERE.
All minimum bids include farm/chute fees (if any). The price bid is the TOTAL price breeders will pay if you are the winning bidder (unless otherwise noted in donors' conditions).
ALL proceeds (less any farm/chute fees) from the LQHBA Stallion Auction are used to benefit the association's youth scholarship program. Since 2001, when the program began, $430,000 has been raised to fund youth scholarships.
For additional information contact the LQHBA office at (318) 487-9506 or visit the association website at lqhba.com.