RACING THIS WEEK
FEATURES
SERVICES
First crop sire Jr Dynasty Mountain got his first stakes winner on Saturday.

© Courtesy R/M Stables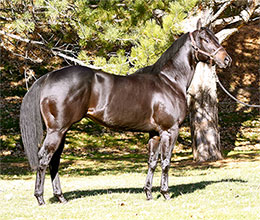 First Crop Sire Jr Dynasty Mountain Gets First Stakes Winner
MORGAN, UTóMAY 6, 2017ó
Multiple stakes winner and first crop sire
Jr Dynasty Mountain
SI 114 sired his first stakes winner today when Sb Hoonigan won the $73,885 Sherm Hadley / Ed Giles Memorial Futurity at Weber Downs in Ogden, Utah.
It was the second win in as many starts for the Utah homebred racing for owner/breeder Steve Berry. Trainer Alvaro Torres saddled the brown gelding out of Be Bac Later by Splash Bac.
Ridden by jockey Jesus Canales, Sb Hoonigan completed the 300 yards in :15.615 seconds into a 5-mph headwind to pocket the winners' purse worth $29,558.
From only five starters in his first crop this season, Jr Dynasty Mountain has sired two winners, 1 stakes winner and average earnings per starter of more than $6,400.
His top performers include stakes winner Sb Hoonigan (2 wins in 2 starts, $29,908, Sherm Hadley / Ed Giles Memorial Futurity), Sb Itty Bitty (winner at 2, 2017 $1,827, finalist Sherm Hadley / Ed Giles Memorial Futurity).
Owned by J R Stables, Jr Dynasty Mountain won or placed in 10 of 13 career starts and earned $190,336. He won the Grade 2 AQHA Derby Challenge Championship, Les Bois Derby Challenge and second in the PCQHRA Breeders' Futurity(G2). He was also a finalist in the Les Bois Championship Challenge and Blane Schvaneveldt Handicap.
The son of world champion sire FDD Dynasty is out of the stakes winning Panther Mountain mare Prissy By Panther SI 109 ($74,969). She equaled the Los Alamitos 220-yard track record while winning the Dashing Folly Handicap. Prissy By Panther also second in the Grade 2 Sunland Park Winter Futurity and a finalist in the Charger Bar Handicap(G1), West Texas Derby(G2), and Bitterroot Futurity(RG2).
Prissy By Panther is the dam of 4 ROM winners from 4 starters including Grade 2 winner Jr Dynasty Mountain SI 104 (see above), Heritage Place Derby(G2) finalist Jr Spyder King SI 91 ($17,395), Jr Mahalia SI 101 (winner at 2, 2016) and Jr Dash Of Shania SI 94 (winner at 2).
Jr Dynasty Mountain stands for a 2017 fee of $1,500 at R/M Stables near Morgan, Utah. For additional information or breeding contracts call Ron or Laura Moosman at (801) 376-5719.