RACING THIS WEEK
FEATURES
SERVICES
Million-dollar sire First Timber stands at Wesley and Susen Oulton's Rolling O Ranches near Olds, Alberta Canada.

© Amanda Glidden / Plugged-In Equine Marketing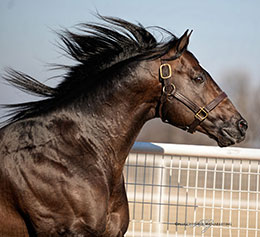 Canadian Sire First Timber Progeny Earnings Surpass Million-Dollar Mark
OLDS, ALB—JULY 23, 2017—
First Timber
SI 98, a royally-bred son of Oak Tree Special out of
First Down Dash
's sister First Prize Dash, become the first sire while standing in Western Canada to surpass the million-dollar in progeny earnings mark this week when his 2-year-old won the $40,206(US) Alberta Stallion Stakes Futurity at Northlands Park.
Ridden by jockey J. Botello, Mr Eleanor romped over the 330 yards in a quick :16.691 seconds, a 103-speed index, to defeat Alberta Krome by 2-˝ lengths (see related story). It was the second win in four starts this season and the Canadian-bred juvenile earned $18,462(US) for the effort.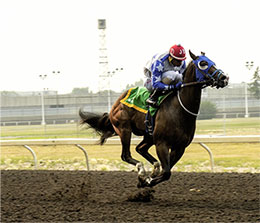 Mr Eleanor, under jockey J. Botello, ran off with the $40,206(US) Alberta Stallion Stakes Futurity at Northlands Park.
© Coady Photo Services
This is the second 2-year-old stakes winner this season for
First Timber
who also sired Otimberimfallninlove, the high-seller at the Sport Of Speed Sale last fall, who returned to win the $24,286(US) Sport Of Speed Sale Futurity on June 18th.
Through July 23, First Timber has sired 30 winners, 10 stakes horses (15%) with earnings of $1,001,679 and average earnings per starter of over $18,200.
First Timber is the first stallion to accomplish the million-dollar earnings record while standing in Western Canada and is one of only six million-dollar stallions that have stood in Western Canada for an extended time frame to accomplish the feat. The others include El Rey Burner, Sir Rambler, White Tie, Bono Jazz and Kaweah Sunrise.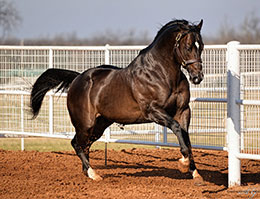 Wesley and Susen Oulton's First Timber has sired 15% stakes winners from starters and earners of over $1 million dollars.
© Amanda Glidden / Plugged-In Equine Marketing
Purchased by Wesley & Susen Oulton at the 2011 Heritage Place Winter Mixed Sale,
First Timber
stood the 2011 thru 2014 seasons in Alberta. He returned to Oklahoma for one season in 2015 and has been back in Alberta since 2016 at Oulton's
Rolling O Ranches
near Olds, Alberta. His 2017 fee is $2,500.
"Timber has been the leading Alberta Bred sire since his first crop of two year olds hit the tracks here in Alberta," Wesley Oulton said.
Bred in Oklahoma by Weetona Stanley, First Timber is a half-brother to last week's US Leading 2-Year-Old Sire of Money Earners Heza Fast Dash SI 103; as well as Grade 1 winners First Prize Leesa SI 106 ($488,270), First Carolina SI 105 ($415,047), First Prize Robin SI 103 ($295,147), Fast First Prize SI 102 ($244,929), and G1-placed First Prize Perry SI 102 ($243,946), etc.
A Grade 1 finalist himself, First Timber won two of six career starts earning $46,023. He was a finalist in the Grade 1 All American Derby at Ruidoso Downs.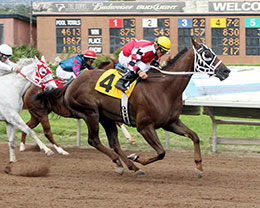 Droppin Timber winning the Special Hank Handicap at Albuquerque Downs.
© Coady Photography
First Timber
's top performers include Droppin Timber SI 101 (7 wins to 7, $187,753 Oklahoma Hi-Point Distance Horse, Special Hank H., etc.), Cruisinfourabruisin SI 105 (11 wins to 5, $124,474 Canada Hi-Pt Three-Year-Old Gelding, Canada Quarter Horse Cup Futurity [R] -G3, etc.), Big Sluggo SI 98 (3 wins to 5, $69,755 2nd-James Isaac Hobbs S.-G2, etc.), Juno Dat Timber SI 97 (3 wins to 5, $52,486 Alberta Bred Futurity [R] -G3, etc.), Miss Chrome First SI 101 (4 wins to 4, $47,885 etc.), First Prize Sass SI 102 (3 wins to 4, $36,561 2nd-Alberta Stallion Futurity [R] , etc.), Streaken Timber SI 104 (4 wins to 4, $31,542 Alberta Bred Derby, etc.), etc.
"My wife and I were given a trip to Denmark for a family reunion by our children and I had told the kids if one of my horses should happen to qualify they would be responsible for running the horse," Oulton said.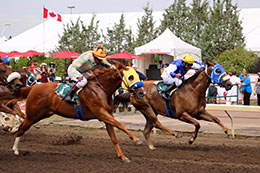 Stablemates Ima Running First (#7) and First Prize Sass (#4) run 1-2 in the 2016 Alberta Stallion Derby at Northlands Park.
© Coady Photo Services
"Racing is a family endeavor, my three kids got up early to haul two qualifiers 2-˝ hours to Edmonton Northlands Park, got them ready and handled them for the race. Long story short; we ran first and second with me watching some 5000 km away," he added.
First Timber is expected to have 2-year-old starters in trials later this year for the Evergreen Park John Deere Juvenile Challenge (finals August 20), Alberta Bred Futurity at Northlands Park (finals September 16) and the Canada Quarter Horse Cup Futurity at Century Downs(finals October 22).
In 2017 First Timber bred mares in three countries: USA, Canada and Mexico covering 28 mares.
For additional information or breeding contracts to First Timber call Wesley or Susen Oulton at 403-556-7299.