RACING THIS WEEK
FEATURES
SERVICES
Owner Jorge Haddad leads champion sire The Louisiana Cartel off the trailer Thursday at Louisiana Center for For Equine Reproduction (LACER) in Opelousas.

© LACER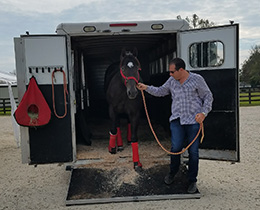 The Louisiana Cartel, Inseperable Arrive at LACER
OPELOUSAS, LA—NOVEMBER 16, 2017—
The 2017 #4 Leading Third-Crop Sire of Money Earners
The Louisiana Cartel
and multiple Grade 1 sire
Inseperable
arrived at Louisiana Center for For Equine Reproduction (LACER) today (Thursday).
Owned by Jorge Haddad, both stallions will stand at the Opelousas, Louisiana facility for the 2018 breeding season.
From three crops to race, The Louisiana Cartel has sired 70 winners, 22 stakes horses(16%), 1 AQHA Racing champion and earners $3.3 million with average earnings per starter of over $24,000.
Leading sire The Louisiana Cartel returns to the state where he was born and bred Thursday afternoon.
© LACER
His top performers include two-time AQHA Racing Champion
Ec Jet One
SI 10 (8 wins to 3, $1,370,385 All American Derby-G1, etc.), Cartels Pop Pop SI 92 (2 wins to 3, $191,509 TQHA Sale Futurity-RG2, etc.), Tlc Dale SI 108 (5 wins to 4, $182,117 Sam Houston Derby-G3, etc.), Zoomin B Cartel SI 92 (3 wins to 3, $134,310 Miss Roxie Little Futurity, etc.), Sissy Cartel SI 101 (2 wins to 3, $123,343 2nd TQHA Sale Futurity-G2, etc.), Js Abel Dasher SI 96 (3 wins to 3, $112,151 2nd Ruidoso Juvenile Challenge-G3, etc.), Carris Cartel SI 97 (2 wins at 2, $92,504 AQHA Juvenile Challenge Championship S.-G2, etc.), Teves SI 101 (4 wins to 4, $65,570 2nd Fair Meadows Juvenile S., etc.), etc.
From a limited number of starters in five crops to race AQHA Racing Champion Inseperable has sired 100 winners, 20 stakes horses (11%), earners of nearly $3 million and average earnings per starter of more than $15,000.
Inseperable's top performers include Gold Digging Ashley SI 106 (8 wins to 3, $355,195 Southwest Juvenile Championship-G1, etc.), Queen Washita SI 101 (5 wins to 3, $260,510 Oklahoma Derby-G3, Evangeline Downs Futurity, etc.), Sudden Separation SI 102 (8 wins to 6, $260,264 AQHA Distaff Challenge Championship-G1, etc.), Together To The End SI 96 (3 wins to 2, $110,120 Harrah's Entertainment Futurity-G3, etc.), Ricky Seperate SI 99 (5 wins to 6, $102,524 2nd Dash In A Flash S., etc.), Pronto Alex SI 96 (3 wins to 2, $94,199 Laico Bird S., etc.), Rarin SI 101 (7 wins to 5, $92,360 etc.), Sr Inseperable SI 98 (3 wins to 3, $49,954 Old South Derby, etc.), Go Black Benny SI 97 (winner, $47,422 2nd Independence Day H.-G3, etc.), Dash To Seperate SI 94 (winner, $46,947 2nd Remington Park Juvenile S., etc.), etc.
Horsemen and women who are planning to attend the Louisiana Million Futurity(RG1) trials Friday night at nearby Evangeline Downs are invited to spend the afternoon at LACER.
LACER will host a "Stallion Showcase" on Friday (Nov. 17). At noon, the Opelousas based nursery will serve a free "gumbo" lunch prior to the " showcase" set for 12:30 p.m. (CDT).
Attendees will have the opportunity to get a first-hand look at The Louisiana Cartel and Inseperable as well Mr Piloto, Jess Cuervo, Fast Prize Dash, Make It Anywhere and First Prize Doc.
Breeders that book an early bird contract to The Louisiana Cartel will have their name put into a drawing for a free breeding to the champion siring son of Corona Cartel.
The stallion show case will be held at Acadiana Equine Hospital at Copper Crowne, 5124 Hwy 182, Opelousas, Louisiana 705070.
For additional information call 377-407-9555 or visit the website at laequine.com.