RACING THIS WEEK
FEATURES
SERVICES
The 2018 OQHRA Stallion Service Auction will continue through noon January 25, 20187.

© Don Shugart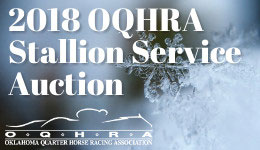 OQHRA Online Stallion Service Auction Now Open
OKLAHOMA CITY, OKóDECEMBER 19, 2016ó
The Oklahoma Quarter Horse Racing Association (OQHRA) kicked off their annual Stallion Service Auction on Saturday. Horsemen and women can log on today and begin bidding on the more than seventy-five stallions available or watch the bidding progress at
www.oqhrastallionauction.com
.
Breeders' have until noon (CST) Thursday, January 25th to get their final bids recorded.
''Buying from OQHR'' makes your dollars go twice as far because the association uses the money to provide the member services that make racing good in Oklahoma.
This year OQHRA is offering a new "NO RUSH BIDDING" feature on their website, which will give a five-minute extension to allow time for everyone to bid.
If two or more people are bidding on the same stallion service within the last five minutes of the auction closing, January 25, the bidding will automatically continue in increments of five minutes until only one person is bidding. Any stallions that are extended at the deadline will be noted in red on the auction page.
There are no hidden charges, farm fees, or chute fees for donated stallions, as they are included in the price you pay to OQHRA.
If you aren't able to log into the website, please contact Krissy at 405-216-0440. She can help you place bids if you don't have access to internet.
All successful bidders of a breeding of $500 or higher will receive a limited-edition OQHRA jacket.