RACING THIS WEEK
FEATURES
SERVICES
The 2018 AQRA Stallion Service Auction has extended bidding through Wednesday, January 31.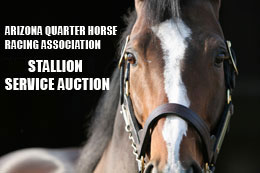 AQRA Extends Stallion Service Auction Bidding
PHOENIX, AZ--JANUARY 29, 2018--
Arizona Quarter Racing Association (AQRA) has just announced they will extend their annual Stallion Service Auction that began January 1 thru Wednesday, January 31, 2018. Horsemen and women looking for breeding can still bid.
"Due to a glitch in our association website today we have decided to keep the auction open through 6 pm (MDT) Wednesday (Jan. 31)," AQRA Executive Director Loretta Brasher said late Tuesday.
All progeny from a stallion sold in the service auction will be eligible for the 2021 Desert Classic Futurity and Derby series. The Desert Classic Futurity is run every April at Turf Paradise with an estimated purse of $65,000.
"AQRA thanks all of the stallion owners who donate breedings and to the breeders who purchase them to support our organization," Brasher said. "Money collected for the sold breeding's each year are added to the futurity purse," she added.
To review the 73 stallions available CLICK HERE. Bidding open tomorrow (Jan. 1) and will continue through 6 p.m. (MST), Wednesday, January 31.
The winning bidder for each breeding must submit a check made out to AQRA Stallion Service Auction or pay by credit card within five (5) days of auction closure. AQRA will pay your farm fees up to $500.
For additional information visit the association website at azqra.com.