RACING THIS WEEK
FEATURES
SERVICES
Double Bar S Ranch announced today they will make semen to former leading sire Strawfly Special available to the public in 2018.

© Rich Reiman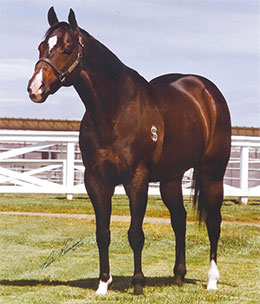 2018 Semen Available To Former Leading Sire Strawfly Special
HEMET, CA-FEBRUARY 27, 2018--
Double Bar S Ranch, LLC announced today they will offer semen to former leading sire
Strawfly Special
SI 97 in 2018.
Through Dr. Rick Beck of In Foal, Inc. in Hemet, California, semen through the ICSI (Intracytoplasmic Sperm Injection) process for $5,000. This fee is half the $10,000 that Strawfly Special got prior to his death.
"We have performed this process with the semen of Strawfly Special with 100% success thus far, so we are very optimistic of the breeding season for 2018 to continue the offspring of Strawfly Special," said Dr. Beck
CLICK HERE to watch the video "Story Of ICSI" from InFoal, Inc.
"We are very excited about offering this to the public," said Dawn List Double Bar S Ranch. "We had all of this semen from him available and felt it would be great to continue his stamp in the racing world with babies."
From 16 crops, Strawfly Special has sired 833 winners (70%), 198 stakes horses (17%), earners of $25.8 million with average earnings per starter of more than $21,600.
His top performers include two-time World Champion Tailor Fit SI 110 (20 wins, $1,299,010, Champion Of Champions-G1-twice, etc.), Streakin Flyer SI 96 (5 wins, $1,141,128 All American Futurity-G1, etc.), Ausual Suspect SI 96 (3 wins at 2, $1,003,564, All American Futurity-G1, etc.), La Especial Corona SI 104 (22 wins, $433,327 New Mexico Distance Challenge-G2, etc.), Flys R Droppin SI 96 (4 wins to 5, $379,566 2nd All American Futurity-G1, etc.), Flying Dino SI 103 (6 wins to 7, $360,964 Remington Park Futurity-G1, etc.), Strawflyin Buds SI 99 (7 wins to 3, $315,974 Southern California Derby-G1, etc.), etc.
"He was the 'king' for us, and the kind of horse most people wait a lifetime for," said Rhonda List of Double Bar S Ranch. "He did so many things for our family, as well as for the bloodlines in racing."
Strawfly Special won or placed in 18 races and earned $222,920. He won the Southern California Derby was second in the Bay Meadows Futurity(G1) and third in the Heritage Place Futurity(G1) and QHBC Championship Classic(G1). He was also a finalist in the Kindergarten Futurity(G1), Heritage Place Derby(G1), Los Alamitos Invitational Championship(G1) and Champion Prep Stakes-Div. 2.
He is the leading son of AQHA Racing's only 2-year-old Triple Crown winner-World Champion Special Effort SI 104.
Strawfly Special's dam is the Grade 3-placed Pie In The Sky mare Fly In The Pie SI 99 ($130,052). The second dam is Rainbow Futurity winner Flying Rockette SI 91, an own daughter of legendary Rocket Bar (TB).
Strawfly Special currently has a yearling on the ground out of Dicey Secret, and 2018 additional foals out of Jess Cuz, and the other is out of Scoop Of Sunshine.
For additional information or breeding contracts call InFoal, Inc. at 951-929-4533.