RACING THIS WEEK
FEATURES
SERVICES
Eclipse Champion Sprinter Big Drama is now available to Quarter Horse mares.

© Stonewall's Prestige Stallions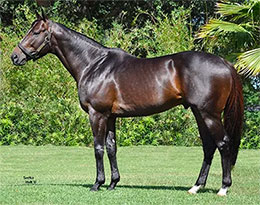 Stakes Siring Breeders' Cup Sprint Winner Big Drama Now Available to Quarter Horses
OCALA, FL—MARCH 29, 2018—
Hal Queen's Eclipse Award winner
Big Drama
, winner of the 2010 $2 million Sentient Jet Breeders' Cup Sprint (G1) at Churchill Downs, is now available to Quarter Horse mares.
The stakes siring son of four-time leading Florida sire Montbrook will stand for a Quarter Horse introductory fee of $2,000, with consideration to stakes mares and producers, at Richard Haisfield's Stonewall's Prestige Stallions, in Ocala, Florida. His fee includes a live foal guarantee and is inclusive of all charges except shipping.
Named the 2010 Eclipse Award Champion Sprinter, Big Drama won or placed 15 of 19 career starts while earning $2,746,060. He won the $2 million Sentient Jet Breeders' Cup Sprint (G1) (WATCH VIDEO), Smile Sprint Handicap (G2), Boyd Gaming's Delta Jackpot Stakes (G3), Mr. Prospector Stakes(G3), etc.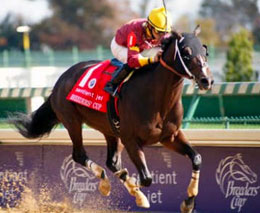 Big Drama
, under jockey Eibar Coa, is a 1 ½ length winner in $2 million Sentient Jet Breeders' Cup Sprint (G1) at Churchill Downs.
© Breeders' Cup
In the Mr. Prospector Stakes(G3)
Big Drama
set a new track record for 6 furlongs in 1:08.12.
"Big Drama has clocked faster quarters than 27 of 49 current 440 track records currently standing at AQHA racetrack," Stonewall's Prestige Stallions owner Richard Haisfield said.
When he won the Breeders' Cup Sprint (G1) his first quarter fractions of :21.34 seconds was faster than 32 of the last 44 All American Futurity(G1) winning times including those of such runners as Champion Jess Good Candy, Champion Ronas Ryon, Champion Special Effort, Champion Fly Baby Fly, Champion Corona Cash, Champion Easy Date, Champion Timeto Thinkrich, Champion Strawberry Silk, Champion Bugs Alive In 75, Champion Higheasterjet and Champion Mr Master Bug.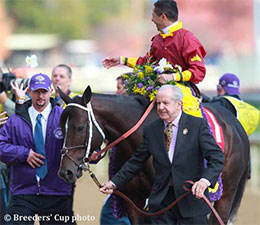 Owner Harold Queen lead's 2010 Breeders' Cup Sprint winner
Big Drama
into the Churchhill Downs winners' enclosure.
© Breeders' Cup
Thoroughbreds' influence on Quarter Horses trace back to Janus, a grandson of the foundation sire Godolphin Arabian who was imported to Colonial America and crossed with horses bred by the Chickasaw Indian tribe to lay the groundwork for the American Quarter Horse.
In modern times, the impact of Thoroughbred sires such as Three Bars, Top Deck, and Beduino are still major influences in Quarter Horse pedigrees today, while the recent past has produced Grade 1 Quarter Horses winners and sires by Hennessy and 1997 Horse of the Year Favorite Trick. Even elite stallions such as Storm Cat and Alydar sired Quarter Horse runners.
"A spectacular two-year-old and Eclipse Award winning Champion Sprinter, Big Drama is not only the heir to his sire Montbrook but is the most brilliant representative of the Buckpasser line at stud in the US today," Alan Porter Bloodhorse Magazine Pedigree Consultant said.
Big Drama's sire Montbrook is a Grade 3 stakes winning son of Buckaroo who sired 47 stakes winners, 2 champions and earners of more than $47.6 million. His top performers include Big Drama (Champion, see above), Monteration (Champion in Puerto Rico, $164,152, Clasico Dia de los Padres, etc.), Shake You Down ($1,442,014, True North Breeders' Cup H. [G2], etc.), Shadowbdancing ($1,003,530, Prairie Meadows Cornhusker H. [G2], etc.), Tackleberry ($915,252, Gulfstream Park H. [G2] (GP, $180,000), etc.), Outofthebox ($734,008, Super Derby [G1], etc.), etc.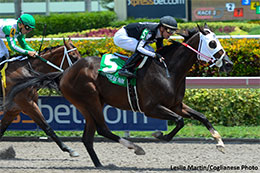 R Kinsley Doll captures $150,000 Three Rings division of Florida Sire Stakes at Gulfstream Park.
© Leslie Martin / Coglianese Photo
Big Drama
's dam is the two-time Grade 1 producing Notebook mare Riveting Drama, dam of 9 winners from 9 starters, 6 black type including Eclipse Champion
Big Drama
(see above), Grade 1 winner Sheer Drama ($1,691,040), stakes winner and G3-placed Little Drama ($359,299), stakes winner Queen Drama ($127,225 at 2), stakes winner Drama's Way ($41,080) and stakes-placed Coffee Can ($114,059), etc.
"Big Drama is a great out-cross for Quarter Horse mares," Haisfield says. "Not only does he have the speed and conformation that Quarter Horse owners look for in a Thoroughbred cross, he was a Grade 1 competitor with a great pedigree. When that happens the stallion is normally not available to Quarter Horses, but Mr. Queen has decided to make this happen."
From four Thoroughbred crops to race Big Drama has already sired 69 winners, 11 black type runners, earners in excess of $4.2 million with average earnings per starter of over $40,200.
His top performers include R Kinsley Doll ($315,553, 4 wins, 2 to 5, Florida Sire Three Ring S., etc.), Mr. Kisses ($249,347, 7 wins, 2 to 4, 2nd Florida Sire Dr. Fager S., etc.), Tribal Drama ($211,780, 2 wins, Florida Sire Affirmed S. , etc.), Sadie Be Good (2 wins to 3, $109,000 2nd Stonehedge Farm South Sophomore Fillies S., etc.), etc.
"Quarter Horse breeders are looking for a sire who's foals can develop as 2-year-olds. Big Drama has sired 21 two-year-old winners, from a limited number of starters, who have earnings of over $1 million in his first three crops," Haisfield noted.
Haisfield, the developer of major Thoroughbred sire Medaglia d'Oro, says he is committed to making Big Drama a leading sire of Quarter Horses and he encourages all breeders to call him to discuss breeding their mare(s) to the Eclipse Champion.
Equine Medical Center of Ocala will handle collection and shipping of cooled semen on Big Drama.
For additional information or breeding contracts call Richard Haisfield at (352) 895-8910.