RACING THIS WEEK
FEATURES
SERVICES
Matt and Bendi Dunn of Bismarck, Missouri have purchased the former Shebester Stallion Station near Wynnewood, Oklahoma.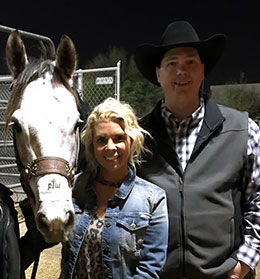 Famed Oklahoma Ranch Set To Reopen as Dunn Ranch
WYNNEWOOD, OK—JULY 20, 2018—
One of Oklahoma's largest and most historic properties has new owners from Missouri. Matt and Bendi Dunn, longtime Quarter Horse owners and breeders, have purchased the former home of "JEH Stallion Station's Oklahoma Division" near Wynnewood.
The ranch, located at exit 64 right off I-35 in Wynnewood, has stood some of the iconic Quarter Horse racing stallions in the industry to include Bug's Alive In 75, Tres Seis and Apollitical Jess to name a few.
Ralph W. Shebester, an Oklahoma oilman who among other business ventures in Oklahoma, purchased the 400 acre property in Wynnewood in 1977. He built and founded "Shebester Stallion Station" on the site to stand his 1975 All American Futurity(G1) winner Bugs Alive In 75. The famous stallion is buried on the ranch.
Dunn Ranch, the former home of Shebester Stallion Station and JEH's Oklahoma Division, is located in Wynnewood, Oklahoma just off I-35.
An iconic Oklahoma horseman, Shebester also spent $4.5 million for an expansion of Blue Ribbon Downs to acquire the first pari-mutuel license in Oklahoma and he started the Black Gold Futurity, which was the first $1 million-added purse in the world in 1983,
Matt and Bendi are looking to build on the tradition began by Shebester more than 40 years ago.
Matt Dunn is President of CMI in Ironton, Missouri. Founded in 1996, CMI is a family owned architectural millwork operation that is customer service oriented, serving small businesses to large corporations. CMI's success is based solely off the satisfaction of its customers, the quality products they provide and their efficiency in time and cost savings.
The Dunn's plan to incorporate the same philosophy that has made CMI a huge success to their horse operation at the new Dunn Ranch in Wynnewood.
"I bought the ranch to offer stallion and mare owners a service like they never seen, I want to help our industry grow," Dunn said this week. "Providing unmatched service where our clients can walk away with success at a great price is what our goal will be," he added.
The ranch is currently undergoing a face-lift and expected to be fully operational by August 1. Among the services they will provide are:
Embryo transfers
ICSI
Mare Foaling
Mares Under Lights,
Year-round Mare Care
Ship Semen
Stallion Collection
Sales Prep

Dunn is looking to attract a first-class stallion roster for the 2019 breeding season. Additional information will be forthcoming later this year.

Private turnout pens with loafing sheds, currently under renovation, will offer mare owners private care at turnout prices.

The Oklahoma facility is unique that it boasts 126 pipe turnout pens all with loafing sheds which will allow Dunn Ranch to offer private care, at a turnout price, for their customers mares. In addition they will still offer stall options for horsemen and women wanting that service.

For stallion owners, Dunn Ranch offers some the finest turnout pens with shelters and stallion stalls in the State. All the stallion runs are nice pipe separated grass paddocks, each with fully enclosed shelters that will all be equipped with camera systems at all times.

Dunn Ranch is conveniently located off I-35, giving mare owners from all over easy and quick access.

Oklahoma currently offers one of the best BREED PROGRAMS in the industry. Owners, breeders and stallion owners through the Oklahoma-Bred Program have earned in excess of $38 million from the inception of the Program. For complete information regarding Program visit the OQHRA website at QHRA.com/breed-program.

Renovations have already begun that give the ranch a fresh new look and they are in process of remodeling their vet lab, office, housing, entrance, new lighting as well as painting off the barns and fences.

"We will strive to provide personal attention and great care for our client's horses at great rates," Dunn said. "We encourage people to drop-in in the near future to meet us and see the ranch renovations," he added.

"Keeping our clients excited and having fun in the horse business. . .that's what it's all about!," Dunn concluded.

For additional information to inquire about services or stallion options contact Matt Dunn at (314) 960-3260.