RACING THIS WEEK
FEATURES
SERVICES
2018 leading sire Apollitical Jess broke First Down Dash's single-season sire earnings record on Sunday.

© Bee Silva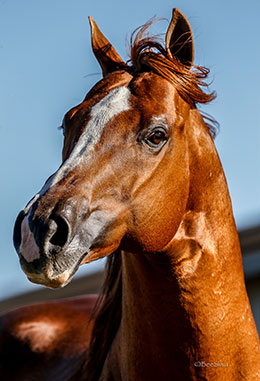 Apollitical Jess Shatters Single-Season Sire Earnings Mark
WAYNE, OK—OCTOBER 15, 2018—
Rancho El Cabresto Inc.'s young sire
Apollitical Jess
SI 107 broke the single-season earnings record for a North American Quarter Horse sire on Sunday following a weekend that included High Time To Fly winning the $149,7476 Jim Bader Futurity at Prairie Meadows.
Apollitical Jess entered the week needing $165,887 to break the record of $6,565,859 set by all-time leading sire First Down Dash in 2006.
The 2018 leading sire of money earners Apollitical Jess picked up enough money to break the all-time record during a weekend that saw his offspring Apollitical Cyclone finish 3rd in the Grade 1 Refrigerator Handicap; Apollitical Mogul finish 3rd in the Valley Junction Futurity; First Of 15 finish 3rd in the Altoona Derby, and champion Hold Air Hostage getting 4th in the Grade 1 Los Alamitos Invitational Championship on Sunday night.
Apollitical Jess' earnings through October 14th hit $6,695,169 for the 2018 season and he has 2-˝ more months to increase that total before the end of the year.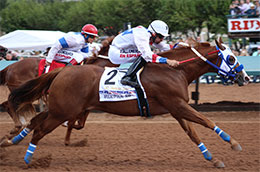 Apocalyptical Jess, under jockey Raul Ramirez, Jr., winning the $3 million Grade 1 All American Futurity on Labor Day at Ruidoso Downs.
© Ernesto Salinas / StallioneSearch
He is also the #3 leading yearling sale sire for 2018 with 47 yearlings selling for $2,572,000, an average of $50,431.
The world champion son of Mr Jess Perry stood the 2018 season at James Ranch near Wayne, Oklahoma for $16,000. His 2019 fee has not been announced.
Apollitical Jess has enjoyed much success this season with 23 top-three graded stakes finishes including four grade 1 winners: Apocalyptical Jess - All American Futurity; Political Attraction – Rainbow Derby; Jess Move You – Ruidoso Derby and Hold Air Hostage – Sooner State Stakes.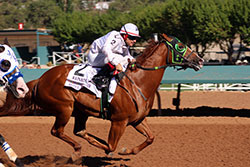 Political Attraction, under jockey James Flores, winning the Grade 1 $801,564 Rainbow Derby at Ruidoso Downs.
© Ernesto Salinas
In just five crops to race the 11-year-old stallion has sired 115 winners(48%), 97 stakes horses(23%), 2 champions, earnings of $22.4 million and average earnings per starter in excess of $53,487.
Hip top performers include Apollitical Blood SI 99 (6 wins to 3, $1,519,800 AQHA Racing Champion Three-year-old Colt, All American Derby-G1, etc.); Hold Air Hostage SI 108 (9 wins to 4, 2018 $1,345,801 AQHA Racing Champion Three-year-old, AQHA Racing Champion 3-year-old Gelding, All American Derby-G1, etc.); Apocalyptical Jess SI 96 (2 wins at 2, 2018, $1,506,400 All American Futurity-G1, etc.); Apolltical Chad SI 95 (6 wins to 4, 2018, $878,165 Ruidoso Futurity-G1, etc.); Ajs High SI 106 (15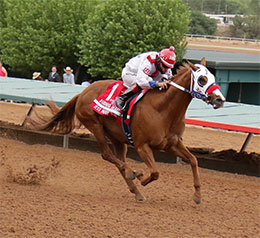 Jess Move You, under jockey Agustin Silva, winning the $796,197 Ruidoso Derby(G1) at Ruidoso Downs.
© StallioneSearch.com
wins to 6, 2018, $852,211, AQHA Challenge Championship S.-G1, etc.); Political Attraction SI 103 (8 wins to 3, 2018, $692,563 Rainbow Derby-G1, etc.); Tough To Bee SI 103 (7 wins to 4, 2018 $609,341 Ruidoso Derby-G1, etc.); Celtic Emblem SI 96 (5 wins to 3, $577,377 Easy Jet S.-G3, 2nd-All American Derby-G1, etc.); Jess Move You SI 97 (6 wins to 3, $488,751, 2018 Ruidoso Derby-G1, etc.); Lynnder 16 SI 105 (3 wins at 2, 2018 $461,146 Remington Park Oklahoma Bred Futurity-G2, etc.), etc.
A phenomenal race horse, Apollitical Jess won or placed in 12 of 14 career starts and earned $1,399,831. He was named the AQHA World Champion, Champion 3-Year-Old and Champion 3-Year-Old Colt in 2010 after winning the Champion of Champions(G1), Los Alamitos Super Derby(G1) and finishing second in the All American Derby(G1). He was also second in the Los Alamitos Two Million Futurity(G1) at 2.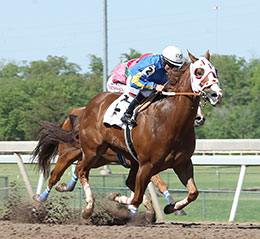 Hold Air Hostage (2) easily defeats Tough To Bee (1) to win the $100,000 Sooner State Stakes(RG1) on Saturday at Remington Park.
© Dustin Orona Photography
Apollitical Jess
is out of three-time AQHA racing champion and former
Broodmare of the Year
Apollitical Time SI 104 (14 wins, $904,242). The daughter of the Thoroughbred sire Apollo won the Los Alamitos Super Derby(G1), Mildred N Vessels Memorial(G1), Los Alamitos Invitational Championship(G1), Governor's Cup Derby(RG1), California Challenge Championship(G2), California Breeders' Matron Stakes(RG2), Town Policy Handicap(G3) and La Pacifica Handicap.
She is the dam of 6 ROM winners including world champion Apollitical Jess (see above), stakes-placed grade 2 finalist Rocket And Roll SI 99 ($50,885) and the granddam of Grade 2 Southern California Derby winner Mr Apollitical Dash SI 94 ($216,811) and G1-placed Oneapolliticalflight SI 93 ($196,808), etc.
For additional information or breeding contracts call James Ranch at 405-449-3728.