RACING THIS WEEK
FEATURES
SERVICES
The Los Alamitos Division of the Race Track Chaplaincy of America's 3rd annual online stallion service auction is currently on its BUY NOW Option.

© Scott Martinez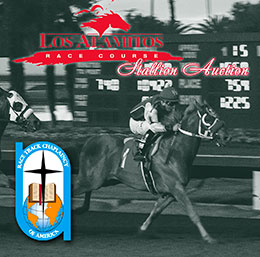 Buy Now! Option Currently Available At Los Alamitos RTCA Online Stallion Auction
LOS ALAMITOS, CA—JANUARY 18, 2019—
The Los Alamitos Division of the Race Track Chaplaincy of America continues its 3rd annual online stallion service auction to raise funds towards its efforts to develop programs to benefit the spiritual needs of those that work in the barn area with racehorses at Los Alamitos Race Course.
The auction is currently on its BUY NOW! Option, which means that interested owners and breeders can purchase a 2019 breeding to a top stallions immediately. There is no bidding involved. Simply find the stallion breeding of your choice and click on the purchase option to acquire the breeding. Stallion owners have generously donated the breeding to many of the top Quarter Horse stallions in the sport to support the Los Alamitos RTCA.
In alphabetical order, the following stallions are currently listed on the Los Alamitos RTCA stallion service auction page:
Always Sixes
BF Farm Boss
Caballo Bonito (TB)
Flay
Hawkish
Heat Warning
Oceans Apart
Two Corona Special All proceeds from the auction will be used towards supporting the local chaplaincy's programs. The Los Alamitos RTCA stallion service auction page can be visited at losalamitosrtcaauction.com. The BUY NOW! Option will continue through Wednesday, January 23. For more information, visit losalamitosrtcaauction.com or e-mail larace@losalamitos.com.

* * * * * * * * * * * * * * * * *

Courtesy of www.losalamitos.com.