RACING THIS WEEK
FEATURES
SERVICES
Champion and All American Sire(G1) Volcom was was humanely euthanized today due to continuing effects of laminitis.

© Courtesy Lazy E Ranch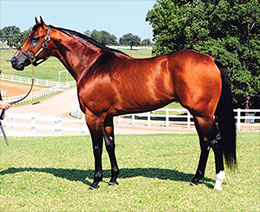 All American Sire Volcom Euthanized at Age 16
GUTHRIE, OK—APRIL 30, 2019—
Lazy E Ranch
has reported that
Volcom
, a longtime stallion at the Guthrie, Oklahoma facility, was humanely euthanized today due to continuing effects of laminitis.
The accomplished son of First Down Dash-Runaway Vike by Runaway Winner, owned and raced by P.K. Thomas of Weatherford, Texas, was a multiple grade 1 winner, a champion sire and an All American Futurity(G1) sire.
"Lazy E Ranch felt very fortunate to have had the opportunity to stand this outstanding stallion for P.K. during his stallion career. If one appreciates a true 440 yard sire, he was certainly that stallion. He had a winner of the All-American Futurity and three other finalists - all with only 175 starters. Most stallions go all their life and never have one "make the big dance" and he had four. His ability to get a horse to stay 440 yards was proven and as we all know that is the most coveted attribute a stallion can possess", said Butch Wise, manager at Lazy E Ranch.
JM Miracle winning the $2.6 million All American Futurity(G1) at Ruidoso Downs September 1, 2014.
© Gay Harris / Ruidoso Downs
"Plus, they were hickory sound - tough and sound. Both qualities that will be missed. Our condolences go out to P.K. and Kim for the loss of this significant part of their operation" added Wise.
The sire of 25 stakes horses, 1 champion including All American Futurity(G1) winner Jm Miracle SI 101 (6 wins to 5, $1,507,962), Volcom sired 90 winners from a limited number of starters in nine crops to reach racing age, earners of $4.84 million with average earnings per starter of more than $27,500.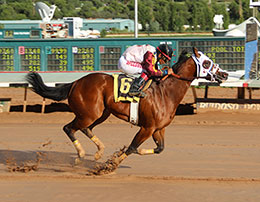 Champion filly Volcom Bay qualifying for the 2016 $2.4 million All American Derby(G1) at Ruidoso Downs.
© Dara Pearce / StallioneSearch
In addition to JM Miracle,
Volcom
sired AQHA Racing Champion 3-Year-Old Filly Volcom Bay SI 99 (4 wins to 4, $426,023), who was second in the Ruidoso Derby(G1) and the Texas Classic Juvenile.
Additional standout runners sired by Volcom include Lethal Volt SI 108 (6 wins to 6, $277,225 2nd Southwest Juvenile Championship-G1, etc.), Volcoms Thunder SI 95 (5 wins to 3, $188,977 Sam Houston Derby-G3, etc.), Volcoms Heart SI 103 (10 wins to 6, $138,169 Mexico Hi-Point Three-Year-Old Filly, Mexico Hi-Point Aged Mare, Clasico Campeon de Campeones, 1st-Futurity Mexicano, 1st-Clasico Easily a Possum, etc.), etc.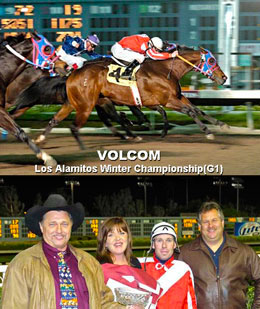 P.K. and Kim Thomas, Cody Jensen and Paul Jones in the Los Alamitos Winter Championship(G1) winner's circle.
© Scott Martinez
On the racetrack,
Volcom
won the Los Alamitos Winter Championship(G1), El Primero Del Ano Derby(G1), and Los Alamitos Prep Handicap and earned multiple grade 1 stakes-placings with champion trainer Paul Jones.
He was second in the Los Alamitos Super Derby(G1) and third in the Governor's Cup Futurity(G1) and a finalist in the Champion of Champions(G1), Golden State Derby(G1), Los Alamitos Winter Derby(G1), Southern California Derby(G1), Spencer L. Childers California Breeders' Championship(G1), and Vessels Maturity(G1). He was bred in California by John Andreini.
Volcom was buried Lazy E Ranch in Guthrie. Wise said that frozen semen is available.