RACING THIS WEEK
FEATURES
SERVICES
World record holder and champion First Moonflash was euthanized today (May 29) due to complications from laminitis.

© Don Shugart
World Record Holder, Champion and All American Sire First Moonflash Euthanized at 14
BOSQUE, NM—MAY 29, 2019—
Champion and champion sire
First Moonflash
SI 122 was euthanized today (May 29) due to complications from laminitis. The young sire had been battling laminitis and he was humanely put down.
"We just didn't want him to suffer anymore," said an emotional co-owner Pierre Amestoy. "He was very good to us not only as a runner, but also as a sire. He was simply the greatest."
Property of a partnership, First Moonflash stood his entire career at Double LL Farm in Bosque, New Mexico. Dosi and Norma Alvarez bred the son of Champion 2-Year-Old Colt First To Flash in New Mexico from "Blue-Hen" mare Nagano Moon by Major Rime.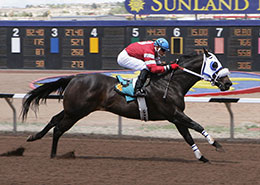 First Moonflash broke his own 440 yard World Record on April 12, 2009, winning the Bank of America New Mexico Challenge Championship in :20.274 seconds, a 122 speed index. .
© Coady Photography
Amestoy, his wife Leslie and Maria Gonzalez campaigned the AQHA Racing Champion Aged Stallion who won or placed in 18 of 25 career starts earning $969,828. He won The Championship At Sunland Park S.(G1)-twice, New Mexico Classic Derby(RG1), New Mexico Classic Cup Championship(RG1), Jess Burner Memorial Handicap(RG1)-twice, New Mexico Championship Challenge(G1), Mesilla Valley Speed H.(RG2), New Mexico State Fair Senor Futurity(RG3) and New Mexico Breeders' Championship(RG3).
First Moonflash set three world records at Sunland Park in 2009
350 yards in :16.715 seconds
440 yards in :20.685 seconds
440 yards in :20.274 seconds, breaking his own previous world record.
Also in 2009, he set a new track record at Albuquerque for 440 yards in :20.979 seconds and he got his first world record in 2008 when he posted :18.735 seconds for 400 yards at Sunland Park.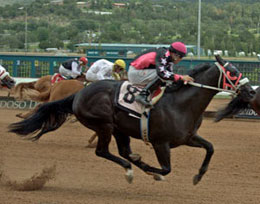 Handsome Jack Flash became his sires' first champion by winning the 2013 Grade 1 All American Futurity at Ruidoso Downs.
© Ruidoso Downs
First Moonflash
was also a finalist in the All American Derby(G)1), Remington Park Invitational Championship(G1), New Mexico HBA Stakes(RG2), and New Mexico Breeders' Handicap(RG3).
From only 7 crops to reach racing age, First Moonflash has been among the leading sires since his first crop hit the track in 2013, when he sired two-time champion Handsome Jack Flash SI 104 (6 wins, $1,517,491), winner of the $2.6 million Grade 1 All American Futurity that year. That same crop produced the 2014 $1.9 million All American Derby(G1) winner Too Flash For You SI 102 ($8 wins, $1,065,692).
Last season his 2-year-old daughter Flash And Roll SI 98 (7 wins, $1,218,554) was named the 2018 AQHA Racing Champion 2-Year-Old and 2-Year-Old Filly. She won the Los Alamitos Million Futurity(G1) and the Golden State Million Futurity(G1) at Los Alamitos Race Course and was a finalist in the Ruidoso Futurity(G1).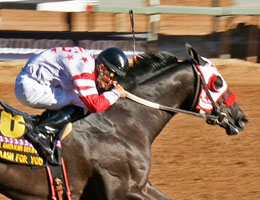 Too Flash For You was the second Grade 1 winner in First Moonflash's first crop, winning the 2014 All American Derby at Ruidoso Downs.
© Ruidoso Downs
To date,
First Moonflash
has sired 251 winners, 70 stakes horses (15%), 4 AQHA Racing Champions, $15.8 million earners with average earning per starter of nearly $33,000.
His other top performers include AQHA Racing Champion Three-year-old Filly Foxy Moonflash SI 102 (6 wins to 4, $283,978, New Mexico Fillies and Mares Championship[R]-G1, etc.), Mad About The Moon SI 107 (5 wins to 4, $762,113 New Mexico Classic Futurity-RG2, 2nd All American Futurity-G1etc.), No Mires A La Luna SI 94 (winner to 3, $319,208 3rdAll American Futurity-G1, etc.), A Passion For Flashn SI 91 (6 wins to 3, $282,976 New Mexico Classic Cup Futurity [R]-G2, etc.), Midnite Blu SI 95 (2 wins at 2, $259,410 Zia Futurity [R]-G1, etc.), Major Moonflash SI 95 (4 wins to 5, $236,912 New Mexico Classic Derby [R] -G2, etc.), Aqua Flash SI 96 (5 wins to 3, $204,518 Valley Junction Futurity, etc.), etc.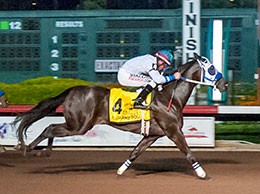 AQHA Racing Champion 2-Year-Old Flash And Roll winning the 2018 Grade 1 Los Alamitos Two Million Futurity.
© Scott Martinez
First Moonflash
's sire First To Flash (by
First Down Dash
) won the Grade 1 Rainbow Futurity and from only one-crop to race got 1 champion, 3 stakes winners and earners of more than $2.3 million.
First Moonflash is out of the stakes-placed Major Rime mare Nagano Moon, a half-sister to Grade 2 winner and multiple stakes sire Moon Shake SI 97 ($208,017). She is the dam of 14 ROM, 13 winners, 7 black type that also include Grade 2 winner Dash Ta Moon SI 108 ($352,305), G1-placed Vancouver Moon SI 94 ($350,719), RG2 winner Moonifisant SI99 ($201,484), multiple stakes winner Full Moon Dasher SI 114 ($123,761), stakes winner Mesa Moonlight SI 102 ($29,470) and stakes-placed Moon Dynasty SI 103 ($80,211).
She is the granddam of multiple restricted G1 winner Dashnunder Afullmoon SI 102 ($589,132 to 3, 2018), RG2 winner Chickaloni SI 95 ($271,260), RG1-placed Machismo Moon SI 89 ($157,779), stakes winner Osaka Moon SI 91 ($86,486), RG1-placed Moro Moon SI 94 ($73,993) and G2-placed Jen And Vodka SI 93 ($42,135), etc.
For additional information contact Double LL Farm for additional information.