RACING THIS WEEK
FEATURES
SERVICES
Hes Relentless is the #1 First-Crop Sire of Money Earners through July 11.

© Plugged In Equine Marketing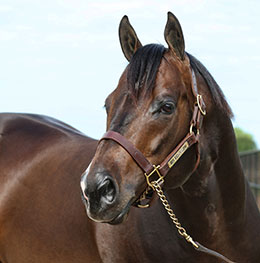 Elite Class of First Crop Sires Off To Great Start In 2019
By Martha Claussen
DALLAS, TX—JULY 12, 2019—It's only been half-the-year but 2019 is already looking to be a banner year for first-crop sires in the Quarter Horse industry.
Last year, 30 first-crop sires ended the year with a total of four stakes winners and earnings of $3.7 million dollars. Two young guns, champion Five Bar Cartel and multiple stakes winner Coronado Cartel, broke the $1 million barrier each in their first season to finish 1-2 in 2018.
In just over six months of 2019 we've already seen six 2019 first-crop sires get 14 stakes winners and 25 first year sires have already sired earners in excess of $3.17 million.
Here is a report card on the current "Top Six" first-crop sires through June 30:
#1 Hes Relentless
Hes Relentless, who stands at Bob Moore Farms In Norman, Oklahoma, is the current leading first crop sire.
Owned by the partnership of R.D. Hubbard, Tom and William Maher and Johnny D. Cope, as a racehorse, Hes Relentless made 15 career starts and earned $616,380. He qualified to the Heritage Place Futurity (G1), All American Futurity (G1) and Texas Classic Futurity (G1). As a 3-year-old, he won the Hobbs Derby (G3) and qualified for three Grade 1 championships. Honored as AQHA champion 3-year-old, he retired after his runner-up finish In the 2014 Championship at Sunland Park (G1).
AQHA champion jockey Cody Jensen rode the son of One Famous Eagle In the later stages of his Derby season.
"He was an unbelievable runner," said Jensen. "Relentless was a kind, well-mannered, a true try to please you horse. He had really good people behind him."
Oklahoma Futurity(G2) winner Ec Revenge ($200,164) has won 4-of-4 this season including two stakes.
© Dustin Orona Photography
Philip M. Stewart serves as general manager of Bob Moore Farms, and explains how they were able to bring
Hes Relentless
to Oklahoma.
"The competition for good stallions Is tremendous," he stated. "Frank Merrill did the leg work for us with Mr. Hubbard In Ruidoso. We knew he was a beautiful specimen of a horse, but you never know how a champion racehorse will do as a stallion. All we could say was that If his babies looked anything like him, we would be very fortunate."
Stewart concurred with Jensen about the temperament of the bay stallion.
"I went to pick up Hes Relentless from trainer Jason Olmstead," explained Stewart. "His young son Ryder was sitting aboard him in the barn and he was as gentle as a pony horse. Jason told me his son would be heartbroken to see him leave and believe me, It was emotional for all of us! True story: when Jason and the kids come to the farm to see him, Hes Relentless walks right over, drops his head and enjoys the reunion!"
Two-time Remington Park stakes winner Relentless Gun winning the Easy Jet Stakes.
© Dunstin Orona Photography
The transition to his stud career went smoothly and
Hes Relentless
has produced an exceptional groups of juveniles to date. He leads the elite group of stallions with five stakes winners, 22 winners and earners of more than $ 901,000, from 68 starters. He has three 2-year-olds who have won two stakes apiece.
His leading performers include Ec Revenge SI 93 (4 wins, $200,164 Oklahoma Futurity-G2, Heritage Place Juvenile S.), Relentless Gun SI 86 (2 wins, $76,730 Remington Park Juvenile S. [R] , Easy Jet S.). Rrelentless SI 91 (2 wins, $59,477 Ruidoso Downs Juvenile Challenge-G3), and Valentina Relentless SI 103 (3 wins, $52,368 Hadley / Giles Futurity, Golden Spike Futurity), Determined One SI 94 (2 wins, $79,145, 4th Ed Burke Million Futurity-G1), etc.
Stewart was at Remington Park for the final of the Oklahoma Futurity (G2) and reflected on what the win by Ec Revenge meant to Bob Moore Farms.
"I was not able to make the trials as we were still In breeding season," he explained. "But watching Ec Revenge, who Is such a big, good-looking Individual, win the final was amazing. It's pretty emotional that he already produced a graded stakes winner."
Jensen Is looking forward to trials for the All American Futurity (G1) next month at Ruidoso Downs where he Is likely to ride several juveniles sired by Hes Relentless.
"I rode Determined One to a fourth-place finish In the Ed Burke at Los Alamitos," said Jensen. "He really Impressed me; he's got the breeding and size and I'm looking forward to seeing what he can do In the All American trials."
* * * * * * * * * *
#2 Apollitical Blood
Quick on his heels at #2 is champion Apollitical Blood who has gotten three stakes winners and 21 winners of over $817,000 from 58 starters in his first six months.
The son of leading sire Apollitical Jess' top performers include two-time graded stakes winner Trump My Record SI 104 (4 wins in 4 starts at 2, $302,532 Sam Houston Futurity-G2, Harrah's Futurity-G3), Pollitical Blood SI 80 (winner at 2, $18,524 John Deere Juvenile Challenge S.), Jr Prissys Blood SI 105 (3 wins, $42,171, Cowboy State Futurity), Flash Of Light SI 89 (winner, $61,020, 4th Lee Berwick Futurity-RG1), Rf Apolliticalcookie SI 95 (winner at 2, $ 58,267 3rd Laddie Futurity [R]-G2), Apollitical Bug SI 97 (winner, $53,238, finalist Lee Berwick Futurity-RG1), Rusty Blood Gl SI 95 ($28,182, finalist Sam Hosuton Futurit-G2), Apollitical B Beast SI 96 (winner, $23,578 2nd Ruidoso Quarter Horse Juvenile S.), etc.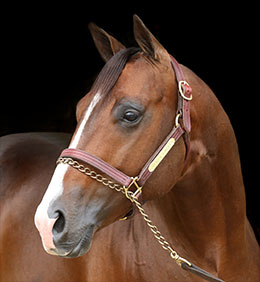 Apollitical Blood is the #2 Leading First-Crop Sire through July 11.
© Plugged In Equine Marketing
Apollitical Blood
stands at
Robicheaux Ranch
in Breaux Bridge, Louisiana and was also highly accomplished in both his 2-year-old and 3-year-old campaigns.
Owned by Rancho El Cabresto, Inc., the son of Apollitical Jess out of the Fishers Dash mare Brazilian Dasher, was bred in California by Bruce and Jill Thompson. Trained by Juan Aleman, he was a finalist in three Grade 1 futurities, including the 2014 All American Futurity at Ruidoso Downs. He won the 2015 All American Derby (G1), dazzling racing fans with a career-high speed index of 119 and retired with a record of six wins from 14 starts and earnings of $1,519,800. He was honored as 2015 AQHA Champion 3-year-old colt.
Juan Alberto Lizzarraga is the owner of Rancho El Cabresto, Inc. and shared the thrill of watching Apollitical Blood compete.
"Apollitical Blood gave a lot of emotions to me and my family," he said. "As a 2 year-old, he ran in 3 million dollar futurities in California and was also the fastest qualifier of the trials of the All American Futurity. But certainly the race that excited us the most and impressed us was when he won the All American Derby."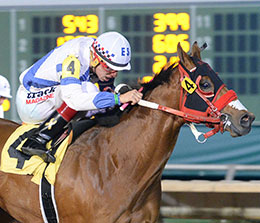 Two-time graded stakes winner Trump My Record has won 4-of-4 starts and earned $302,532 this season.
© Coady Photography
The team from Rancho El Cabresto was not alone in appreciating the star power of
Apollitical Blood
. Many breeding farms began their quest to stand the Grade 1 champion.
Ryan Robicheaux made three trips to Dallas in the fall of 2015 to make his bid.
"Juan Aleman took him out of the stall and I could see he was a deep chested colt," recalled Robicheaux. "He annihilated the field in the his Texas Classic Derby trial and I was just one of breeders who wanted him; we were like a pack of coyotes!"
The good news for Robicheaux Ranch was the strong breeding program and incentives in Louisiana.
"I chose Louisiana because it is a state that has a great racing program," explained Lizzarraga. "It was important that Apollitical Blood could also be projected to other states as well. I chose Robicheaux Ranch because they have a very good image and reputation in the activity of the Quarter Horse."
Robicheaux was cautiously optimistic about the first crop, but the winners keep coming and the acquisition was a big feat for his family.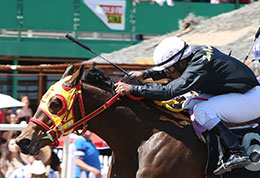 Stakes winner Pollitical Blood has earned a starting spot in the Grade 2 $125,000-est. John Deere Juvenile Challenge Championship October 26 at The Downs at Albuquerque.
© Coady Photography
Apollitical Blood showed when he won the All American Derby."
His top earner to date is Trump My Record, who won both the $254,070 Harrah's Entertainment Futurity (G3) at Louisiana Downs and the $459,700 Sam Houston Futurity (G2) in April. His next start will be the TQHA Sale Futurity trials at Retama Park, and according to his trainer, Arturo Davila,III, Trump My Record will head to Lone Star Park for the Texas Classic Futurity and maybe the Dash for Cash Futurity as well.
"We are all excited to see the success he is having as a stallion," said Davila. "My brother-in-law, Cruz Nava bought Trump My Record for $10,500. He has been a dream come true for our entire family!"
Three 2-year-olds sired by Apollitical Blood were finalists for the Lee Berwick Futurity (RG1) and his progeny are not just racing in Louisiana and Texas; Jr Prissys Blood won the $99,681 Cowboy State Futurity at Energy Downs in Wyoming.
Of course, it is also a thrill for Lizzarraga and everyone at Rancho El Cabresto, Inc.
"We have been very fortunate to have Apollitical Blood and watch live running in each of their foals," stated Lizzarraga. "It is truly exciting to see descendants of your stallion run and more when they participate in a stakes. We get very excited with Trump My Record winning Harrah's and Sam Houston Futurities, and recently qualifying three for the Lee Berwick Futurity. Apollitical Blood has reminded me a lot of the emotions I experienced on the first cross of my other sire, his father Apollitical Jess."
Robicheaux Ranch stands a quality group of stallions, including last year's leading first crop sire, Five Bar Cartel.
"We are very excited about 'Blood's' success this year," added Robicheaux. "It's been a tough year for our ranch, losing Heza Fast Dash (who passed away in January due to complications from laminitis) and just recently Jet Black Patriot leaving for New Mexico. But, that's racing; you will always have the highs and lows."
While Hes Relentless and Apollitical Blood have certainly established themselves as dominant front runners through the midpoint of the year, many other young stallions are also producing highly successful first crops.
* * * * * * * * * *
#3 Kiss My Hocks
AQHA Racing Champions have taken the top three spots though the midway point of the year with Champion Kiss My Hocks at #3 with one stakes winner, 3 stakes-placed, and 16 winners from 71 starters. They earned nearly $500,000.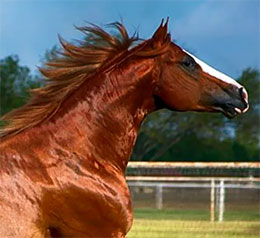 Champion Kiss My Hocks is the #3 Leading First-Crop Sire of Money Earners through July 11.
© Southwest Stallion Station
The son of champion and champion sire
Tempting Dash
's leading earners include Kissmelikethat SI 88 (3 wins in 3 starts, $81,015 Jaguar Rocket Futurity), Liarliar Hocksonfire SI 87 (winner at 2, $55,986 2nd FL Lady Bug S.), Special Candy Kisses SI 95 (winner, $35,824, 2nd Mystic Lake Northlands Futurity), Kiss Fast Zoom SI 95 ($17,895, 2nd Beehive Futurity), Lil Miss Sashay SI 94 (winner in three starts, $86,400, 4th Ruidoso Futurity-G1.),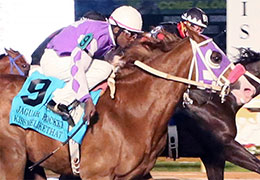 Kissmelikethat winning the .$126,300 Jaguar Rocket Futurity at Indiana Downs.
© Coady Photography
Doc Hockaday SI 96 (winner, $44,820, Sam Houston Futurity-G2, Firecracker Futurity-G2 finalist), etc.
Kiss My Hocks, winner of the Ruidoso Futurity(G1), Rainbow Derby(G1) and Sam Houston Futurity(G1) stands at Southwest Stallion Station in Elgin, Texas. He is owned by the partnership of Tyler Graham, Conda Maze and Stan Sigman.
* * * * * * * * * *
#4 Seperate Interest
Grade 3 winner Seperate Interest #4 has already gotten two stakes winners, nine winners and earners of $183,960 from 36 starters in his first crop.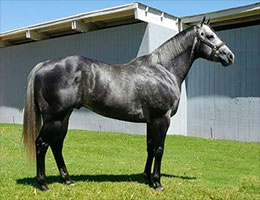 Separate Interest is the #4 Leading First-Crop Sire of Money Earners through July 11.
© Burns Ranch
The son of champion and leading sire
Separatist
's top performers are Number One Interest SI 99 (winner at 2, $39,704 Four Corners Futurity), No Sandbaggin SI 95 (2 wins at 2, $28,745 West Texas Juvenile S.), Tea Pod SI 86 (2 wins in 3 starts at 2, $27,200, finalist Ed Burke Million Futurity-G1), Mystic Lake SI 94, (placed at 2, $17,789, Sam Houston Futurity-G2 finalist), etc.
Owned by Steve D. Burns, Seperate Interest stands is the only "top 25" first-crop sire based on the West Coast at Burns Ranch near Menifee, California.
* * * * * * * * * *
#5 One Valiant Hero
Multiple stakes winner and grade 1-placed One Valiant Hero rounds out the "top five" first crop sires through the first half of the year. He has also sired two stakes winner form only 17 starters. The son of leading sire Valiant Hero has eight winner with earning of nearly $170,000 to date.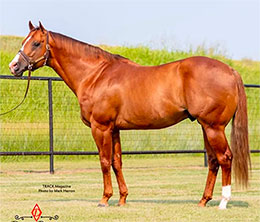 One Valiant Hero is the #5 Leading First-Crop Sire of Money Earners through July 11.
© Lazy E Ranch
His top performers are Beehive Futurity winner Centers Valiant Hero SI 102 (4 wins, $56,840), Mystic Lake Northlands Juvenile winner A Valiant Diamond SI 88 (winner, $10,221), Grade 1 finalist Silk For My Hero V (winner, $34,346, 4th Ruidoso Futurity-G1), Grade 1 finalist Love Is Everything V (2 wins, $21,398, finalist $1 million Rainbow Futurity-G1 (final 07/21/2019)), etc.
One Valiant Hero, owned by Valeriano Racing Stables, stands at Lazy E Ranch in Guthrie, Oklahoma.
* * * * * * * * * *
#6 Wagon Tales
Stakes winner and grade 1-placed Wagon Tales (#6) is also a first—crop sire who has already gotten a couple of stakes winners.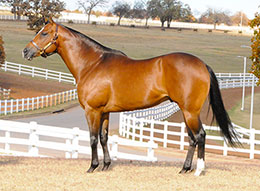 Wagon Tales
is the #6 Leading First-Crop Sire of Money Earners through July 11.
© Lazy E Ranch
The son of leading sire
Pyc Paint Your Wagon
has sired 1 QH stakes winner, 1 PT stakes winner, 10 winners from only 23 starters and Quarter Horse earners of over $150,000.
His top performers are Dtl Chasin Tale (PT) (4 wins, $182,606 Speedhorse Graham Paint and Appaloosa Futurity-G1, Oklahoma Paint and Appaloosa Horse Futurity-G1), Jess Tellin Tales SI 103 (winner, $27,726 Rocky Mountain Spring Classic Futurity, 2nd Bitterroot Futurity), Barbie Tales SI 86 (winner, $21,518 3rd Laico Bird S. [R]), Te Ata Tales (winner, $29,301, finalist Speedhorse Graham Paint and Appaloosa Futurity-G1), Easy Wagon Tales SI 89 (winner, $21,770, 4th Mystic Lake Northlands Juvenile), Wagon Tales Promies SI 93 ($14,723, finalist West Texas Futurity-G2), Df Royal Tales (PT) (winner, $16,987 2nd APHA Claiming Futurity), etc.
Wagon Tales also stands at Lazy E Ranch.
* * * * * * * * * *
Completing the "top ten" first-crop sires (through July 11) are (#7) Heza Fast Rogue, sire of Mardi Gras Futurity(G2) finalist Streakin Fast Rogue ($22,938); (#8) Paint Me Perry, sire of 3 winners; (#9) Tf Feature Effort, sire of 5 winners, (#10) and Bv Travelin Soldier sire of two winners from only 11 starters.
The accomplishments of these stallions are exciting for racing fans and for the entire Quarter Horse industry.
"What an incredible group of freshman sires we have this year," added Stewart. "I don't ever remember a year with so many standouts."
* * * * * * * * * *
Martha Claussen served as publicity director at Sam Houston Race Park for ten years. She continues to be active in writing, fan education and Quarter Horse racing publicity in Texas, Louisiana and other regions in North America.