RACING THIS WEEK
FEATURES
SERVICES
Champion Hes Relentless surpassed $2 million in first-crop earnings on Saturday.

© Amanda Glidden / Plugged In Marketing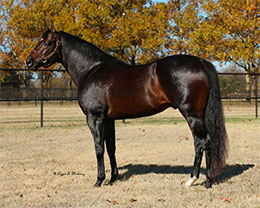 Hes Relentless Breaks $2 Million First-Crop Earnings Mark
NORMAN, OK—NOVEMBER 10, 2019—
Leading first-crop sire
Hes Relentless
became the first first-crop sire since
Good Reason SA
in 2015 to break the $2 million barrier in earnings Saturday when his 2-year-old Mr Dillard finished second in the Black Gold 440 Futurity Championship at Will Rogers Downs.
The AQHA Racing Champion's first-crop progeny earnings mark hit $2,075,644 with more than one-month to go in the year.
The only other two other stallions in recent history to accomplish that feat are his sire One Famous Eagle who got $2.9 million first year earnings in 2012 (an all-time record) and First Moonflash sired $2.1 million earners in 2015. Hes Relentless is the only stallion to go over $2 million in his first season without an All American Futurity(G1) winner in his first-crop.
To date Hes Relentless has sired 38 winners, 11 stakes winners from 74 starters with average earnings per starter of more than $27,000.
Hip current top-ten money earners include:
Determined One SI 96 (3 wins at 2, $338,945 3rd All American Futurity-G1, etc.)
Relentless Dynasty SI 10 (2 wins at 2, $216,667 TQHA Sale Futurity-G2, etc.)
Ec Revenge SI 93 (4 wins at 2, $200,164 Oklahoma Futurity-G2, Heritage Place Juvenile S., etc.)
Mr Dillard SI 108 (3 wins in 4 starts at 2, $149,653 Black Gold 350 Championship Futurity, etc.)
Rrelentless SI 91 (2 wins at 2, $90,685 Ruidoso Downs Juvenile Challenge-G3, 2nd AQHA John Deere Juvenile Challenge S.-G2, 3rd Will Rogers Juvenile Challenge S., etc.)
Relentless Cowboy SI 95 (winner at 2, $89,272 Iowa Double Gold Futurity, etc.)
Relentless Jessie SI 91 (3 wins to 2, $89,059 2nd Speedhorse Futurity-G3, etc.)
Relentless Gun SI 86 (2 wins at 2, $76,730 Remington Park Juvenile S. [R] , Easy Jet S., etc.),
Merciless Fire SI 93 (2 wins at 2, $63,590 Heartland Futurity, etc.)
Valentina Relentless SI 103 (3 wins to 2, $52,368 Hadley-Giles Futurity Finals, Golden Spike Futurity, etc.), etc.
Owned by a Partnership, Hes Relentless stands at Bob Moore Farms near Norman, Oklahoma for a 2020 fee of $7,000. For additional information or breeding contracts call Phillip Stewart, General Manager, at 405-329-8571.