RACING THIS WEEK
FEATURES
SERVICES
Stakes winner and champion producing Shameful (TB) is now calling Lazy E Ranch near Guthrie, Oklahoma home.

© Lazy E Ranch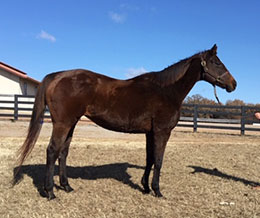 Big Thoroughbred Mare In Residence At Lazy E
GUTHRIE, OK—NOVEMBER 18, 2019—
Hal and Patti Earnhardt's Champion producing Thoroughbred mare Shameful is at
Lazy E Ranch
in Guthrie, Oklahoma, her new permanent home.
A stakes winner herself, Shameful is the dam of runners that have earned more than $4 million, including Champion Two-Year-Old Filly and Champion Female Sprinter Indian Blessing $2,995,620.
"It is indeed an honor to have Shameful here at Lazy E," said Butch Wise, the long-time ranch manager at Lazy E. Wise said that Hal will make the decision on the matings of this stakes winning and Champion producing mare, but he knows that such prominent sires as Corona Cartel, Apollitical Jess, Mr Jess Perry and One Famous Eagle are in Shameful's future.
Earnhardt, an Arizona resident who has been active for decades in breeding and racing both Quarter Horses and Thoroughbreds, made the decision to move his "Blue Hen" Shameful to Lazy E after the mare had problems while foaling earlier this year.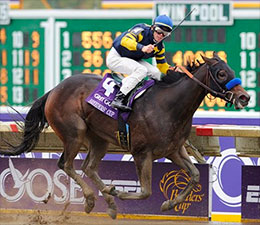 Indian Blessing used her blazing speed to motor away from a dozen opponents and score by 3-˝ lengths in the 2007 Breeders' Cup Juvenile Fillies on a sloppy track at Monmouth Park for trainer Bob Baffert.
© Courtesy Breeders' Cup
"Shameful had some difficulty foaling this spring, and I felt it was best that she not carry another foal going forward," Earnhardt said.
"Of course, that means she must be bred to Quarter Horse stallions in the future. Since I also have a long history racing Quarter Horses, this is a natural progression to do some embryo transfers to high class Quarter Horse sires and hope we can come up with a Quarter Horse as fast as Indian Blessing."
Indian Blessing, who won the $2,000,000 Breeders' Cup Juvenile Fillies G1 and the $400,000 Frizette Stakes G1, was undefeated at two and was named the breed's Champion Two-Year-Old Filly.
The next year Indian Blessing won six stakes (two Grade I) at Santa Anita, Belmont, Saratoga and the Fair Grounds and was named Champion Female Sprinter.
"It is really exciting to think that a mare that produced a Thoroughbred Champion Two-Year-Old Filly, that was so brilliantly fast, might have a significant influence in the industry I, Bob Baffert and John Bassett grew up in," Earnhardt said.
Baffert trained both Shameful and her daughter Indian Blessing.
Shameful has been at Lazy E Ranch since shipping in from Hill N Dale Farm in Lexington, Kentucky.
"Shameful has become a fast friend and paddock mate of another Lazy E Ranch resident, All-American Futurity G1 finalist and producer Blazen Maven," Wise said.
"I applaud Hal's breeding model going forward with Shameful. This is a very exciting development for the Quarter Horse industry. As far as I know, this is the first time the producer of a Thoroughbred Champion Two-Year-Old has been bred to a Quarter Horse sire and for sure the dam of a Breeder's Cup winner that was also a Champion Sprinter.
"Everyone needs to remember that not only was Hal Earnhardt the breeder of Indian Blessing, he also bred and raced her sire, Indian Charlie. On the track, the Baffert-trained Indian Charlie won the Santa Anita Derby and then ran third in the Kentucky Derby before becoming a leading sire.
"Hal has a track record of breeding notable horses. He bred Quarter Horse ¬¬championship contender Corona Music, a $312,000 earner that was second in the Los Alamitos Million in Corona Cartel's first crop. Hal knows and appreciates speed. This could be the start of something amazing in 2023 – stay tuned!"