RACING THIS WEEK
FEATURES
SERVICES
The Arizona Quarter Racing Association is accepting stallion donations for the upcoming Stallion Service Auction.

© Callipso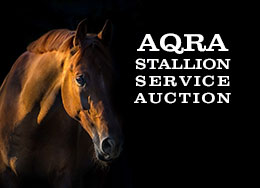 AQRA Accepting Donations For Annual Stallion Service Auction, Races To Require Hair Testing In 2020
THATCHER, AZ—NOVEMBER 23, 2019—
The Arizona Quarter Racing Association is accepting stallion donations for the upcoming Stallion Service Auction.
A donation and sale of a donated breeding at the Stallion Service Auction will make all progeny from the 2020 breeding season to the donated stallion eligible for the 2023 Desert Classic Futurity.
CLICK HERE to download a Stallion Service Auction Contract and a Stallion Service Auction Donation Letter.
AQRA Stallion Service Auction bidding begins on Wednesday, January 1, 202o and runs through Friday, January 31, 2020, 8:00 pm (MST).
* * * * * * * * * * *
Starting in 2020 AQRA sponsored races (AQRA Presidents Open Fall Futurity, AQRA Turf Paradise Open Futurity, Desert Classic Futurity, AQRA Futurity, Desert Classic Derby, AQRA Presidents Open Fall Derby, and AQRA Turf Paradise Open Derby) will require hair testing.
Nomination blanks to these races are available on the association's website at azqra.com, by CLICKING HERE or contact 602-625-0468.