RACING THIS WEEK
FEATURES
SERVICES
Granada Farms released a new "collection schedule" to take affect Monday, April 13.

© Amanda Glidden / Plugged In Marketing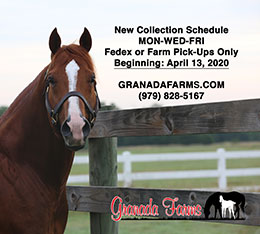 Granada Farms Announces Collection and Shipment Changes
WHEELOCK, TX—APRIL 6, 2020—
Beginning on Monday, April 13,
Granada Farms
will implement a Monday-Wednesday-Friday collection schedule.
"Because the airlines have cancelled all flights out of College Station through May, it's impossible for us to fly semen shipments," says farm manager Jimmy Eller, "this means that mare owners and their veterinarians must plan ahead."
Please note, if your mare is anticipated to be a breeder over the weekend, YOU MUST ORDER SEMEN ON FRIDAY MORNING, SO IT CAN BE FEDEXED FOR SATURDAY DELIVERY. You will also need to verify that Saturday delivery is available in your area. Communication is essential to ensure a successful outcome during this unusual time. Granada Farms is here to help you in any way, and we appreciate your business and cooperation.
Granada Farms was founded in 1984 by father and son, Jim and Jimmy Eller. A leader in the Texas Quarter Horse Racing industry, Granada Farms currently stands the following stallions: Dealagame, Down N Dash, EC Jet One, Hawkeye, JA Jess Perfect, Red Oak Special, Tempting Dash, This Is An Eagle, and View Me Flying. Frozen semen is available on: Azoom, Hiclass La Jolla, Streakin La Jolla, and Streakin Sixes.
Acquired in 2015 by Prominent Texas horsemen, cattlemen and businessmen Pete Scarmardo and Johnny Trotter, Granada Farms continues to produce quality Texas-bred horses. For more information call (979) 828-5167 or visit granadafarms.com.