RACING THIS WEEK
FEATURES
SERVICES
Ochoa remains the all-time leading Quarter Horse earner with $2,781,365 banked from 11 wins from 16 starts.

© Robert Edwards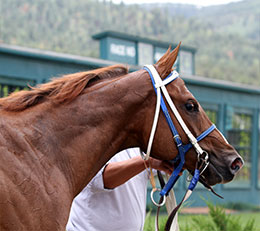 Where Are They Now?
Ochoa: Quarter Horse Racing's Top Money Earner
By Martha Claussen
QUANAH, TX—APRIL13, 2020—Texas-bred Ochoa stamped his name in the Quarter Horse history books in more ways than one. His legacy as a champion racehorse was nurtured by an exceptional group of people who bred, owned, trained, rode and cared for him.
The Beginning
It has been widely reported that iconic horsemen Bob Baffert and D. Wayne Lukas began their careers in the Quarter Horse industry before establishing supremacy in Thoroughbred racing. There was another titan who followed that path, but thankfully, never lost his passion for breeding Quarter Horses. That man was John T.L. Jones Jr.
Known by so many as "Johnny", Jones got his start in Quarter Horse racing working for the late Walter Merrick. He transitioned to Thoroughbred breeding, founding Walmac International in 1976. His acclaimed stallion roster included Nureyev, Miswaki, Alleged, Songandaprayer and Unusual Heat. Highly respected as a horseman and innovator, Jones was credited with playing a key role in the creation of the Breeders' Cup World Championships.
Monte and Katsy Cluck (left) with Johnny T.L. and Brenda Jones campaigned Ochoa throughout his career.
© Robert Edwards / StallioneSearch
Despite his tenure at Walmac, located in Lexington, Kentucky, Texas was home for Jones. His first wife, Janice passed away in 2003. Four years later, he married native Texan Brenda Kinsolving.
Jones is the breeder of Quarter Horse racing's top money earner, Ochoa. The son of Tres Seis out of the Stoli mare Stolis Fortune was born on March 11, 2009 at Jones family farm, J Bar 7 Ranch in Quanah, Texas. Brenda Jones loved horses as much as her husband and recognized something very special in Ochoa from a very early stage.
Brenda's daughter, Ashley and her husband, Josh, lived on the ranch and played a key role in the early breaking and sale prepping of the J Bar 7 babies.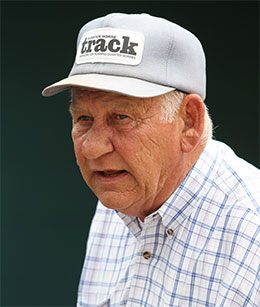 Longtime Quarter Horse trainer Dwayne "Sleepy" Gilbreath.
© Robert Edwards / StallioneSearch
"We had four colts consigned to the 2010 Ruidoso Select Sale," said Brenda. "Maybe in Thoroughbred racing, the individual still has a chance and can succeed. But pedigree outweighs everything in Quarter Horse racing."
With all due respect to her husband with his impressive résumé in both Thoroughbred and Quarter Horse breeding, Brenda sensed that Ochoa, with his sturdy build and innate intelligence, had true potential.
"I felt he was the best of our colts, but his pedigree was not going to attract a lot of attention," she recalled. "Tres Seis was not a hot commodity yet and Stoli's Fortune was an unraced mare that Johnny purchased in 2006."
While Brenda was balking about selling Ochoa, she accompanied Jones to the sale at Ruidoso, secretly hoping that he would not meet his $25,000 reserve.
"I was really nervous and don't know what I would have done if someone bid on him," she stated. "Johnny handled it pretty well and even told me, 'well, maybe he'll win the All American!"
Ochoa returned to their farm and Jones offered his good friends, cattleman Monte Cluck and his wife, Katsy, a half share in the sorrel colt. The Clucks split their investment with Doug Benson and a strong friendship within the ownership group ensued.
The next step was enlisting the training services of C. Dwayne "Sleepy" Gilbreath. One of the most respected conditioners in the history of Quarter Horse racing, he is ranked seventh on the AQHA All-Time Leading Trainer leading list with 1,428 wins and earnings just shy of the $30 million mark. Gilbreath won the 1983 All American Futurity with On A High and got his second title in 1990 with Refrigerator.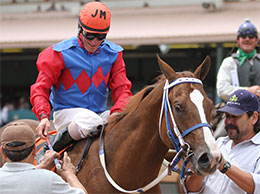 Champion jockey Jacky Martin qualified Ochoa to the 2011 All American Futurity(G1) prior to the riding accident that ended his career.
© Robert Edwards / StallioneSearch
A man of few words but incredibly skilled with young horses, Gilbreath noted the potential of Ochoa right off the bat. As Brenda already knew, Ochoa was a very intelligent animal with an inquisitive demeanor and outgoing personality. He learned quickly as Gilbreath put him through his breezes and readied him for a schooling race. The only drawback was that he was far from a standout breaking from the starting gate.
"He was so big and long," recalled Gilbreath. "He just filled the gate up; was almost cramped. That's probably why he was never really good leaving. But once he got going, he just took off."
Jones traveled to Remington Park one morning and stood next to Gilbreath as they watched one of Ochoa's works.
"Jacky Martin, who in my opinion, was the best jockey ever and a true horseman, worked him," said Gilbreath. "He told me and Johnny "this will be my All American Horse."
The Summer of 2011
Ochoa made his debut on May 27, 2011, winning his trial for the Ruidoso Futurity under Martin. He ran third in that final but returned to action two months later competing in trials for the All American Futurity. He was bumped, but advanced from sixth to score the win by a half-length, covering 440 yards in :21.074 seconds with Martin in the irons.
There is always pressure for the fastest qualifier and it built considerably four days in advance of the final when Martin was badly injured in a spill. The legendary pilot was transported to an El Paso Hospital with a spinal cord injury.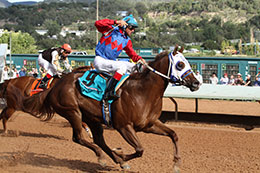 Ochoa, under jockey Roy Baldillez, winning the 2011 Grade 1 All American Futurity at Ruidoso Downs.
© Robert Edwards
Roy Baldillez got the call to pilot Ochoa in the $2.4 million All American Futurity (G1). The experienced jockey had ridden the sorrel gelding to a third-place finish in the $500,000 Ruidoso Futurity (G1) on June 12 when Martin had opted to ride Sure Shot B.
With two wins from three starts, Ochoa was primed and ready for his start in Quarter Horse racing's most prestigious race. He dazzled the overflowed grandstand as the 8-5 favorite, flying home in commanding fashion, clearing the field by a margin of 1 ˝ lengths. He bested his qualifying time with authority, as he crossed the wire in :21.058 seconds.
Gilbreath credited Baldillez for doing a "wonderful job", but he, as well as everyone in the Quarter Horse industry, had Jacky Martin on his mind. It was divulged that he was paralyzed, and rumors spread throughout All American weekend that the legendary rider had been given last rights. Martin survived but died in 2015.
Derby Season and Additional Stakes Wins
Ochoa was given a well-deserved break following his All American Futurity victory with the goal of returning to Ruidoso Downs to compete in the 2012 Derby season.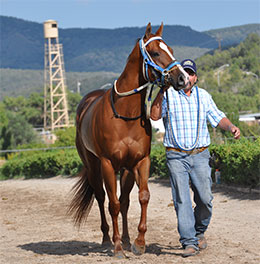 Ochoa on the walk over prior to his win in the 2012 All American Derby(G1) at Ruidoso Downs.
© Stacy Pigott / Speedhorse Magazine
He ran in trials for the Ruidoso Derby on May 25, finishing second to longshot Dashing Spartacus, who was disqualified due to a positive test. Ochoa finished sixth in that final, but true to his 2-year-old campaign, was just getting started.
He remained undefeated for the remainder of the Ruidoso season, winning both the Grade 1, Rainbow and All American Derby; just the sixth horses in the history books to win both the All American Futurity and Derby.
He competed in Texas Classic Derby (G1) in November at Lone Star Park before taking a seven month break. His 4-year-old campaign included a runner-up finish in the Remington Park Invitational (G1) and victories in the Mr. Jet Moore Handicap at Ruidoso Downs and the Robert L. Boniface Invitational (G1) at Los Alamitos. Ochoa made his final start on December 14, 2013, finishing seventh in the $750,000 Champion of Champions (G1).
Retirement
Jones made the decision to retire his champion and brought Ochoa home to the ranch. He enjoyed grazing in a pasture directly in front of their home and found a kinship with another J Bar 7 homebred, Noconi. Trained by Paul Jones, Noconi was a multiple grade 1 champion, co-owned by Jones and R. D. Hubbard. Also, a millionaire, he was retired in 2012 and according to Brenda, became "best friends" with Ochoa.
"Noconi was the boss, but Ochoa didn't mind," she explained. "They were very playful and entertaining together."
Noconi tended to overeat, so they tried equipping him with grazing mask. Noting that his pasture mate was clearly unhappy with the device, Ochoa stepped in.
"I took a video of Ochoa trying to get the equipment off Noconi," said Brenda. "It was just another example of his intelligence as he tried to help his buddy!"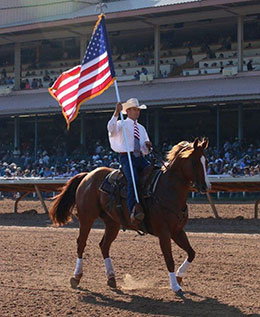 Chris Littlefield aboard world champion Ochoa leads the 2017 All American Futurity(G1) post-parade at Ruidoso Downs. © Courtesy Brenda Jones
Sadly, Noconi had to be euthanized in March of 2016 due to complications from laminitis. Ochoa stood in his pasture, depressed at the loss of his companion and never found a suitable match with another horse. Brenda, whose intuition and connection with Ochoa grew stronger each year, felt that maybe Ochoa could transition to a ranch horse with some training. Johnny agreed, so they contacted their good friend, Chris Littlefield and asked him to help their champion to take on a second career as a ranch horse.
"Chris was hesitant, but Johnny was very persuasive," stated Brenda. "Chris is an amazing horseman and took his time. We have always believed that horses with good minds can accomplish a great deal."
Ochoa adjusted to his western saddle and showed skills roping and herding steers on the ranch. The training prepared him for another iconic event the following summer.
With Littlefield in the saddle, Ochoa led the post parade for the 2017 All American Futurity. Johnny and Brenda Jones would have loved to have seen it in person, but ten days before Labor Day, Jones fell and broke his hip.
"Chris had never been at Ruidoso for the All American Futurity," said Brenda, alluding to the packed crowd and excitement akin to that of Churchill Downs on Kentucky Derby day. "His goal was just to trot him, but Ochoa would have none of that! He went into his pre-race gallop, and even stopped in front of the crowd. While we wished we could have been there, we watched from our home. It was amazing and we were so proud of him!"
However, Gilbreath was there and the usually steely horsemen admitted that the emotions of seeing his All American Futurity and Derby champion, were overwhelming.
"I got tears in my eyes seeing Ochoa on the track with Chris carrying the American flag," he admitted.
Ochoa was inducted into the Ruidoso Downs Hall of Fame in 2016. He earned $2,620,553 of his $2.7 million at Ruidoso Downs.
The Legacy of Jones and Ochoa
Jones passed away on November 16, 2018 at the age of 84. In addition to his Quarter Horse and Thoroughbred accomplishments, he was a co-breeder of King of Kings, who won the prestigious 2000 Group One Two Thousand Guineas at Newmarket.
"Johnny was one of the finest horsemen I have ever known," stated Gilbreath.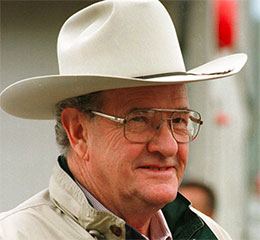 John T.L. Jones, Jr.
© Horsephotos
In 2016, Jones was inducted into the Texas Horse Racing Hall of Fame. Throughout his career, Jones served on the boards of both the Breeders' Cup and the Keeneland Association and was a member of the executive committee of the Texas Horse Racing Association.
"He fought long and hard for Texas racing," added Brenda.
Even with the growth of million and two million dollar futurities, Ochoa remains the all-time leading Quarter Horse earner with $2,781,365 banked from 11 wins from 16 starts.
Now 11 years-old, Ochoa holds court in a pasture on the Jones farm in Quanah and is enjoying his retirement. Brenda visits with him daily and makes sure he has his share of peppermint treats. Ashley's daughter, Kimber, 8, brushes him and the personable gelding greets visitors with interest.
His legacy will be forever treasured by his connections as well as the thousands of mesmerized Quarter Horse fans who witnessed his brilliance on the racetrack.
* * * * * * * * * * * * *
Martha Claussen has been involved in features writing and racing publicity in Texas, Louisiana, Indiana, Oklahoma and other regions in North America since 1997.
* * * * * * * * * * * * *
StallioneSearch.com proudly presents this new series profiling legendary Quarter Horse champions, who have provided their connections and Quarter Horse racing fans with amazing thrills and memories of a lifetime.
Entitled Where Are They Now? and written by regional racing publicist and writer, Martha Claussen, we begin with Ochoa, who holds the distinction as the highest money earner in the history of Quarter Horse racing.
In the months to come, Claussen will also delve into how the following exceptional athletes reached the pinnacle of their success:
Stolis Winner
PJ Chick In Black
Heza Dasha Fire
Blues Girl Too

We hope you enjoy our series and look forward to your comments and feedback!

David Smith