RACING THIS WEEK
FEATURES
SERVICES
Multiple stakes sire Sir Runaway Dash stood his entire career at Tate Farms.

© Courtesy Tate Farms
Exceptional Weekend Ahead for the Progeny of Sir Runaway Dash
By Martha Claussen
VILLE PLATE, LA—July 1, 2020—If you are looking over the past performances for this weekend's Lassie and Laddie Futurities at Delta Downs, you will see the name Sir Runaway Dash prominent for both of the championships for accredited Louisiana-bred 2-year-olds.
It is not a typo! The majestic gray stallion is the sire of Ms Runaway Presence, the fastest qualifier to the $329,410 Lassie Futurity (RG2) on Friday night as well as Sir Louisiana Dash who posted the top clocking in 18 trials for the $357,981 Laddie Futurity (RG2), which will be contested on Saturday, July 4.
There are many very prominent Quarter Horse stallions in Louisiana. Breeding farms compete with gusto to attract graded stakes champions with some very lucrative breeding incentives and 146 live racing dates throughout the calendar year.
Stephen Tate of Tate Farms in Ville Platte, Louisiana, shares the story of acquiring Sir Runaway Dash. Bred in Maryland by Lucas Racing Inc, Sir Runaway Dash was a son of First Down Dash out of the Runaway Winner mare Runaway Wave.
He made each of his 19 starts at Los Alamitos for owners Runaway Ranch and trainer Paul Jones, competing in four Grade 1 races from 2006-2009. His best finish was a close second to Blues Girl Too in the 2007 Golden State Derby.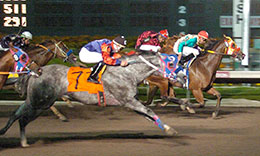 Sir Runaway Dash (#7) nails world champion Blues Girl Too (#6) at the wire in the 2007 Golden State Derby trials at Los Alamitos.
© Scott Martinez
"We liked his pedigree and were impressed with his big kick," stated Tate. "He had brothers who had earned over a million dollars. I still pull up the video of his trial for the Golden State Derby when he defeated AQHA Racing World Champion Blues Girl Too."
Tate had several meetings with the connections of Runaway Ranch and closed the deal to bring their homebred to Louisiana. He reports that the early breeding years were not without complications.
"It took us a while to get him collected," said Tate. "We brought him to Louisiana State University (LSU) in Baton Rouge. He could only breed to one mare a day, so after the first year, we had to be more selective and learned to say no."
Frozen semen and advances in assisted reproductive technology proved essential and Sir Runaway Dash began producing an impressive group of futurity winners.
Jls Dashn And Zoomn, out of the Shaken Thru Zoom mare, was a $7,500 purchase at the 2013 LQHBA Yearling Sale. He won the $1 million LQHBA Breeders Futurity (RG1) at Evangeline Downs and completed his racing career with earnings of $534,505.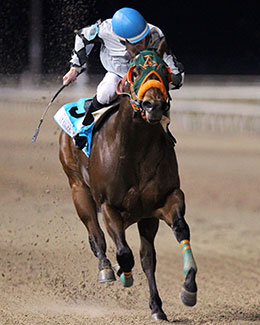 Tf Racee Runaway, shown winning the LQHBA Breeders' Futurity(RG1) is Sir Runaway Dash's leading money earner.
© Coady Photography
Tate Farms
' TF Racee Runaway, a son of
Sir Runaway Dash
out of the Streakin La Jolla mare Racee Rainbows was foaled in 2014.
He was the and the sixth-fastest qualifier in the 2016 edition of the richest race in Louisiana and collected the winner's share of $456,410 with his victory. He also surpassed the half-million dollar career earnings mark.
The graded stakes champions continued with Jrs Taylors Runnaway winner of the 2017 LQHBA Sale Futurity (RG1); Sir Runaway Cash, who won the 2019 edition of that race; Guidry Pride II, winner of the 2018 Mardi Gras Futurity (RG1) and last year's Lee Berwick Futurity (RG1) champion, Runaway Second Down.
From nine crops to reach racing age, Sir Runaway Dash has sired 180 winners, 23 stakes horses, earners in excess of $7.9 million with average earnings per starters of more than $24,200.
His top performers in earnings order are Tf Racee Runaway SI 104 (4 wins to 5, $536,586, Louisiana QHBA Futurity-G1, etc.), Jls Dashn And Zoomn SI 105 (7 wins to 5, $534,505, Louisiana QHBA Futurity-G1, Mardi Gras Derby, Billy Montgomery LAD S. [R] , etc.), Runaway Second Down SI 103 (5 wins to 3, $429,076, Lee Berwick Futurity-G1, Louisiana Champions Day QH Juvenile S.-G2, Billy Montgomery S., etc.), Jrs Taylors Runnaway SI 102 (5 wins to 3, $313,154. Louisiana QHBA Sale Futurity-G1, Gentilly Dash S. [R], etc.), Sir Runaway Cash SI 96 (4 wins to 3, $293,729, LQHBA Sale Futurity-G1, etc.), T Boy C SI 107 (6 wins to 4, $250,109, Louisiana Champions Day Derby-G3, Vinton S.-G3, Mardi Gras Derby, etc.), Tf Shez Jess Dashin SI 113, (3 wins to 3, $241,026, Lassie Futurity [R]-G2, etc.). Guidry Pride II SI 98 (2 wins to 4, $234,558 Mardi Gras Futurity [R -G2, etc., Perrys Runaway SI 104 (6 wins to 7, $226,868, LA Champions Day Juvenile-G2, Billy Montgomery Lad S.-G3, etc.), etc.
In 2018, Sir Runaway Dash was diagnosed with melanoma. The veterinarians at LSU recommended that he be treated at Missouri State University, so Tate made the 11 hour drive to their facility where his stallion underwent six weeks of radiation treatment.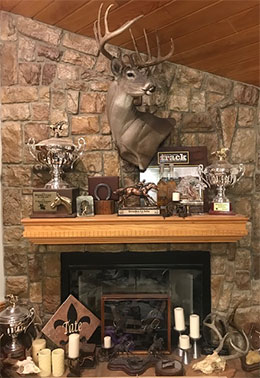 Memories of Sir Runaway Dash adorn the Tate family living room.
© Stephen Tate
"They kept me posted on his progress and he was doing great," recalled Tate. "He was running and bucking like a 2-year-old! We were scheduling a date for me to pick him up and bring him back to the farm."
However, his status changed dramatically, and Tate got a call that Sir Runaway Dash was stricken with colic.
Tate told them not to put him down but got another call that his condition had worsened. Tragically, his stallion died during colic surgery.
"I cried like a baby," admitted Tate. "He had everything against him from day one, but he has proved himself in more ways that you can count."
The ashes of Sir Runaway Dash are part of a shrine above the fireplace in Tate's home. It is a reminder of the legacy of a quality racehorse and outstanding stallion.
Tate Farms has a limited collection of frozen semen; next year will be the final year of his exceptional breeding career. The stallion roster remains strong with One Dashing Eagle, Heza Fast Rogue, One Sweet Jess, Paint Me Perry, Tf Im That Guy, Stevie B First Cash and Patriotic Games.
Tate Farms also acquired Rip Tide, who is a stakes winning son of leading sire Corona Cartel out of a full-sister to Sir Runaway Dash.
Tate is looking forward to Friday and Saturday night at Delta Downs when four offspring of his beloved stallion compete in the Lassie and Laddie finals. He declines to mention a favorite and wishes the best for each of them.
"There is a story behind all of these babies," he acknowledged. "I am proud of each of them and just wish everyone a safe, clean trip."
* * * * * * * * * * * * *
Martha Claussen has been involved in features writing and racing publicity in Texas, Louisiana, Indiana, Oklahoma and other regions in North America since 1997.