RACING THIS WEEK
FEATURES
SERVICES
Two-time champion Uncle D daylighting the likes of Hotsempting, Ratification and Love Is Everything V in the Grade 1 $1-million Rainbow Futurity at Ruidoso Downs.

© Jake Rogers / Ruidoso Downs
Two-Time Champion Uncle D To Enter Stud at Lazy E Ranch
GUTHRIE, OK—SEPTEMBER 24, 2020—
Uncle D
, the two-time Champion son of leading sire
Corona Cartel
, has been retired and will enter stud at
Lazy E Ranch
in Guthrie, Oklahoma, in 2021.
Uncle D
's 2021 breeding fee has been set at $3,500.
With four wins and two seconds in as many starts in 2019, Uncle D was the No. 1 money earning colt or stallion of any age in the nation that year amassing $682,965.
A two-time stakes winner at Ruidoso as a two-year-old, Uncle D SI-96, $689,165 was named AQHA's Champion Two-Year-Old and Champion Two-Year-Old Colt of 2019 after winning the $1,000,000 Rainbow Futurity G1 and $200,000 All American Juvenile and placing a close 2nd in the $1,073,100 Heritage Place Futurity G1. He is only the 15th 2 Year-old Colt to be honored with both Champion 2 Year-old Colt and overall Champion Two Year-old titles.
At $170,000 and consigned by McColee Land & Livestock LLC, he was the No. 1 selling Corona Cartel yearling colt of 2018.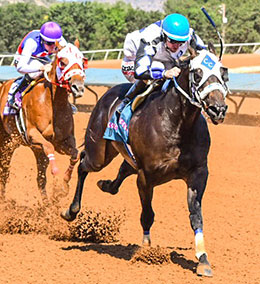 Uncle D drives to victory in the 2019 $200,000 All American Juvenile at Ruidoso Downs.
© Martin Canales
At 2, under the training of Clint Crawford,
Uncle D
broke his maiden impressively in his first out with a 2-½ length win in his May 10 trial for the Heritage Place Futurity G1 posting the fastest first-night time. He then came back and earned $183,727 in the final for running a fast-closing second in the 350 yard race.
Five weeks later at Ruidoso, Uncle D won his 400-yard Rainbow Futurity trial and then returned two weeks later to score a dominating 1-¼ length win in the $1,000,000 final over such eventual major stakes winners as Hotsempting, Ratification and Love Is Everything V.
That year in the 440-yard All American Juvenile, Uncle D shook off a troubled start to defeat a field that included 2020's Rainbow Derby G1 winner CERS Final Try.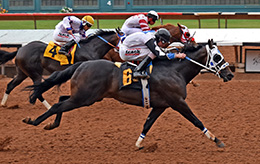 Uncle D qualifying for the Grade 1 Rainbow Futurity in his third career start.
© Jake Rogers / Ruidoso Downs
"
Uncle D
commanded the public's attention all his life. First, in the sale ring and then at the track" said Lazy E Ranch's Butch Wise. "He was "THE" 2 year-old colt of his year, a G1 performer both at Ruidoso and Remington, the toughest arenas to prove yourself in the sport. Because of his pedigree and his looks there naturally was an expectation of greatness from him and he did not disappoint. When he went to the post he delivered and we expect his foals possess all his same courageous qualities," Wise says.
"Pedigrees make stallions and his pedigree depth is unmatched for a stallion prospect. Uncle D's dam is 440-yard track record setter and multiple stakes winner Little Surfer $102,749 and he is a brother to G1 performers Call Me Cole $298,122 and Rip Tide $123,122.
Uncle D breaks his maiden in his first start while setting the fastest time on night-1 of the Heritage Place Futurity-G1 trials at Remington Park.
© Dustin Orona Photography
Little Surfer is a sister to World Champion Wave Carver $1,005,946 and Champion
Ocean Runaway
$1,642,498, both were also Champion of Champions G1 winners. His 2nd dam is Runaway Wave, the breed's No. 1 Producer of Money Earners at $4,349,799 and is an AQHA Dam of Distinction" Wise added.
"Lazy E Ranch is proud to welcome such an accomplished son of Corona Cartel and we thank his owners, Don and Fran Cavenaugh for their trust and confidence. We look forward to having the opportunity to show him to breeders considering him for 2021" said Wise.
For additional information or breeding contracts call Butch Wise or Matt Witman at 405-282-3437.