RACING THIS WEEK
FEATURES
SERVICES
The NDQHRA is accepting stallions seasons for the 2021 Stallion Stakes Service Auction.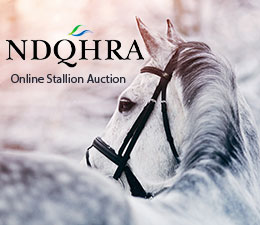 NDQHRA Accepting Stallions For Service Auction
BISMARK, ND—NOVEMBER 16, 2020—
The North Dakota Quarter Horse Racing Association (NDQHRA) is currently accepting stallion seasons for the 2021 NDQHRA Stallion Stakes Service Auction.
All foals sired by donated stallions with be eligible to run in the 2024 Northern Plains Futurity.
CLICK HERE to donate a stallion service to the auction. Donations will be accepting until Tuesday, January 26, 2021 at 6:00 PM CST.
The annual Stallion Service auction will be held through 6 pm. (CST) January 31st. Bidders may go to ndqhra-auction.org to view and bid on available stallions.
Many of the stallion seasons that have not sold by January 31, will go back on the auction for 30 days. They will be sold on a "first come, first serve" basis. This part of the auction ends on March 2, 2021.
CLICK HERE to download an stallion service donation form.
For additional information contact Sally Dasinger, NDQHRA Secretary/Treasure, at info@thendqhra.org or call 701-751-0867.