RACING THIS WEEK
FEATURES
SERVICES
IQHA Racing Divisions is accepting stallion service donations for their annual Bitterroot Stallion Service Auction.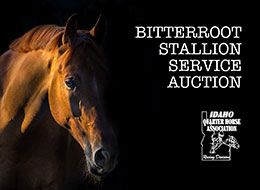 IQHA Now Accepting Breeding's For Annual Bitterroot Stallion Service Auction
JEROME, ID—NOVEMBER 19, 2020—
The IQHA Racing Division is currently accepting breeding's for the annual Bitterroot Stallion Service Auction to be held during the associations year-end meeting in January 2021.
"When you support this event by donating a breeding of your stallion, you enable us to continue to conduct Idaho's premiere quarter horse stakes races—the Bitterroot Futurity and the Bitterroot Derby," Melinda Roche, DVM said.
Stallion donation includes a free berth ($1,200 value) in the Bitterroot Futurity, if your stallion's contract sells. You may designate a minimum bid for the contract. The Bitterroot Futurity is for 2-year-olds that are sired by participating stallions that were donated and sold in the auction.
Every year owners from Idaho, Utah and surrounding states purchase yearlings at auction and many of these purchases are influenced by whether the yearling is by a stallion that is eligible to run in the Bitterroot.
Many times if there are multiple bidders on a contract and the losing party will contact the breeding farm looking to buy a contract to the stallion that is eligible for the Bitterroot program.
The purse for the 2020 Bitterroot Futurity was just under $100,000. An additional award of $1,500 is paid to the owner of the stallion with the winning offspring.
The Idaho Quarter Horse Association Racing division is undergoing some changes. They have been fighting hard to keep racing alive in Idaho and it's been successful. The association continued to have live racing even amongst the COVID-19 restrictions. Two years ago they adopted hair testing for all finalists in stakes races prior to competing in the finals.
The cornerstone of stakes racing in the Intermountain region is the Bitterroot Futurity and Derby. This race's added money is funded by the stallion auction and takes place in Idaho, usually in July.
CLICK HERE to download a Bitterroot Stallion Service Auction contract. Stallion owners or farm managers should return them via email to iqharacing@gmail.com for mail to IQHA Racing Division: 177 E 100 S Jerome, ID 83338.
"I sincerely hope you will consider being a part of this great program," Roche said. "I am an equine veterinarian, racing Quarter Horse breeder and passionate about our industry. The IQHA racing division and I will do anything we can to help support your stallions and get progeny out there in the winner's circle," she added.
For additional information call Jarrett Mills at 208-731-3542 or Melinda Roches, DVM at 208-731-0661.