RACING THIS WEEK
FEATURES
SERVICES
OQHRA's annual Stallion Service Auction kicked today and will run through January 22, 2021.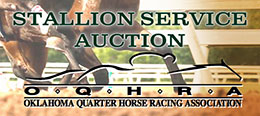 OQHRA Stallion Service Auction Now Open
OKLAHOMA CITY, OKóDECEMBER 14, 2020ó
The 2020 annual OQHRA Stallion Auction kicked off today (Dec. 14) and will continue through Friday, January 22 at noon.
The Oklahoma Quarter Horse Racing Association stallion service program is the primary fundraiser for the OQHRA. These stallion owners have generously donated the breeding to their stallions to support OQHRA. 100% of the proceeds from this auction goes to support several OQHRA programs including scholarships, lobbying activities and promotional efforts to increase racing opportunities for Quarter Horse and Mixed Breed racing in Oklahoma.
Why purchase a breeding from the OQHRA stallion service program?
NO CHUTE FEES! - OQHRA will pay the Farm/Chute Fee!
FREE LIMITED EDITION OQHRA VEST - if you are the successful bidder on a breeding in the amount of $500 or higher, you will receive a limited edition jacket!
Nearly 80 of the industry's leading sires are currently available to bid on with more stallions added daily.
Bidding Opens Monday, December 14, 2020 at 12:00 AM (CST)
Bidding Closes Friday, January 22, 2021 12PM (CST)
CLICK HERE to register and begin bidding.
For additional information or questions visit the association's website at oqhra.comor call (405) 216-0440.