RACING THIS WEEK
FEATURES
SERVICES
NDQHRA is accepting bids for their 2021 Stallion Service Auction until 6 p.m. (CST) Sunday, January 31.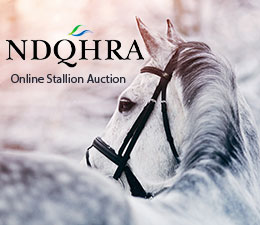 NDQHRA Stallion Service Auction Closes January 31
BISMARK, NDóJANUARY 31, 2021ó
The 2021 North Dakota Quarter Horse Racing Association (NDQHRA) 2021 Stallion Service Auction will close Sunday, January 31.
The annual Stallion Service auction will be held through 6 pm. (CST) January 31. Bidders are urged to CLICK HERE to view and bid on 66 stallions services currently available.
All foals sired by donated stallions with be eligible to run in the 2024 Northern Plains Futurity.
Available stallion services include A Sweet Jess, All Valiant, Apollitical Spirit, Bodacious Dash, Bogart, Brindis Por Cayenne, Cahill, Captain Toshky, Chickie Cherry Cola, Chilitos, Corona B, Corona Surfer, Dashin By All, Dashing Jess Perry, Eagle Deluxe, Ec Jet One, Famous Painted One, Fast Prize Jordan, Fifty Shadezofgrey, Fire Breathing Wagon, First Down Mr Jess, First Timber, Four Six Jess, Freakier, Good Candy P, Hawkeye, Hez Fast As Cash, Heza Fast Rogue, High On Corona, Ivan James, Ja Jess Perfect, Jettastic, Justified, Kas Tempting, King Cha Cha (TB), Kool Wagon, Lethal Corona, Little Pyc, Louisiana Jambalaya, Mighty B Valiant, Mr Special Colors, My Famous Romance, One Dashing Eagle, One Famous Diamond, One Famous Icon, One Sweet Jess, Paintyourownwagon, Phenomenalmoon (TB), Proud To Be Famous, Rip Tide, Rite Favorite, Royal Challenger (TB), Ryder Rite, Sixes Wisdom, Stevie B First Cash, Stole N Loot, Stray Cat, Tf Im That Guy, The Fiscal Cliff, Tough And Good, Tres Kings, Turbulent Times, View Me Flying, Volcoms Redstorm Cat, and Whirlaway Red.
Stallion seasons that have not sold by January 31, will go back on the auction for 30 days and will be sold on a "first come, first serve" basis. This part of the auction ends on March 2, 2021.
For additional information contact Sally Dasinger, NDQHRA Secretary/Treasure, at info@thendqhra.org or call 701-751-0867.