RACING THIS WEEK
FEATURES
SERVICES
Grade 1 Ruidoso QH Futurity winner Cyber Monday will begin his stallion at Lazy E Ranch in 2022.

© Jake Rogers / Ruidoso Downs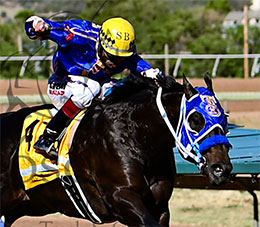 Grade 1 Winner Cyber Monday to Stand at Lazy E Ranch
GUTHRIE, OK—AUGUST 19, 2021—
Grade 1 Ruidoso Futurity winner
Cyber Monday
will stand at Lazy E Ranch in Guthrie, Oklahoma upon his retirement, announced today by Carlos Lujan representing the partnership of owners L.O.S. LLC and Abelardo Gallegos.
The 3-year-old colt is set to compete in the Grade 1 All American Derby trials on Sunday at Ruidoso Downs.
"I was taken with this horse when I saw him win his Ruidoso Futurity trial so impressively. Then he validated that superior performance by coming back two weeks later to win the $1,000,000 final over a stellar field," Lazy E Ranch co-manager and AQHA Past-President Butch Wise said. "I immediately initiated a dialogue with the owners because he is the kind of stallion prospect that excites breeders AND he is by Favorite Cartel," Wise added.
In the last five racing seasons (2017-2021), no other Grade 1 winning stud colt has earned more money during their two-year-old season at the renowned New Mexico track.
Cyber Monday won 4 of his 5 outs at Ruidoso as a two-year-old including the $1,000,000 Ruidoso Futurity G1 in 2020. Cyber Monday opened his career by posting the fastest time among 131 head in 21 two-year old schooling races at Ruidoso Downs on May 7, 2020.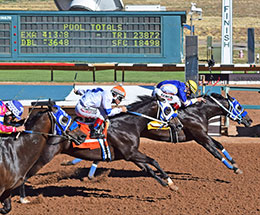 Cyber Monday defeating Misscandymountain and Jettz in the $1-million dollar Grade 1 Ruidoso QH Futurity at Ruidoso Downs.
© Jake Rogers / Ruidoso Downs
He followed that performance up two weeks later by winning his trial and qualifying for the Ruidoso Futurity G1 on the first day of trials while running into an 11 mph headwind. Two weeks later he easily triumphed in the $1,000,000 final by nearly a length with G1 performers Jettz ($440,000-G1) finishing second and Misscandymountain ($200,000-G1) third.
In his Rainbow Futurity trial, Cyber Monday stumbled out of the gate and then circled the field and qualified for the $1,000,000 Rainbow Futurity G1. In the final, he was fourth behind the undefeated AQHA Racing World Champion Whistle Stop Cafe SI-99, $2,137,019.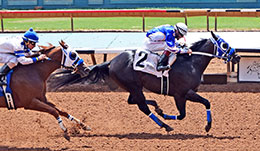 Cyber Monday, under jockey Sergio Becerra, Jr., qualifying the 2020 $1-Million dollar Grade 1 Rainbow QH Futurity at Ruidoso Downs.
© Jake Rogers / Ruidoso Downs
In his trial for the $3,000,000 All American Futurity,
Cyber Monday
again stumbled from the gate, then rallied to win, for the fourth time at Ruidoso in his 2 year-old year but failed to qualify.
Cyber Monday finished his two-year-old season with an impressive 4 wins in 5 outs and earnings of $516,241 and was in Champion 2 Year-old voting contention.
A finalist in a roughly run $100,000 Rainbow Invitational this year, Cyber Monday defeated Ruidoso Derby G1 finalist KH Sonny B $61,000 and 2020 Champion Apolitical Gold $996,009 in their trial. He has won or placed in 6 of 8 starts and earned $528,268, to 3 2021.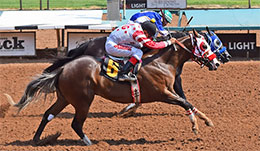 Cyber Monday (inside) winning his 2020 All American Futurity(G1) trial at Ruidoso Downs.
© Jake Rogers / Ruidoso Downs
Bred in California by Steve D. Burns, DVM,
Cyber Monday
is a son of Grade 1 winner and leading sire
Favorite Cartel
($607,669). In seven crops to race,
Favorite Cartel
has sired 81 stakes winners, 3 champions 474 winners, earners of more than $26.4 million with nearly $34,150 average earnings per starter.
Favorite Cartel's top performers include Cartel Jess Rockin (champion, $849,101, Los Alamitos 2 Million Futurity-G1, etc.), Tell Cartel (champion twice, $796,386, Los Alamitos Super Derby-G1, etc.), Tarzanito (champion, $429,657, Go Man Go H.-G1, etc.), Powerful Favorite-QH SI 106 (to 5, 2021, $980,917, Los Alamitos Winter Derby-G1, etc.), Lotta Blues Man ($935,399, Golden State Million Futurity-G1, etc.), etc.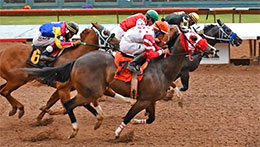 Cyber Monday defeating Kj SonnyP and Apollitical Gold in his 2021 Rainbow QH Derby(G1) trial at Ruidoso Downs.
© Jake Rogers / Ruidoso Downs
Cyber Monday
is out of a female family replate with black type. His dam is Ruidoso Derby-G1 winner Remember Me Rose ($820,895) by
Corona Cartel
. An All American Futurity G1 finalist at 2, she won the Sunland Park Winter Futurity G2, AQHA Juvenile Championship. She placed in the Rainbow Futurity G1, The Championship at Sunland Park G1 and Texas Classic Derby G1.
An AQHA Dam of Distinction, Remember Me Rose has produced 19 winners, 3 Grade 1 winners, 8 back type with earnings more than $2.75 million.
Her black type earners include Powerful Favorite (15 wins, to 5, 2021, $980,917, Los Alamitos Winter Derby-G1, Brad McKinzie Winter Championship S.-G1, Go Man Go H.-G1), Runforyourlife (6 wins to 4, 2021, $620,822, Golden State Million Futurity-G1, etc.), Cyber Monday (Grade 1 winner, above), Intense Fire (3 wins to 3, $74,416, First Down Dash Derby), Tessta Rossa (6 wins, $52,372, Kisses To Yawl, etc. ), The Revenant (6 wins to 4, $192,700 3rd Governor's Cup Futurity [R]-G2, etc.), Remember To Dash (2 wins at 2, $68,037, 2nd California Breeders Freshman S.[R], finalist Ed Burke Million Futurity-G1, etc.), Jabulani (2 wins at 3, $29,620, 3rd Sam Houston Derby-G3, etc.), etc.
Cyber Monday is a full sibling to the aforementioned Grade 1 winners Powerful Favorite, Runforyoulife and RG2-placed The Revenant.
Cyber Monday's second dam is the Grade 3 finalist Im Moonlighting ($41,794) by former leading Thoroughbred sire of Quarter Horses, Zevi (TB). A sister to stakes winner Long Gone Zevi ($25,244), Im Moonlighting is the dam of 10 winners, 3 black type including Grade 1 winner Remember Me Rose (see above), RG2 winner Mla Rodeorose ($141,890, a finalist in the $614,220 Texas Classic Futurity G1), RG3-placed Im Rare ($42,054). She is also the granddam of G3-placed A Rare Cartel ($78,599), G1-finalist Corona Rare ($62,550), etc.
"Stallion prospects with Cyber Monday's tremendous credentials are a very rare commodity in today's world," Wise continued. "A world class runner at Ruidoso, by one of the most productive sires today and from an incredible dam. He obviously has the looks and without question he has the pedigree, plus he is a G1 winner at Ruidoso - he is the complete package. This is the kind of horse that will certainly pass along his brilliance and the kind of horse we have had success with. We are very appreciative of his owners allowing us the opportunity to make this top prospect available in 2022."
The 2022 breeding fee on Cyber Monday is expected to be announced later. For additional information or breeding contracts call Butch Wise or Matt Witman at 405-282-3437.