RACING THIS WEEK
FEATURES
SERVICES
World Champion Triple Crown winner Special Effort.

© TRACK Magazine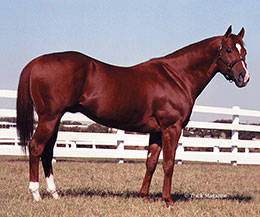 Dr. Rick Beck and Dan Darling Purchase Remaining Semen On Hall of Fame Sires
MILLSAP, TX–FEBRUARY 24, 2023–Dr. Rick Beck and Dan Darling announced this week they have purchased the remaining frozen semen on two of the industry's legendary stallions, Special Effort and Streakin Six from 6666 Ranch.
Both stallions are available in the 2023 breeding season ICSI only for a fee of $1,500. For additional information contact Dr. Beck at 951-929-4533. Both stallions are available at In Foal, Inc. in Millsap, Texas.
For more than 25 years Dr. Rick Beck, with InFoal, Inc. has had a successful practice dedicated to equine reproduction and preserving valuable genetics thru equine ICSI, he explains, "The fertilization is different between Embryo Transfer (ET), where the mare is bred and then the embryo (fertilized egg) is flushed and implanted into a recipient mare.
Former leading sire and broodmare sire Streakin Six.
© TRACK Magazine
The ICSI technique is performed by injecting a single sperm cell directly into the mare's oocyte (unfertilized egg) recovered from donor mares and cultured until ready to implant into a recipient mare." Dr. Beck included that there has been considerable research on the ICSI procedure and "it does no harm to the donor mare or to the reproduction system and multiple aspirations and/or breeding procedures can be performed in one breeding season."
* * * * * * * * * * * *
Special Effort was named 1981 World Champion along with champion 2-year-old and 2-year-old stallion. The only horse to sweep the Triple Crown at Ruidoso Downs, he won the All American Futurity, Rainbow Futurity and Kansas Futurity (now known as the Ruidoso Futurity) and in 14 outs, he went to the winner's circle 13 times, earning $1,219,948.

As a sire his 26 crops his get have earned more than $18. 9 and include World Champion Special Leader, All American Futurity(G1) winner Elans Special, Denim N Diamonds Futurity(G1) winner Such An Easy Effort, champion Easy Go Effort, etc.

As a broodmare sire, Special Effort mares have produced champions Eyesa Special SI 107 (G1), Double Down Special SI 107 (G1), Eye Opening Episode SI 113 (G1), Deelish SI 102 G1),Tiny First Effort SI 105 (G1),Marsblackmansi 120 (G1), etc.
* * * * * * * * * * * *
Streakin Six was a multiple stakes winner and earned $473,934 in 1979-80. He one of the top racehorses of his generation, and still 13 years after his death, he continues to have a major influence on the top race- and performance horses of today's generation.
With 23 crops to race he sired 18% black-type earners and his foals earned more than $17.25 million with average earnings of more than $20,000, numbers envied by active stallions.

His top performers include All American Futurity(G1) winner Noblesse Six SI 110 ($1,125, Champion 2-Year-Old Filly Sixy Chick SI ($751,284), Champion 3-Year-Old Colt Six Fortunes ($574,788), All American Derby(G1) winner Six Popper SI 100 ($562,), etc.

As a broodmare sire Streakin Six has sired the dams of 102 stakes winners, earners of more than $35.1 million dollars including champions Ab What A Runner, Ketel Won, Shake The Bank, Roll Into Mischief, and Grade 1 winners Streakin Flyer, Streakin Six Cartel, Sixes Royal, A Streak, Regard, Negro de Az, Ancient Ruler, Genuine American, etc.
For additional information or breeding contracts call Dr. Rick Beck at 951-929-4533.