RACING THIS WEEK
FEATURES
SERVICES
Home
>
Preview Racing
>Champion KVN Corona Heads Trials To $235,200 El Primero Del Ano Derby
AQHA Racing Champion 2-Year-Old Colt KVN Corona will make his 3-year-old debut in Sunday's El Primero Del Ano Derby at Los Alamitos.

© Scott Martinez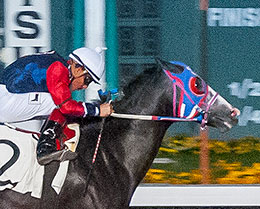 Champion KVN Corona Heads Trials To $235,200 El Primero Del Ano Derby
LOS ALAMITOS, CA--MARCH 9, 2018--
Something has to give in the second of three trials to the Grade 3, $235,200 El Primero Del Ano Derby on Sunday at Los Alamitos.
On one hand, there is Keith Nellesen's AQHA Racing champion KVN Corona making his 2018 debut while putting his perfect six-for-six record on the line.
Then, there is also Fortuna Properties, Inc's Ditto Head, who is unbeaten in stakes trials during his racing career. It should make for a great race, as one of these flawless marks will likely come to an end on Sunday, unless they dead heat for the win in the trials.
To be ridden by Jesus Rios Ayala for trainer Paul Jones, KVN Corona was the nation's top 2-year-old colt last year after a tremendous campaign that saw him win the Grade 1 Ed Burke Million Futurity and Grade 2 PCQHRA Breeders Futurity. He won his Los Alamitos Two Million Futurity trial, but missed qualifying to the rich final.
He was also one of the few horses in the nation to beat AQHA Racing champion 2-year-old J Fire Up last year.
For his efforts, the Corona Cartel colt was also named the PCQHRA 2-year-old colt of the year. On the night of the PCQHRA Awards Banquet, Nellesen revealed with a smile Plan B in the event KVN Corona did not pan out of on the racetrack.
"My backup plan was that he would be a barrel horse," he said. "This is our (breeding operation's) third crop of horses to go to the track. We are committed to racing at Los Alamitos. My 8-year-old daughter told me that were partners on KVN Corona. I asked her what that meant, and she said 'it means that I get half.' Instead I made her a deal that she would get (some money) every time he won. She said 'that's even better.' "
Racing has worked out just fine for KVN Corona, who is named after New England Patriots and BYU Cougar star defensive player Kyle Van Noy. KVN Corona will enter the second of three trials after working 350 yards in :18.20 on February 20. KVN Corona did stumble slightly leaving the gate in that drill.
The horses with the 10 fastest times will return to Los Alamitos for the Grade 3 El Primero final on Saturday, March 31. A total of 26 sophomores will compete in these trials. The 400-yard trial heats feature strong fields of 8, 9, and 9 horses.
The homebred Ditto Head has been great in trials, including when he posted the fastest qualifying time to the Grade 1 Los Alamitos Winter Derby on January 20. He also qualified to the $390,000 Governor's Cup Futurity last summer and the Grade 1 Los Alamitos Two Million Futurity on December 17.
The Foose gelding has not been as fortunate in the finals of those races, but his first job will be to make a final for the fourth time in his solid career. Cesar Gomez will ride for Mike Casselman on Sunday night.
Of course, KVN Corona and Ditto Head are the only ones with a chance to win this race. They'll be facing a well-rounded group of runners that will also feature PCQHRA Breeders Futurity finalists King Of Appeals MV and Rockin Asteroid. Both of those runners are multiple winners at the Orange County track.
Also in this race will be Edward and Theresa DeNike and David Miller's Power Thinker, the runner-up in the $107,500 Los Alamitos Maiden Stakes, plus the stakes placed Live It Up, Siete Por Uno, Eagles Policy, and My Favorite Cartel.
Martha Wells' Yanque is another top name running in the trials. The powerful gelding has shown tremendous closing kicks in previous races, including a move that took him from sixth place to first in a trial to the Los Alamitos Winter Derby on January 20, and another that saw him go from 10th to 2nd in the Grade 1, $215,000 final.
The Favorite Cartel gelding will be one to watch in the first of three trials on Sunday. Cruz Mendez will ride for trainer Matt Fales.
Ron Hartley's Black Fryday, fifth in the Grade 1 Golden State Million Futurity, and EG High Desert Farms' impressive Los Alamitos Maiden Stakes trial winner Firey Colt will also compete in this heat. Coronated, Priceless Mr Jess, One More Cigarr, Hot Looking Guy, and Go Cash Stevie B round out this trial lineup.
The final El Primero trial will be headed by three-time futurity finalist The Revenant and Maiden Stakes third place finisher Devil In A Blue Suit. Trained by John Cooper for Hartley, The Revenant was third in both the Governor's Cup Futurity and PCQHRA Breeders Futurity last year before running in the Golden State Million.
Beduinos Royalcorona, Wild Wonder, Eyes The Favorite, Worker, PJS Flying Dynasty, Sovereign Jess, and Top The Sale will complete this heat.
Courtesy of www.losalamitos.com.