RACING THIS WEEK
FEATURES
SERVICES
Home
>
Preview Racing
>Big Champion Makes Stakes Debut In Wheatland Handicap At 870 Yards On Saturday Night
Thoroughbred Big Champion makes his stakes debut in the $20,000 Wheatland Handicap at 870 yards here on Saturday night.

© Los Alamitos Race Course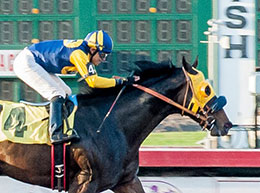 Big Champion Makes Stakes Debut In Wheatland Handicap At 870 Yards On Saturday Night
LOS ALAMITOS, CA—APRIL 12, 2018—
Following two runaway allowance victories at Los Alamitos Race Course, 4 Hares Racing, Inc's Big Champion makes his stakes debut when he faces a strong seven-horse field in the $20,000 Wheatland Handicap at 870 yards here on Saturday night. Nine races are on tap at Los Alamitos, which means the late Pick Four will start in the sixth race.
To be ridden by Juan Sanchez for trainer Michael Curtis, Big Champion crushed his rivals with a seven-length victory at 870 yards in his second start at night here on March 16. The Kentucky-bred gelding by Munnings followed it up with another decisive win at 870 yards, this time by 5 ½ lengths on March 25.
After those two big wins, in which he recorded quick times of :44.51 and :44.76 , Big Champion has been made the 125 pound co-high weight when he starts from post number eight in this race. Big Champion's aforementioned victory on March 16 was a very special one for Lance Hares.
"It was my first win ever as an owner," he said.
Ed Allred's Bound To Bet will also carry 125 pounds following his own daylight victory at 870 yards on March 2. Trained by Scott Willoughby and to be ridden by Carlos Huerta, the 4-year-old Quarter Horse gelding by Snowbound was a 4 ¾ length winner in a time of :44.43 on that night.
A four-time winner at 870 yards, Bound To Bet also won the Truly A Pleasure Handicap last year when beating a field that included the talented distance mare Miss Loujean. He has posted top three finishes in seven consecutive starts – all at either 550 or 870 yards. He'll start from post number seven.
Dream On Brother, recently claimed by trainer Nick Lowe for owner Luke Lindsey for $8,000 after his last start here, is another top contender in this race. The 4-year-old Thoroughbred colt is unbeaten in 2018, as he's won all four of his 870-yard races at Los Alamitos, including a 2 ¾ length victory in a quick time of :44.69 in his last start. Eulices Gomez will ride Dream On Brother, who figures to be right there with Big Champion and Bound To Bet in what should be an exciting Wheatland Handicap.
Nazario Hernandez's My Capullo also enters this race after scoring a 2 ¼ length victory around the turn in his last start. The Royaltys Choice gelding won his 870-yard debut by more than four-lengths back on January 21, but this is the toughest group of distance horse he has faced. Minor Arana will ride him from post Justamitch, who second to Bound To Bet in their last meeting, is an experienced distance performer that could be a factor in the late stages of the Wheatland. Back Beauty, Newport Coaster, and Mason Be will complete the field.
* * * * * * * * * * * * * * *
A pair of races for 2-year-olds will also be featured on Saturday and are slated as the fourth and sixth races on the card.
Legacy Ranch's Wicked Affair has been impressive during morning works and now makes her racing debut in the sixth race on Saturday night. To be ridden by Jesus Rios Ayala for trainer Terry Knight, Wicked Affair will start from post number three. She'll enter the 300-yard race having posted bullet works on March 18 and March 27. The posted the fastest of 36 drills (:12.10 at 220 yards) in her second drill.
"We're excited about her," Knight said. "She's shown some talent and has been a real professional so far. She's been that way from day one and has picked up things very quickly."
Sired by One Sweet Jess, Wicked Affair's dam is Burr Cold. This is the family of 2010 champion 2-year-old filly Flying Fig, a winner of $806,920 and runner-up in the Los Alamitos Two Million Futurity, Ed Burke Million Futurity, and Golden State Million Stakes winners Visual Man and California Eagle plus Platki, the fastest qualifier to the Ed Burke Million Futurity last year, are also part of this strong family.
Wicked Affair will be challenged in her first outing, as she'll be facing another impressive One Sweet Jess filly in the form of Juan Humberto Moya's Jess Wong. She posted the fastest of 57 works on March 24 when covering the distance in :12.10. G. Jairo Rangel will ride for trainer Jose Flores from the outside post number seven. Jess Wong's dam is Attack The Cartel, a stakes winner at Los Alamitos during her racing career.
"When we bought (Jess Wong) at the Los Alamitos Equine Sale, I had her full sister named On Our Way," Flores said. "She qualified for me to the Los Alamitos Two Million Futurity. (Jess Wong) looked a lot like On Our Way."
Reliance Ranches and Mike Robbins swept the first two races for 2-year-olds held at Los Alamitos last weekend. The owner/trainer combo will look to be back in the winner's circle with the First Down Dash filly Xeriscape in the sixth and the Corona Cartel colt Sage Franklin in the fourth race.
Stevieb Flashofcash, from the family of Grade 1 winner LDS Dash For Dylan, and RD On Fire, from the family of Grade 1 winner Ynot Walk plus Grade 1 runners Ynot Bar, Miss Kittys Bar Bet, Donk Dink With Me, etc.
Tom Bradbury's homebred Corona Cartel colt I Like My Chances is another one to watch. He's out of Bradbury and Kim Kessinger's Fancys First Affair, who won the La Primera Del Ano Derby in 2007.
* * * * * * * * * * * * * * *
Courtesy of www.losalamitos.com.