RACING THIS WEEK
FEATURES
SERVICES
Home
>
Preview Racing
>11 Trials Set For $1,070,000 Ed Burke Million Futurity Sunday At Los Alamitos
Bobby Simmons' Mental Error, the runner-up in the Kindergarten final, will highlight the fifth Ed Burke Million Futurity trial Sunday night at Los Alamitos Race Course.

© Scott Martinez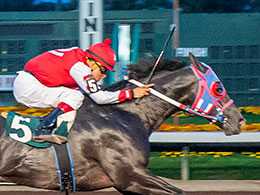 11 Trials Set For $1,070,000 Ed Burke Million Futurity Sunday At Los Alamitos
LOS ALAMITOS, CA—JUNE 7, 2019—
Eighty seven 2-year-olds, including six juveniles already with stakes racing experience, will be in action during an 11-race night of trials to the prestigious Grade 1, $1,070,000 Ed Burke Million Futurity on Sunday night at Los Alamitos Race Course.
The Pick Four sequences will begin in races one and eight. Ten of the 11 trials will each feature an eight-horse field. First post is 6:15 p.m.
The rich $1,070,000 million purse for the Ed Burke Million final represents a $10,000 increase from last year's final purse. This will be the third richest running of the Ed Burke since 2009. The horses with the 10 fastest clockings in the 350-yard trials will advance to the final to be held at Los Alamitos on Sunday, June 23. The overall group of Ed Burke hopefuls is outstanding, as 24 of the 87 have won at least once and 62 have finished third or better at least once.
The quality shines right from the start, as the first trial is among the strongest of the night. The eight runners in the opening heat have all finished in the money at least once and the field also features a trio horses that qualified to the Grade 2 Robert Adair Kindergarten Futurity final on May 19.
This lineup will be headed by Reliance Ranches LLC's Dreams Divine, the third place finisher in the Kindergarten, who is also the only multiple winner from among the 87 juveniles racing on Sunday night. Ridden by Ruben Castro for trainer Mike Robbins, Dreams Divine won her first two career starts and only finished behind the unbeaten Chayito Cartel and the colt Mental Error in the Kindergarten final.
Bred by J. Garvan Kelly and Nancy Yearsley, Dreams Divine was purchased by Reliance Ranches for $112,000 at the Ruidoso Sale last year. The filly has been worth the money, as she's already earned $49,889 in her three race career. Link Newcomb's A Political Spell, who finished sixth in the Kindergarten, and Espinoza, Guerra, and Pimienta's Spectacular Corona, who ran seventh in the final.
Brad Hart's homebred Gentleman James, a Corona Cartel colt who scored a daylight victory in his May 17 debut, will head the second trial, while Reliance Ranches' Always Charging, a Coronado Cartel gelding who ran fourth in the Grade 2, Oklahoma Futurity in his last start, will look to star in the third trial. Four other winners will be in action in the third trial in the form of Parsons Ranch's Geothermal, R.D. and Shaun Hubbard's Unrelentless One, Steve Burns' Ynot Pout, and Kent Kleinknecht's Movie Star K.
Parsons Family Limited Partnership's Tea Pod, out of the Grade 1 stakes winning mare Thermonuclear Energy, and Double Bar S Ranch's Scoop There It Is, out of the graded stakes winning mare Scoop Of Sunshine, are among the top contenders in the fourth trial. Tea Pod is a half-sister to Geothermal.
Bobby Simmons' Mental Error, the runner-up in the Kindergarten final, will highlight the fifth trial. The Favorite Cartel colt draws the rail for this trial. He's under the tutelage of trainer Paul Jones and will be ridden by Ramon Sanchez, who has piloted over 1,900 Quarter Horse winners in his career. Romeo Daniel Sedano's Leonel Bugatti, another Kindergarten finalist, heads the sixth trial of the night.
The Kiddy Up gelding posted a strong outing when running second in his Kindergarten trial and will be looking for a repeat performance in this trial. Meanwhile, Jesus Avila and Jesus Cuevas' Furyofthehuracan will look for another big effort after posting a length victory in his last start.
Reliance Ranches' homebred Old Blue Shirt, who debuted with a 3/4 length win on May 4, will head the seventh trial, while La Feliz Montana Ranch LLC and MRB Racing LLC's Up And Coming, who also won his debut by daylight at Los Alamitos, will lead the eighth trial.
Trained by Chris O'Dell, Up And Coming's 1-1/4 length win on May 11 is one of the most visually impressive wins by a 2-year-old so far this season. The Ed Allred-bred runner, who was purchased for $67,000 a the Los Alamitos Equine Sale last year, will have to be at his very best, as he'll be facing seven rivals, all of which have finished in the money at least once this year.
As far as impressive performances go, R.D. and Shaun Hubbard's Determined One scored what may be the best effort by a freshman at this meet. The New Mexico-bred gelding by Hes Relentless, who headlines the ninth trial on Sunday, won his local debut by two lengths while covering the 300 yards in :15.50 on May 12. That's the fastest winning time recorded by a horse racing here on Sunday night.
Racing for the partnership of Blanchard, Bryant, Hubbard and Lee Lewis, Budderlicous could be a standout this evening's 10th trial. Purchased for $86,000 at the Ruidoso Sale, the Corona Cartel gelding broke his maiden at Los Alamitos by 1 1/2 lengths in a 300-yard time of :15.61. Determined One and Budderlicous will both be ridden by Cody Jensen for trainer Chris O'Dell.
Karla Diaz and Jorge Navarro's OJD One Favorite JJ and Howard Nichols' Jess A Favorite Kiss, both winners at Los Alamitos, will also be in action in the 10th. EG High Desert Farms' Forgot The Rose, who was razor sharp when scoring a length victory in :15.54 on May 24, will be in action in the 11th and final trial. Purchased for $95,000 at the Los Alamitos Equine Sale, Forgot The Rose in a full-sister to Grade 1 derby winner Powerful Favorite. Lady Six Sky,
Favorito Del Cartel, and Wrong Impression, all previous winners, will also be in action in this final trial.
* * * * * ** * * * * * * *
Courtesy of www.losalamitos.com.