RACING THIS WEEK
FEATURES
SERVICES
Home
>
Preview Racing
>Two Trials Set Saturday For The Northern Plains QH Futurity at Chippewa Downs
Training has been underway for several weeks at Chippewa Downs. Races will be held each weekend for the remainder of June.

© Courtesy Minot Daily News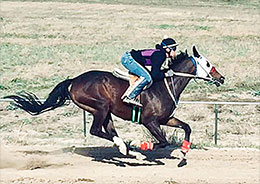 Two Trials Set Saturday For The Northern Plains QH Futurity at Chippewa Downs
BELCOURT, NDóJUNE 8, 2018ó
Gates open Saturday for the first of four consecutive weekends of racing at Chippewa Downs in Belcourt, North Dakota. Two trials for the Northern Plains QH Futurity are included on Saturday's eight-race mixed card for Quarter Horses and Thoroughbreds.
First saddling and parade will get underway shortly after 1 p.m. (CDT) with the first post time scheduled for 1:30.
All 15 two-year-olds entered in Races 3 and 4 will be making their career debuts in the Northern Plains QH Futurity trials. The eight fastest qualifiers will return to Chippewa Downs on Sunday, June 23rd to vie for the winner's share of a $20,000-est. purse going 350 yards.
Jesses Silk Coat will head the opening trial (Race 3) as the 5-2 morning-line favorite for owner /breeder John Bubel. Terry Davis will saddle the brown filly out of Southern Silk Coat by Takin On The Cash.
Robert Lee Herrman's Ima Mitey Corona has been set as the 9-2 morning-line favorite in the second trial (Race 4). Robert Lee Herman, Jr. conditions the Corona B gelding from the Dashin Is Easy mare Eyes Mitey Dashin. Evan Herman has been named to ride.
"Once again we've got paramutual horseracing, eight days over four weekends," said Doug DeMontigny, chairman of the Turtle Mountain Band of Chippewa Outdoor Recreation Development Association. "We'll have Thoroughbreds and Quarter Horses, some of the fastest horses in the region will be at these races."
New to Chippewa Downs this year is the addition of electronic wireless timing to provide for precise timing of all races. Also, the track surface has once again been upgraded to make it as horse friendly as possible.
* * * * * * * * * *
Chippewa Downs has barn space for 240 horses and has been a paramutual track since 1991. Activity at the track has been evident for several weeks as young riders get acquainted with the facility and the surface while training competitive mounts.
The final weekend of racing at Chippewa Downs, June 29-30, will feature the popular Indian Relay where bareback riders wearing traditional dress will compete for a $25,000 purse. The relay uses three horses per rider who must transfer from one horse to another after each lap around the track.
"We've got entries from all over the U.S.," said DeMontigny. "Riders wear warpaint and all the horses are painted with logos of significance."
The annual race card provides an economic boost for the region. Les Thomas, Belcourt, is the board chairman of the North Dakota Native Tourism Alliance.
"The Turtle Mountain Band of Chippewa are developing amenities for a tourism package to coordinate with North Dakota Tourism to market activities to world travelers," said Thomas. "Tourism in North Dakota is the third-biggest economic engine in the state at over $3 billion a year."