RACING THIS WEEK
FEATURES
SERVICES
Howard Nichols' La Rusa will face off against a strong field in the $11,525 allowance feature for non-winners of two in 2019 Sunday at Los Alamitos.

© Scott Martinez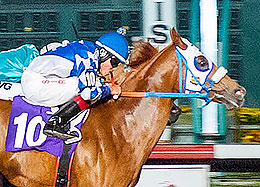 Solid Group Of Mares In Action On Sunday; Diaz Enjoying Great 2019
LOS ALAMITOS, CA—AUGUST 9, 2019—
Stakes winners La Rusa, Mommas Dynasty, and On Our Way are among the talented mares that will be face off in the $11,525 allowance feature for non-winners of two in 2019 Sunday at Los Alamitos. The 300-yard test is the seventh of eight races on the card.
Howard Nichols' La Rusa made the most of her one victory this year, as she won the Grade 3, $50,000 Miss Princess Handicap at 23-1 odds on May 12. The Walk Thru Fire mare returned with a couple of game efforts, including a fourth place finish to Grade 1 winner Thermonuclear Energy in the Matron Stakes on July 27. La Rusa will start from post number two with Oscar Andrade, Jr. up.
Edward and Von Zae McNelis' Mommas Dynasty won her only start of 2019 in a photo finish on June 30. She was a stakes winner last year when scoring in the Tolltac Handicap in her Los Alamitos debut. Lazy Creek Ranch and Jerry McAlevey's One Our Way finished out of the money in her season debut, but she won her stakes in the Four Forty Blast Handicap last year. Dashing Executive, winner of the Pocatello Downs Maiden Challenge and Firecracker Maiden Stakes, and Walk On By Blues will complete the field.
* * * * * * * * * * * * * *
J. Francisco Diaz has enjoyed a magical year with his Quarter Horses so far in 2019. The longtime racehorse owner has enjoyed his first two futurity wins ever and they've come in highly graded events – one of them with a homebred runner. To top it all, the homebred is trained by his son, Lindolfo Diaz, making it all even more special for the horsemen.
"It's been a dream come true," Diaz said. "My first futurity win came with Chayito Cartel in the (Robert Adair) Kindergarten Futurity. My son worked very hard with this horse and to see them win a futurity together was a very proud moment for our entire family. Lindolfo has always worked hard and has always loved the sport. When he was still in his teen years he would wake up early in the morning and go tend to the horses before going to school. When he came to me and said he wanted to train horses as a career, I supported him fully right away. It's been a great ride to get to this point."
Chayito Cartel won the Kindergarten on May 19 and only a month later Diaz was back in the winner's circle, this time with co-owner Jose Flores and their gelding Flokie in the Grade 1 Ed Burke Million Futurity. The owners purchased him for $10,700 at the Heritage Place Winter Sale.
"Jose called me last year while he was at the sale and asked me if I wanted to partner on this horse. I said 'sure, let's do it.' That's how I ended up being co-owner of Flokie. I wouldn't have believed it if at the beginning of the year someone would have told me that I was going to win two futurities. I'm glad it's happened."
Diaz will look to continue his fine meet on Sunday evening when his Corona Cartel gelding Diligent Duty headlines the 110-yard co-feature of the night. Diligent Duty has finished in the top three in five of his 11 starts. The field for the evening's eighth race will also feature Pull The Triger, who has hit the board in seven of 10 career starts, and Pursue Pappasito, whose dam is the outstanding Dinastia Toll BRZ. Three others will race in this event.
* * * * * * * * * * * * * *
Courtesy of www.losalamitos.com.