RACING THIS WEEK
FEATURES
SERVICES
Tipsy Girl B will be looking for her second career stakes win in $72,300 Gopher State Futurity on Sunday at Canterbury Park.

© Coady Photography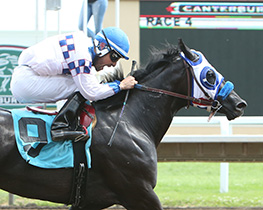 Gopher State Futurity, 1889 Futurity Debut at Canterbury Park
SHAKOPEE, MN—AUGUST 9, 2019—A first-time stake and a twist on an old stake at Canterbury Park will provide opportunities for 2-year-olds to compete for over $85,000 on Sunday.
The feature race of the card is the $72,300 Gopher State Futurity. The open futurity features four horses from the $156,000 Mystic Lake Northlands Futurity, the top two finishers from the $36,100 MQHRA Stallion Auction Futurity, and the winner of the $20,000 Mystic Lake Northlands Juvenile.
The Gopher State Futurity replaces the former North Central Quarter Horse Racing Association Futurity. The NCQRHA Futurity, founded by horsemen at Canterbury Park, served to provide a stake race for owners of horses based in the north-central region of the United States.
Trainer Jason Olmstead won the last five consecutive editions of the NCQHRA and seeks to win the first running of the Gopher State with two qualifiers: Tipsy Girl B, recent winner of the MQHRA Stallion Auction Futurity, and A Tres of Sign, who qualified for the Remington Park Oklahoma Bred Futurity (RG1) this spring. A Tres Of Sign is a full sister to stakes winner A Tres Of Paint and a half-sister to graded stakes winners Apollitical Sign and First Valiant Sign.
Trainer Clinton Crawford brings five horses to the final, including fastest qualifier Royal Cash Flash and the runner-up in the Mystic Lake Northlands, Left Town.
Quarter horses bred in South Dakota or North Dakota may compete in the $15,000 1889 Futurity, the first race on the card. Canterbury Park and the MQHRA collaborated to offer a special 2-year-old stake restricted to these states as a gesture following the announcement this spring that there would be no live racing in South Dakota in 2019.
Bob Johnson conditions four of the field of six, including 8-5 morning line favorite Divas First Moon. The First Moonflash filly was second to Northlands qualifier Sweet Wild Time in the NDQHRA Futurity in July.
The $72,300 Gopher State Futurity is Race 3 on Sunday at Canterbury Park; post time is 1:48 pm CT.
The field, by post position, with trainer, jockey and morning-line odds:
Royal Cash Flash, Clinton Crawford, Jorge Torres, 3-1
Left Town, Clinton Crawford, Josh Romero, 9-2
Hr Storm On In, Vic Hanson, Doug Frink, 15-1
Sizzling Fajita, Clinton Crawford, Jose Vega, 10-1
Relentless Candy, Clinton Crawford, Ry Eikleberry, 6-1
Special Candy Kisses, Clinton Crawford, Cody Smith, 12-1
Tipsy Girl B, Jason Olmstead, Eugenio Navarrete, 8-1
A Valiant Diamond, Patrick Swan, Froylan Ramirez, 7-2
A Tres Of Sign, Jason Olmstead, Cristian Esqueda, 8-1
Nanyehi, Patrick Swan, Nik Goodwin, 15-1
The $15,000 1889 Futurity is Race 1 on Sunday at Canterbury Park; post time is 12.50 pm CT.
Jessabluemoonlady, Bob Johnson, Marcus Swiontek, 7-2
Bhr Jessies Girl, Bob Johnson, Doug Frink, 8-1
Outtasightouttamind, Randy Weidner, Harley Moser, 5-1
Divas First Moon, Bob Johnson, Stormy Smith, 8-5
Hasta B an Effort, Bob Johnson, Jorge Torres, 5-2
Harleys Wild Fire, Randy Weidner, Nik Goodwin, 12-1
The 2019 Canterbury Park Quarter Horse stakes schedule includes 17 stakes races worth over $700,000.
Live Thoroughbred and Quarter Horse racing continues through Saturday, September 14, 2019. The 70-day race meet offers racing on Thursday and Friday evenings at 6:00 pm CT and Saturday and Sunday afternoons at 12:45 pm CT. Quarter horse racing is held at the beginning of each race card.