RACING THIS WEEK
FEATURES
SERVICES
The Plan Handicap winner Zoom On Jess will head four trials to the $117,150 Wild West Futurity on Sunday at Los Alamitos.

© Scott Martinez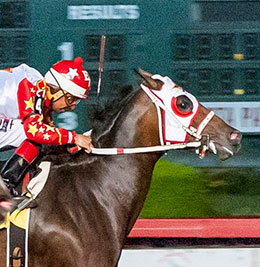 Talented Group Face Off In Wild West Futurity Trials
LOS ALAMITOS, CA—OCTOBER 6, 2019—
Gary and Jeralyn Messenger's Zoom On Jess, the winner of The Plan Handicap here on September 7, will headline the second of four trials to the $117,150 Wild West Futurity on Sunday at Los Alamitos. First post time is 6:10 p.m. (PDT).
The Wild West Futurity features 2-year-old Quarter Horses that have raced in the Intermountain and Northwest regions plus Arizona, Nevada and Canada. Past winners include 2016 Champion of Champions winner and AQHA champion Zoomin For Spuds and Grade 1 stakes winner Dash For Dylan.
Twenty-eight juveniles will be in action in Sunday's 350-yard trials with the horses with the 10 fastest times advancing to the Wild West final on Sunday, October 27. The list of horses in the trials include six that have previously won a futurity or consolation in the aforementioned regions.
Trained by Monty Arrossa, Zoomin For Jess' stakes win came at Los Alamitos when he outdueled Old School Icon in the 350-yard The Plan. The two will face off again in the second trial. Zoom For Jess, an Idaho homebred by Jess Zoomin, won the Idaho Cup Futurity at Sandy Downs prior to The Plan.
Martha Wells' Old School Icon finished third in the $41,800 Desert Classic Futurity prior to his California arrival. Freddy Ibarra's Senor Frogs is another one to watch in trial number two. The son of Corona Cartel won the $37,950 Grants Pass Firecracker Futurity on July 4 and then finished second in the Emerald Downs Juvenile Challenge Stakes in late August. Lindolfo Diaz will saddle the Oregon-bred on Sunday night.
The opening trial will be headed by McColee Land & Livestock LLC's KVN Little Sister, a full sibling to AQHA champion and Grade 1 stakes winner KVN Corona. The Utah-bred filly won the $23,500 Utah Bred Futurity at Wyoming Downs before running fourth in The Plan a month ago. Nick Lowe's John Carter Cash, winner of the Pot O' Gold Futurity at Sun Downs on May 12, will also compete in this trial.
The third trial will be headed by Cameron and Lean Mulrony's Jess Tellin Tales, Rocky Mountain Spring Classic Futurity winner at Pocatello Downs. The Wagon Tales filly looks outstanding in her Los Alamitos debut, winning an allowance race here by 1 3/4 lengths for Arrossa and jockey Armando Cervantes.
The final trial is a wide open event headed by Butch and Stephanie Webb's La Reina Madre, the third place finisher in the $90,000 Rocky Mountain Futurity at Arapahoe Park, and Randy Dickerson's CM Singing The Blues, the runner-up in the John Deere Juvenile Stakes here on August 17.
* * * * * * * * * * * * * *
Courtesy of www.losalamitos.com.