RACING THIS WEEK
FEATURES
SERVICES
Reliance Ranches' Dreams Divine will headline the $403,500 Los Alamitos Oaks, which is the nation's richest race for fillies and mares, at Los Alamitos Race Course on Saturday night.

© Scott Martinez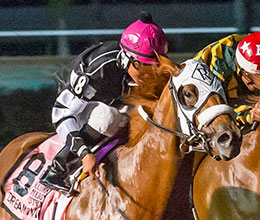 Dreams Divine Headlines $403,500 Los Alamitos Oaks On Saturday
LOS ALAMITOS, CA—MARCH 21, 2020, 2020—
Reliance Ranches' outstanding filly Dreams Divine will headline the inaugural running of the $403,500 Los Alamitos Oaks, which is the nation's richest race for fillies and mares, here on Saturday night.
Dreams Divine has been great this year, winning the AB What A Runner Handicap on January 25 before posting the fastest qualifying time to the Los Alamitos Oaks on March 7. She was superb in her trial victory, as cruised to a ¾ length win in a time of :19.684 for the 400-yard race.
She was even better than that during the course of the race, as she had a lead that was as big as 1-¼ lengths. Oscar Peinado piloted Dreams Divine for trainer Mike Robbins. Bred by J. Garvan Kelly, Lloyd Yother and Nancy Yearsley, Dreams Divine improved her record to five wins in seven starts. She's finished in the top three in all of her starts.
"We were very pleased with her," Robbins said. "She's always been very consistent. She got beat a couple of times (in 2019) but she had a little problem last year. We worked on her and has come back super. She's a super gate horse and gives you 100 percent."
The filly by Apollitical Jess finished second by a nose in the Grade 1 Ed Burke Million Futurity and ran third in the Grade 2 Robert Adair Kindergarten Futurity last year.
Her main rivals figure to include Grade 1 Golden State Million Futurity finalist Southern Wagon and Paul Jones, Howard Nichols and Thompson Racing Inc.'s Suite Expectations. Owned by Dunn Ranch, Southern Wagon posted the second fastest time after defeating Golden State finalist Kiss Thru Fire by a head. Jesus Rios Ayala piloted Southern Wagon for trainer Monty Arrossa, who last weekend saddled Aint She Tempting to victory in the Grade 2, $383,725 Oklahoma Futurity.
"We left with the field (in the trials) but the number eight bumped us a little bit," said Ayala of Southern Wagon. "She kept going and the filly loved the distance. I feel she still has a lot more in her. She needed this race. The morning that she worked (on February 11) she got tired a little bit. I think she'll be a lot better in the final."
Suite Expectations won the third trial by a nose over Ed Burke Million finalist Javelina Cantina. She was fifth at the start and got bumped during the race but came flying late to outduel a tightly packed group of runners in the final heat.
"She didn't get the best of breaks and got bumped a little," said Paul Jones, who saddled the Utah-bred daughter of Apollitical Jess. "She was behind. The outside horses had her beat. She finished strong and made it count at the end of the race."
Kiss Thru Fire, Terra Fire, Evee, Jessafamouslady, Javelina Cantina, and Ventura Jess JQM will also race.
Cartel Jess Rockin will earn 10th place money and will not race in the Oaks final. She has been retired (see related story) according to trainer John Cooper.
* * * * * * * * * * * * * *
Courtesy of www.losalamitos.com.