RACING THIS WEEK
FEATURES
SERVICES
Professor G's Notebook for Friday's Races 5-7 at Los Alamitos Race Course.

© Jim Anderson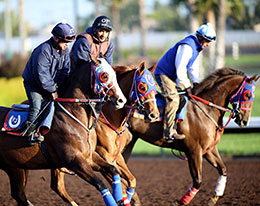 Professor G's Notebook For Friday's Races 5-7
LOS ALAMITOS, CA—MAY 20, 2020—
Professor G at Los Alamitos takes a look at the 13 juveniles debuting on Friday night. Each runner's description also includes a link to the video workout described below.
Videos of gate works are available by CLICKING HERE.
RACE 5 – Maiden Fillies – 300 yards
#1 Perrys Everlasting – May 5 :12.70 at 220 yards – Outside Horse
Video Link
Purchased for $50,000 at Los Alamitos Equine Sale, Mr Jess Perry filly stood nicely in gate before hopping and moving towards the inside. He was asked twice past the gap and she responded with a quick burst before making up ground while approaching the wire. She continued from there with a lively gallop out. Perrys Everlasting was outworked by Apollitical Jess gelding Apollitical Honey 12.6 to 12.7.
#2 Flight Queen – May 7 :12.50 – Outside Horse
Video Link
Outworked both of her rivals when leaving from the outside post as part of a three-horse drill on May 7. The Foose filly is working with Venerable, who left from the inside stall, as well as with a foal out of Moonlight Corona, who started in between horses. Flight Queen was acting up before the start and then broke in and bumped. She came away from the early trouble with the lead and ran solidly from there while going under her own accord. She crossed the wire under wraps, while winning the drill by ¾ lengths ahead of closest rival. Flight Queen crossed the wire in a time of :12.50.
#4 Apollitical Patty – April 16 :12.30 – Inside Horse
Video Link
Working on April 16 vs. the FDD Dynasty filly Reason To Stay In, Apollitical Patty was fidgety in the gate and broke in the air. She was then quick into her stride and was asked once left-handed and then encouraged a couple of more times right-handed. She led by ¾ lengths and went on to outwork her company by a length. Apollitical Patty drifted in sharply after the wire but continued with a strong gallop out while under a hold. This was 3rd fastest of 41 drills. She then returned to post the fastest of 12 works on April 30 when covering the 220 yards in :12.10. The workout video for this morning is not available.
#5 Tres Dos CC – April 25 :12.40 – Inside Horse
Video Link
Started from the inside as part of a three-horse drill on April 25. The Tres Seis filly finished behind Bail Me Out Babe, who won the drill in :12.3 from the outside post. Tres Dos CC veered in at the start before accelerating nicely and showing good speed in the middle part of the work. She was outfinished late, as she crossed the wire ¾ lengths behind the sharp-looking Bail Me Out Babe. Tres Dos CC's time of :12.4 was the sixth fastest of 24 drills.
#6 Three Times Ablaze – April 16 :12.50 – Inside Horse
Video Link
Tres Seis filly will be outworked from the inside post by the Docs Best Card gelding Thats R Bet Card, who was winner in his debut in a time of :15.71 on May 8. Three Times Ablaze showed good quickness out of the gate and worked in a straight path. She was flagged and then asked intermittently during her work and missed winning the drill by a neck. Thre Times Ablaze finished with the 9th fastest of 41 drills on April 16.
#7 Keep Listening – May 9 :12.50 – Middle Horse
Video Link
The Seperate Interest filly outworked two rivals on May 9 when leaving the gate in between Cant Take A Joke on her inside and Too Sass For You on her outside. Keep Listening was acting up in the gate before breaking in and bumping Cant Take A Joke. After leveling out, she was asked twice and then three more times on the way to crossing the wire a head in front of Too Sass For You. Keep Listening would then get bumped by Cant Take A Joke during the gallop as she was approaching the clubhouse turn. Keep Listening's time of :12.5 was seventh fastest of 19 prep works.
#8 One Sweet Venom – May 2 :12.90 – Outside Horse


Video Link


Was outworked by Favorite Colossus :12.3 to 12.9 when leaving the gate from the outside post on May 2. One Sweet Venom will not use blinkers in this drill when breaking to the outside and having to be corrected by her rider. She will then drift in when encouraged right-handed before leveling out. She will finish three lengths behind Favorite Colossus and will show good energy after the wire, even moving past her rival during the gallop out. Favorite Colossus finished out of the money in his racing debut last Friday.
RACE 6 – Maidens – 300 Yards
#1 Rox Win – May 5 :12.40 – Outside Horse
Video Link
Homebred gelding by Seperate Interest, Rox Win left the gate sharply before floating lightly to the inside. He had a ½ length advantage over workout mate, Separate Star JTD, before extending his advantage while under a hand-ride. He finished strongly to win the workout by 2 ½ lengths while galloping comfortably from there. His time of :12.40 was the fastest of six drills on May 5. Seperate Star JTD worked in :12.90.
#7 Up To Hit – April 16 :12.60 – Inside Horse
Video Link
Kiddy Up gelding was outworked by the Favorite Cartel filly London Toby 12.3 to 12.6. Up To Hit was a bit antsy in the gate before veering in sharply. Rider did a nice job straightening him out. He urged the horse left-handed and horse worked solidly from there while finishing 1 ½ lengths behind London Toby. Up To Hit continued with a good gallop out after the wire while posting the 16th fastest of 41 drills on April 16.
RACE 7 – Maiden Fillies – 300 Yards
#1 Set Forth – April 18 :12.50 – Middle Horse
Video Link
Favorite Cartel filly worked in between horses in this three-horse drill while going evenly with her stablemates Bac To Life on her inside and Fool This Kid on her outside. Bac To Life has raced twice and finished third to Alltime Favorite in her most recent start last Friday night. Fool This Kid was fifth in his debut. In this workout, Set Fort brokenly cleanly and right alongside her workmates. She has plenty of room to operate while being asked once right-handed. She floated out during the second part of her workout and hooked up with Fool This Kid as the continued moving in unison across the wire. Set Forth galloped out under a hold while posting the 9th fastest of 40 drills on April 18.
#4 Kool Interest – May 9 :12.80 – Outside Horse
Video Link
Started from the outside post when getting outworked by siblings Fox Fan and Harison, a pair of full brothers to Grade 1 Los Alamitos Winter Derby winner Tell Cartel. Kool Interest stood nicely awaiting the start of her drill and left the gate cleanly before drifting in. She was corrected left-handed by her rider and found herself racing evenly with Harison while they both trailed Fox Fan. Kool Interest began to lose ground and eventually hit the wire a length behind Fox Fan and a half-length behind Harison in a time of :12.80. She is the first to debut out of this threesome.
#5 Inaudible – May 12 :12.50 – Inside Horse
Video Link
Won this drill easily over the filly Accrued Interest 12.5 to 13.5. A filly by Foose, Inaudible bobbled just a tad after the start but quickly got into her stride. She was asked right-handed several times during the middle portion of her work and by then she was far ahead of her rival. She floated to the inside in the final 50 yards while finishing about five lengths ahead of her company. She continued moving nicely past the wire during a very comfortable gallop out.
#7 J Best Boogie – April 16 :12.10 – Outside Horse
Video Link
This is one of the most eye-catching workouts I have seen this season. Filly by Docs Best Card will outwork the filly DF Fabulous Dollar 12.1 to 12.6. J Best Boogie stands perfectly and breaks quickly but towards the inside to bump DF Fabulous Dollar. She will then straighten out rapidly and will race on a straight path from that point on. She is not asked, is full of run and the rider has her on a stranglehold at the wire. J Best Boogie will continue to move effortlessly past the wire in a very strong work. This was the fastest of 41 drills on April 16.
* * * * * * * * * * * * * *
Courtesy of www.losalamitos.com.