RACING THIS WEEK
FEATURES
SERVICES
Professor G's Notebook for Saturday's eighth-race at Los Alamitos Race Course.

© Jim Anderson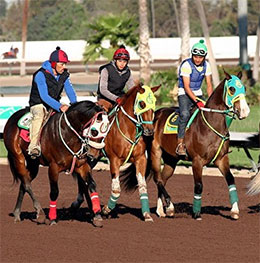 Professor G's Notebook For Saturday's Race 8
LOS ALAMITOS, CA—MAY 21, 2020—
Professor G at Los Alamitos takes a look at the three juveniles debuting on Saturday night. Each runner's description also includes a link to the video workout described below.
Videos of gate works are available by CLICKING HERE.
RACE 8 – Maidens – 300 yards
#2 Docs Tiene Fire – May 2 :12.60 – Outside horse
Video Link
Was part of a three-horse set on May 2 that also included Conga Blanca, who will work form the inside, and El Cuervo Favorite, who will drill in between horses. Docs Tiene Fire left the gate nicely and was even with Conga Blanca early on while chasing El Cuervo Favorito. Rider tapped Docs Tiene Fire once right-handed as he cleared Conga Blanca while still running behind El Cuervo Favorite. He would eventually cross the wire 1 ¼ lengths behind the winner while covering the distance in :12.60. El Cuervo Favorite, who finished out of the money in his debut on May 15, posted a time of :12.40.
#6 Candys Payday – April 18 :12.70 – Inside
Video Link
Gelding was outworked by the filly My Candy Moon 12.5 to 12.7 on April 18. Candys Payday scrambled out of the gate before drifting to the inside. He was asked once at the midway point and continued on his own from there. He finished a length behind My Candy Moon while showing good energy in his gallop out. The time was the 24th fastest of 40 drills.
#8 Twostrikesurprise – May 9 :12.10 – Solo
Video Link
Posted the bullet drill from 20 spins on May 9. The Favorite Cartel gelding broke cleanly and left the gate in straight form before starting to float to the inside after the gap. He quickly levels out, displays a smooth stride, he is never asked and continues strongly to the wire. After the finish line, Twostrikesurprise continues with his smooth stride with a very strong gallop out.
* * * * * * * * * * * * * *
Courtesy of www.losalamitos.com.