RACING THIS WEEK
FEATURES
SERVICES
Charger Bar Handicap(G1) winner Tequila Sangria will take on male horses in the $15,000 Flight 109 Handicap at 350 yards on Sunday at Los Alamitos.

© Scott Martinez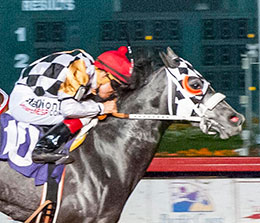 Tequila Sangria Heads Flight 109 Handicap Sunday At Los Alamitos
LOS ALAMITOS, CA—AUGUST 7, 2020—
Steve Burns' two-time Grade 1 stakes winning mare Tequila Sangria will take on male horses when she headlines a solid field in the $15,000 Flight 109 Handicap at 350 yards on Sunday at Los Alamitos.
Tequila Sangria has faced the opposite sex before when running the prestigious Grade 1, $600,000 Champion of Champions last year. That field featured the best of the best in Quarter Horse and was headed by eventual AQHA World Champion He Looks Hot.
The Flight 109 will feature three males plus one other mare, but none of them have previously won a stakes race at Los Alamitos.
As such, Tequila Sangria is the horse to beat in the Flight 109, but her connections see this race as solid prep for the Grade 1, $125,000 Mildred Vessels Memorial Handicap on September 20. As a 3-year-old last year, Tequila Sangria beat older mares in the Mildred Vessels at 400 yards last year. A successful defense of her Mildred Vessels title would make Tequila Sangria the first back-to-back winner of the race since Flare For Toby in 2000-2001.
"We'd like to run her at 350 yards once before going 400 yards in the Millie Vessels," trainer Mike Casselman said. "I'd rather run her against females and the (Flight 109) is a tough race, but it is okay. I'd like to see her have a race. We gave her a turn and work (on June 27) and she did well. We took her to the starting gate to school her on Wednesday and that also went well."
Tequila Sangria, a winner of five of nine career starts, captured the Grade 1 Charger Bar Handicap on January 5 in her only start of 2020. She went to Burns Ranch following the Charger Bar before returning in the middle of May to begin preparing for her summer and autumn campaigns.
Jesus Rios Ayala will pilot the daughter of 2020 Leading Sire of Money Earners Favorite Cartel in the Flight 109.
The field will also feature Corona Jumpim MRL, the runner-up in the Grade 1 Brad McKinzie Los Alamitos Winter Championship, 2018 All American Futurity finalist Badhabit Jess, stakes finalist Hot Little Kiddy, six-time winner Jimbosecret and the hard-knocking One Last Chance.
* * * * * * * * * * * * * *
Courtesy of www.losalamitos.com.