RACING THIS WEEK
FEATURES
SERVICES
Home
>
Preview Racing
>Six Time Trials for Three Stakes Races Highlight Huge Ajax Downs 10-race Card
Ontario-bred Twixt Of Fate, an unbeaten 2-year-old, with trainer Michelle Woodley and jockey Ed Walton-.

© Clive Cohen / New Image Media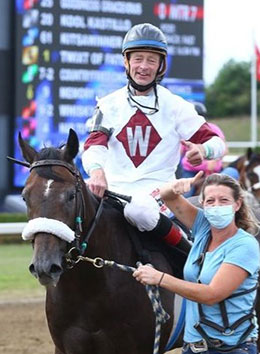 Six Time Trials for Three Stakes Races Highlight Huge Ajax Downs 10-race Card
AJAX, ONT—SEPTEMBER 11, 2020—
The championship season is in full swing at Ajax Downs and this Monday, September 14 there are three sets of Time Trials for finals of three stakes races for Ontario's Quarter Horses.
A loaded 10-race card has a first race post time of 12:55 p.m. (EST).
Seventeen 2-year-olds are in two 400-yard Trials, races 6 and 7, for the prestigious Alex Picov Memorial Futurity, with the final of Oct. 5 offering a total purse of $100,000-added. The fastest 10 times will advance to the final.
Undefeated Twixt Of Fate, an Ontario-bred owned by Richard Wincikaby of Englehart, ON and trained by Michelle Woodley of Bolton, will meet the very fast filly Streakinlilwagon from Jason Pascoe's GFR Equine Services in Pontypool in race 6. Twixt of Fate won the Ontario Bred Futurity Aug. 26 by a nose in his last start.
In the second Trial, impressive debut winner Me Zoomn By, an Alberta-bred owned by Rick Crispi, meets eight rivals including Milena Kwiecien's Countryfried Chicken and had to be relentless from the Bryn Robertson barn, both of whom finished close to Twixt of Fate in the Ontario Bred Futurity.
Races 9 and 10 are 400-yard Time Trials for the top 3-year-old stakes race, the Picov Derby, which will have its final on Sept. 28. One Kool Dynasty, winner of the Princess Derby and recently second in the Ontario Bred Derby will be favoured in the first Trial and three-time winner Chalk Cliffs, owned by Patty Ball and Bonnie Peavoy, takes on six good rivals in his race 10.
Older horses square off in two Time Trials for the Ontario Bred Maturity, races 2 and 3. This year's Maturity winner Shake It Twice, a homebred for Chantelle Bourgeois, takes on champion Fiesty Icon in race 2 while two fillies, Five Bar Fandango, also from the Robertson stable and Shes Sizzling, bred by Erik and Joyce Lehtinen of Uxbridge. The Ontario Bred Maturity final is Sept. 28.
* * * * * * * * * * *
Ajax Downs continues to hold live racing behind closed doors due to the COIV-19 pandemic but all the races are live-streamed at ajaxdowns.com and fans can open an account to watch and wager on the afternoon at Horseplayer Interactive, hpibet.com.
Be sure to follow the Quarter Horses @AjaxDowns on Twitter, Facebook and Instagram for news and updates.