RACING THIS WEEK
FEATURES
SERVICES
Home
>
Preview Racing
>Tequila Sangria Among Nominees To 2020 Mildred Vessels Memorial Handicap
Last year's Grade 1 Mildred Vessels Memorial Handicap winner Tequila Sangria will be back to defend her title.

© Scott Martinez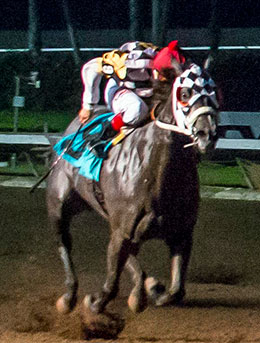 Tequila Sangria Among Nominees To 2020 Mildred Vessels Memorial Handicap
LOS ALAMITOS, CA—SEPTEMBER 13, 2020—
The Grade 1, $125,000 Mildred Vessels Memorial Handicap for fillies and mares, 3-year-olds and upward, will be held on Sunday, September 20.
Nine distaffers have been nominated to the Mildred Vessels at 400 yards. The winner will receive a provisional berth to the 2020 Champion of Champions. The nominees are as follows:
Curls Happy Wagon (5-year-old mare owned by Michael Pohl and Stacy Martin) A two-time winner of the Decketta Stakes, she was second in the 2018 Texas Classic Derby and second in the 2019 Easy Date Stakes. Has earned $246,924 in her 16-race career.

Hot Little Kiddy (4-year-old mare owned by Ed Allred) Finished fourth in the 2018 Governor's Cup Futurity and also raced in last year's Governor's Cup Derby. Has earned $60,715 in her career.

Jess B Glory (4-year-old mare owned by Homer Hill) Has earned $140,867 in her career, while winning the 2020 Junos Request Stakes and finishing third in the 2018 All American Juvenile Stakes. She was fourth in this year's Decketta Stakes.

Ladys A Cartel (4-year-old mare owned by Jorge Carmona) Winner of the 2019 Champagne Lane Stakes and 2018 Pot O' Gold Futurity. She also competed in the 2019 Los Alamitos Winter Derby.

One Hot Habit (6-year-old mare owned by Turner Farms) A winner of $195,171, she was second in the 2018 AQHA Los Alamitos Distaff Challenge. She has qualified to four Grade 1 stakes races in her career including the All American Futurity and Los Alamitos Two Million Futurity.

Remember The Rose (5-year-old mare owned by Steve Burns & James Markum) She ran in the 2018 PCQHRA Breeders Derby and the 2017 Los Alamitos Two Million Futurity. She's a half-sister to Grade 1 stakes winners Powerful Favorite, Runforyourlife and Cyber Monday.

Symbol Of Faith (4-year-old mare owned by J. Garvan Kelly & J. Lloyd Yother) Has raced in seven stakes races during her career. She was second in the 2019 La Primera Del Año Derby and also qualified to the (G1) Los Alamitos Super Derby and (G2) Southern California Derby. She ran in the (G1) Heritage Place Futurity and (G1) Golden State Million Futurity in 2018.

Tequila Sangria (4-year-old mare owned by Steve Burns) As a 3-year-old filly, she defeated older mares to win the Grade 1 Mildred Vessels Memorial Handicap last year. She also won the Grade 1 Charger Bar Handicap earlier this year. A six-time winner in her career, she qualified to the 2018 Golden State Million Futurity last year.

Victorioso Dinastia (3-year-old filly owned by Jeryl Hartley) A three-time winner at Los Alamitos including back-to-back wins at the $16,000 and $30,000 claiming levels.
* * * * * * * * * * * * * *
Courtesy of www.losalamitos.com.