RACING THIS WEEK
FEATURES
SERVICES
Home
>
Preview Racing
>103 To Race In Night Of Trials To Los Alamitos Two Million Futurity On Sunday
Golden State Futurity(G1) winner Apollitical Gold will be back in action in the Grade 1, $1,977,250 Los Alamitos Two Million Futurity trials on Sunday.

© Scott Martinez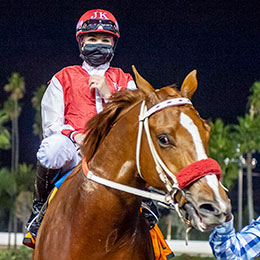 103 To Race In Night Of Trials To Los Alamitos Two Million Futurity On Sunday
LOS ALAMITOS, CA—NOVEMBER 20, 2020—
Twelve trials to the Grade 1, $1,977,250 Los Alamitos Two Million Futurity make up a great card of Quarter Horse racing on Sunday at Los Alamitos.
First post is 5 p.m. sharp and the program will feature three Pick Four wagering opportunities beginning in races 1, 5, and 9. A Consensus Page featuring selections for all 12 trials will be available at LosAlamitos.com on Friday afternoon.
A total of 103 juveniles will be in action in the 400-yard trials with the horses with the 10 fastest times advancing to the Two Million final to be held here on Sunday, December 13.
Every trial will feature either eight or nine horses. As for the top names on the card, all 10 qualifiers to the Grade 1 Golden State Million Futurity qualifiers will be in action in Sunday's trials led by Grant Cox Revocable Trust's Apollitical Gold, who won the $1.1 million Golden State final at 12-1 odds on November 1. Other futurity winners in action on Sunday night will be Monopolist, La Jaconde, Constituent and Aint She Tempting.
The Early Pick Four kicks off with one of the strongest trials of the night, as Levings Racing LLC and Dunn Ranch LLC's Golden State Million runner-up Aint She Tempting will take on Balgo Racing's Robert Adair Kindergarten Futurity winner La Jaconde and Larry Rice's HR Princess Jess, who ran fourth in the Golden State Million. Strange Fellow, Jess Paint Me and Single Brad, all major futurity finalists this season, will also race in this trial.
The second trial brings the California return of Dutch Masters III's Flash Bak after his seventh-place finish to Whistle Stop Cafe in the Grade 1 All American Futurity at Ruidoso Downs. The gelding by Moonin The Eagle qualified to the Big Dance after running second in the trials to none other than Whistle Stop Cafe. Flash Bak's rivals here include Ed Burke Million Futurity finalist SC Divas Cartel Man and Better Version, who was the high seller at the 2019 Los Alamitos Equine Sale.
The third trial will be a battle of fastest qualifiers headed by the mercurial filly Terrific Temper, the runner-up in the Ed Burke Million. The Parson Family Limited Partnership-bred filly was a rocket in the trials to the PCQHRA Breeders Futurity, where she posted the fastest qualifying time.
The filly did not run in the final, which makes this an anticipated return for the daughter of Tempting Dash. She'll take on Juniors Quarter Horses, Inc's Favorite Doc, who was just an impressive when he posted the fastest time to the Golden State Million. The Favorite Cartel gelding won his trial by 3-½ lengths before bumping at the start when running seventh in the Golden State Million final.
The early Pick Four sequence wraps up with Jaime Gomez's J Best Boogies, the third place finisher in the Golden State Million, taking on the likes of La Fiesta Futurity runner-up AJS On Time and sharp runners Cartels Comet and Watch Over Bella.
The Middle Pick Four will kick off with a wide open fifth trial led by Johnny Trotter and Stan Sigman's All American Futurity trial winner Famous Shining Star facing PCQHRA Breeders Futurity runner-up Reason To Fly MV, a filly with a potent late kick, and Golden State Million finalist Jessa Bit Of Candy. This trial will also feature Les and Kim Sweeting's underrated BF Outfoosed, who is one of the few 2-year-olds in California to have qualified to three California futurities this year.
Trial six will be headed by M & G Farms, Inc's Governor's Cup Futurity winner Constituent, who has won four of six career starts, plus Ruidoso Futurity finalist Favorite Blue Girl.
The second half of the Middle Pick Four will have Trotter's Famous Cartel Jess, another Golden State Million finalist, taking on PCQHRA Breeders Futurity winner Monopolist and Ed Burke Million finalist Jess Lyndes Reason. Monopolist, who is trained by James Glenn, Jr., won his futurity by a half-length at 8-1 odds after running second in the trials to fastest qualifier Terrific Temper.
This Pick Four sequence wraps up with a field headed by Golden State Million finalist Counting The Ways and Governor's Cup Futurity finalist Favorite Five. A horse to watch in this trial is Twostrikesurprise, who has been impressive in winning his last two starts.
The Late Pick Four sequence kicks off in the ninth race and features Grant Cox's Apollitical Gold, the nation's second leading money winner with $737,389 after winning the Golden State Million by a neck. The Apollitical Jess gelding also finished third in the All American Futurity this summer and for the year he has finished third or better in all seven of his starts. Jimmy Dean Brooks will pilot Apollitical Gold for trainer Eddie Willis.
The ninth race will also feature PCQHRA Breeders Futurity finalist Rite On Time and Link Newcomb's Celtic Rhythm, who ran a solid second to Watch Over Beall in the Golden State Million trials.
The fillies Apollitical Patty and Best Of You will head the 10th trial. The Monty Arrossa-trained Apollitical Patty enters this race after winning her Golden State Million trial and then running sixth in the final. Zynda Racing's Best Of You won her Golden State Million trial when facing Ruidoso Futurity finalist Tuckk and earlier this year she won the Laico Bird Stakes. She's hit the board in all five of her starts for Willis.
The 11th trial will include Governor's Cup Futurity runner-up Squid Word, the lightly-raced but talented In My Heart and Grade 1 futurity finalists Thats R Best Card and Elmer. The final trial of the evening will take place at approximately 9:35 p.m. (Pacific) and will have a strong group headed by Ruidoso Futurity fourth place finisher Tuckk, PCQHRA Breeders Futurity finalist No Hesitation, who also won the Utah-Bred Futurity, and Speedhorse Futurity third-place finisher MH Apollitical Spy.
This trial will also include Allred's Roving Kind, who has won her last two starts, and Golden State Million trial winner Karl Strauss.
* * * * * * * * * * * * * *
Courtesy of www.losalamitos.com.