RACING THIS WEEK
FEATURES
SERVICES
Michael Pohl and Martin Stacy's Curls Happy Wagon is one of three Grade 1 winners headlining the Grade 1, $100,000 Charger Bar Handicap on Sunday at Los Alamitos.

© Scott Martinez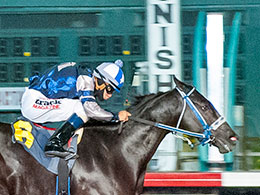 Trio Of Grade 1 Winners Headline Charger Bar Handicap On Sunday
LOS ALAMITOS, CA—JANUARY 1, 2021—
A trio of Grade 1 stakes winners led by Mildred Vessels Memorial Handicap winner Curls Happy Wagon will headline one of the strongest fields in the 20-year history of the Grade 1, $100,000 Charger Bar Handicap on Sunday at Los Alamitos.
First post for the 8-race program is 5:05 p.m.
Owned and bred by Michael Pohl and Martin Stacy, the outstanding 6-year-old mare Curls Happy Wagon will be joined by Dr. Steve Burns' Tequila Sangria, the defending winner of the Charger Bar, and Ruidoso Derby winner Hotsempting as part of this trifecta and Grade 1 winners. A total of 10 older mares will compete in this 400-yard dash.
In addition to the Millie Vessels Curls Happy Wagon impressed when winning the Grade 2 Las Damas Handicap in hard-fought fashion. He was also part of the Champion of Champions when running seventh in the 440-yard classic.
Juan Aleman will saddle the daughter of Pyc Paint Your Wagon, who will be ridden by Armando Cervantes from post number nine.
Aleman will also saddle Gentry Farms' Kiss Thru Fire, who was tremendous when finishing second in the Grade 2 Southern California Derby on December 20. The Walk Thru Fire mare was second in the All American Oaks and raced in the Grade 1 Los Alamitos Super Derby last year. Raul Valenzuela will ride the Kentucky-bred from post number 6.
Mike Casselman will saddle the 5-year-old Tequila Sangria as she attempts to become the third mare to win back-to-back runnings of the Charger Bar. She is by 2020's leading sire of money earners Favorite Cartel. The others are Stylish Jess BR (2010-11) and Quirky (2015-16).
Tequila Sangria will enter this race well rested as her last outing was a seventh-place finish as the big favorite in the Mildred Vessels on September 20. Tequila Sangria won her two other starts of 2020, which included her half-length victory in last year's Charger Bar.
Mauricio and Miguel Gallegos' Hotsempting was outstanding during the derby season at Ruidoso Downs but has finished out of the money against older male horses at Los Alamitos.
She was eighth in the Champion of Champions, but figures to be very tough in this distaff event. Paul Jones, who has won the Charger Bar a record five times, will saddle Hotsempting.
Homer Hill's Jess B Glory, winner of the Junos Request Stakes at Remington Park, One Sweet Change, Galloping Goddess, Cat Daddys Lil Girl, JR Prissys Blood and Terra Fire will complete this field which has combined for 54 wins and $2.38 million in career earnings.
* * * * * * * * * * * * * *
From October 14, 1973 to August 17, 1974, Charger Bar won 12 consecutive outings, all of them in stakes races. Her streak included victories in the 1973 Champion of Champions and the 1974 Go Man Go Handicap and Los Alamitos Invitational Championship. This incredible streak began at Centennial Race Track with victories in the Olympic Stakes and Autumn Championship.
She returned to her Los Alamitos base to win the HQHRA Inaugural Handicap. The daughter of Tiny Charger added three more stakes wins at Los Al before going up north to win the Miss Peninsula Handicap at Bay Meadows. She completed her amazing winning streak with five more stakes victories at Los Alamitos. Earlier in her career, Charger Bar had an eight-race win streak, five of those in stakes races. That streak included three races that are now major Grade 1 events.
* * * * * * * * * * * * * *
For more info, please contact larace@losalamitos.com. Follow us on Twitter or Instagram at @losalracing or visit us online at www.losalamitos.com.